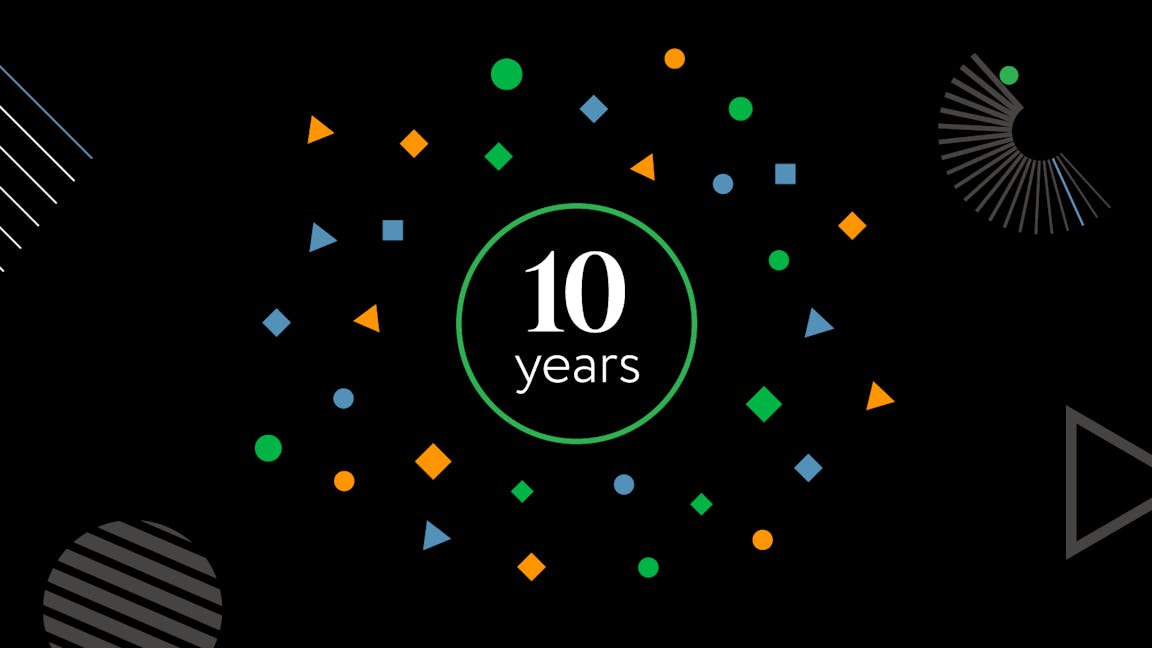 This month sees the 10th anniversary of Nutmeg which began with the launch of our first fully managed portfolios back in September 2012. It's a journey that has seen our client numbers grow to over 200,000 people who invest more than £4.5bn with us today.  
Before momentum behind the Brexit campaign first took root, and long before Covid invaded our lives; 2012 may instead bring warmer memories of the hugely successful London Olympic Games, the re-election of Barack Obama and… er, some less than stellar recreations of the Gangnam Style dance.  
Still, as is the case today, 2012 was a year of economic uncertainty – the domestic economy shrank during the first half of that year, before the feel-good Olympics boom helped drag us out of that slump., Meanwhile, anti-austerity protests belied the fragile state of the public finances of some European nations.  
It was not necessarily a time of great confidence to back a new entrant in UK wealth services, so we'd like to extend a huge thanks to those that invested with us then, and since, as Nutmeg has grown from strength to strength to today's all-encompassing range of products and portfolios.  
You can see the 'all-time' performance of different Nutmeg styles via our website, as well as separate time periods. During this time, we have seen periods of positive portfolio growth, as well as periods of portfolio downturns – as is the way with investing, markets, and portfolios can go down as well as up.
On the whole, if we look at the decade, we've delivered strong capital growth for our clients, and exceeded the performance of our peers. While past performance is no guarantee of future returns, long-term investing over a period of years does tend to deliver positive results in the majority of cases.  
The Nutmeg timeline

From the launch of our stocks and shares ISA and General Investment Account 10 years ago, Nutmeg has responded to client demand with different products and investment styles to suit a variety of client needs. For example, those wishing to invest for their retirement could access the Nutmeg Pension from 2015, in time for the introduction of pension freedoms legislation which has since allowed investors greater flexibility at how they use their retirement pot from the age of 55. At the other end of the age scale, those wishing to invest for children could do so with our Junior ISA from February  in 2020.  
In April 2017, Nutmeg was one of just three providers to launch a Lifetime ISA on day one of the new government backed initiative being available – with the primary aim of helping those under the age of 40 to start to invest for their future, whether for their first home or for retirement.  
In terms of investment styles, our fully managed approach has been with us since the beginning, but was complemented by the cost-efficient fixed allocation style in 2017, designed to perform without the intervention from our investment team.  
This was soon followed by socially responsible portfolios for clients that aim to achieve their investment goals while focusing on the environment, social values, and good governance. The Smart Alpha portfolios, powered by J.P. Morgan Asset Management, was the latest style to launch in late 2020. These combine our investment team's core principles, ETF and fractional investment expertise, with the in-house, multi-asset knowledge and experience of one of the world's leading investment houses.  
Introducing J.P. Morgan Chase

 

 
In 2021, Nutmeg was acquired by J.P. Morgan Chase to become an integral part of the bank's international retail offering and complementing the launch of Chase as a digital bank in the UK.  
While this has not meant any immediate changes to the way Nutmeg does business, or how we serve our clients, this exciting tie-up means we can draw on the additional support, resources and experience of one of the world's largest and most-respected retail banks.  
Nutmeg will form the bedrock of the bank's retail digital wealth management offering internationally in the coming years. 
The future of Nutmeg  
With a wider team, we are all working closely to offer customers a comprehensive wealth management service, and we have already offered both Nutmeg and Chase clients the opportunity to benefit from each proposition. We expect that clients will start to see the benefits of the Nutmeg and Chase integration in the coming months. 
In terms of Nutmeg-specific developments, financial guidance is an area that continues to expand with our experts on hand to help you plan your financial future. Another immediate focus is continued improvements to our app. As you can imagine our digital infrastructure has evolved rapidly over the past 10 years, and this evolution continues at a pace.  
For example, we recently added the facility to be able to transfer personal pensions within the app, alongside a new performance projection chart. Keep an eye out for further new features and functionality coming soon.  
A thank you to all our clients 
It's been an incredible journey seeing Nutmeg grow during these past 10 years, which would not have been possible without our loyal client base who appreciate the benefits of long-term investing in reaching their financial goals. We hope our low-cost, transparent service has given you some peace of mind even during more volatile periods.  
You can contact us through email, the chat function on our website, or our social media channels if you have any questions or comments about Nutmeg. Here's to another 10 years!  
Risk warning    
As with all investing, your capital is at risk. The value of your portfolio with Nutmeg can go down as well as up and you may get back less than you invest. Past performance is not a reliable indicator of future performance. Tax treatment depends on your individual circumstances and may be subject to change in the future.