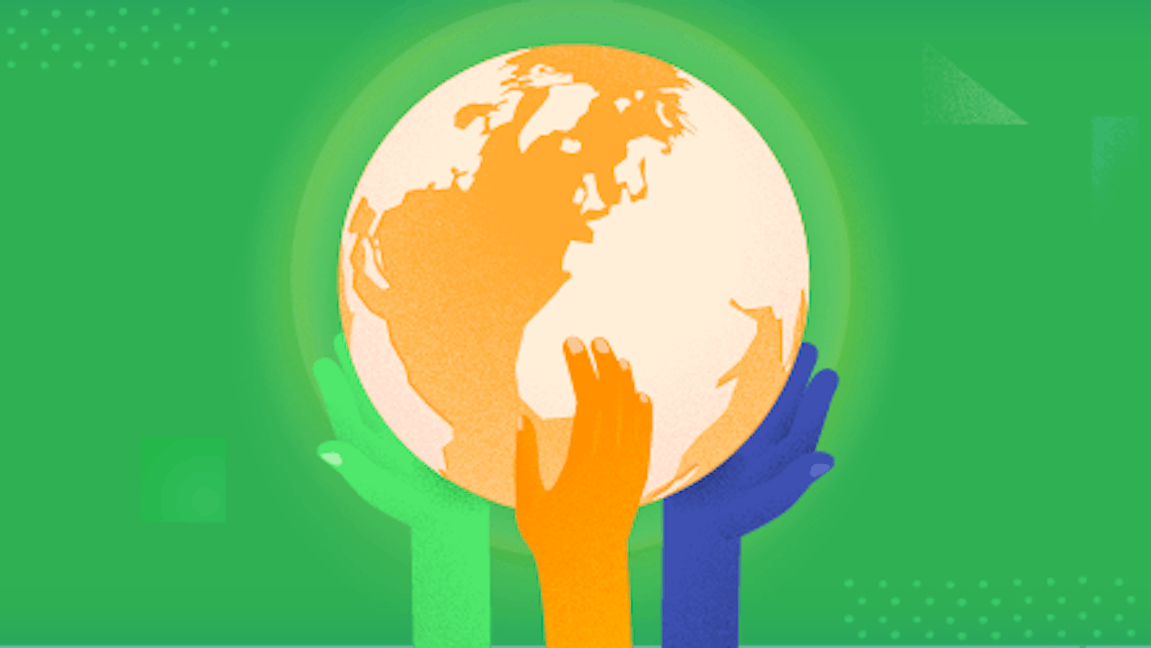 It's over a year and a half since the launch of our socially responsible investment (SRI) portfolios. Armed with some compelling data, it's time to bust a few myths.
From the demographics we traditionally associate with ethical investing to the levels of return, we've seen our SRI pots subvert many of the presuppositions people have about this still-emergent investment style. In this blog I'll happily call them out, one by one.
Myth #1: To invest in line with your values you need to sacrifice returns
According to research from The Wisdom Council¹, a major barrier for many investors and would-be investors in choosing an ethical investment is the perception that they will need to sacrifice returns.
When we discussed this at launch, we provided a historical study of how we expected our sustainable portfolios to perform. This analysis showed that, while we expected short-term deviations in return, the data showed no meaningful (statistically reliable) differences in the performance of strategies incorporating an SRI focus and those that don't over the long term.
Of course, the last few months have been challenging for investors, what with coronavirus and oil price fluctuations. But while losses have been widespread in 2020, the data shows that SRI portfolios have outperformed their non-SRI equivalent.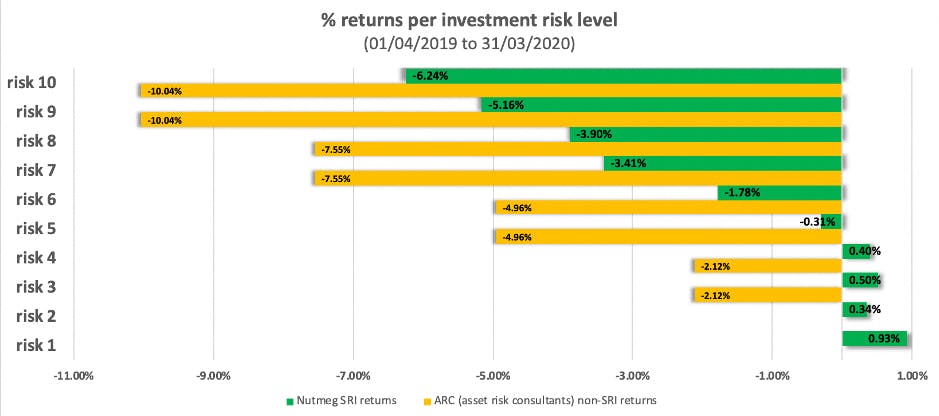 Sources:
-Asset Risk Consultants data, 1st April 2019 – 31st March 2020 ²
-Nutmeg SRI data, 1st April 2019 – 31st March 2020
We compared the performance of our SRI portfolios to that of the average wealth manager's non-SRI portfolios across available risk levels. Using data from Asset Risk Consultants (ARC), our sustainable pots were shown to outperform the industry benchmark at each corresponding level of risk.
It is important to note that we recommend people invest for at least three years, and ideally longer, to benefit from the potential of compound returns and, while a 12-month period can give an indication of performance, it is not a guarantee of future performance.
That being said, the results are encouraging to anyone interested in investing in a socially conscious way, but worried about compromising performance.
Myth #2: Ethical investing is only for millennials and women
Young people are on the march. Millennials and Gen Xers have been taking to the streets en masse to protest against the perceived government inaction on issues such as climate change. But this movement isn't just confined to the youth. More seasoned investors are embracing the idea that ethical principles can and should form the basis of a forward-thinking investment strategy. And as these principles become more widely adopted, we've found that there's no breakaway demographic responsible for leading the SRI charge. And that includes gender.
Looking at Nutmeg customers who joined between October 2018 and April 2020, those with an SRI pot were 28% more likely to be female and 6% more likely to be below 39 versus those with a non-SRI pot.
While there is still work to do in achieving gender parity and getting people started on their investment journey from a younger age, this information shows that – compared to our non-SRI pots – there exists no clear demographic niche into which you can fit our SRI portfolios. Investments based upon environmental, social, and governmental (ESG) criteria are becoming increasingly popular among a diverse range of Nutmeg customers.
Myth #3: SRI Portfolios are just a fad
Ethical investing is here to stay.
The IMF's Global Financial Stability Report, published in October 2019, found that the performance of "sustainable" funds was comparable to that of conventional equity funds. But crucially, it showed that this was a fact not lost on investors, with more of them putting money into companies with a good track record on environmental, social and governance (ESG) factors.
According to our own research, Nutmeg customers are increasingly seeing ESG focused portfolios as a good place to put their money. In fact, our data shows that in the year leading up to 30th April 2020, 20% of new investments have been into our SRI portfolios.
Over a year and a half in, it's clear that our sustainable portfolios are not only a great way to make socially conscious investment decisions, but an opportunity to capitalise on a forward-thinking industry.
If you want to find out more about Nutmeg's sustainable portfolios, download our SRI white paper.
Sources
Source: The Wisdom Council, Responsible Investment Research, 2017
This data is based on monthly results published by Asset Risk Consultants (ARC). ARC compute the average returns from discretionary investment managers based on risk profile, after fees. Please see our track record pagefor more information.
Risk warning
As with all investing, your capital is at risk. The value of your portfolio with Nutmeg can go down as well as up and you may get back less than you invest. Past performance and forecasts are not reliable indicators of future performance.