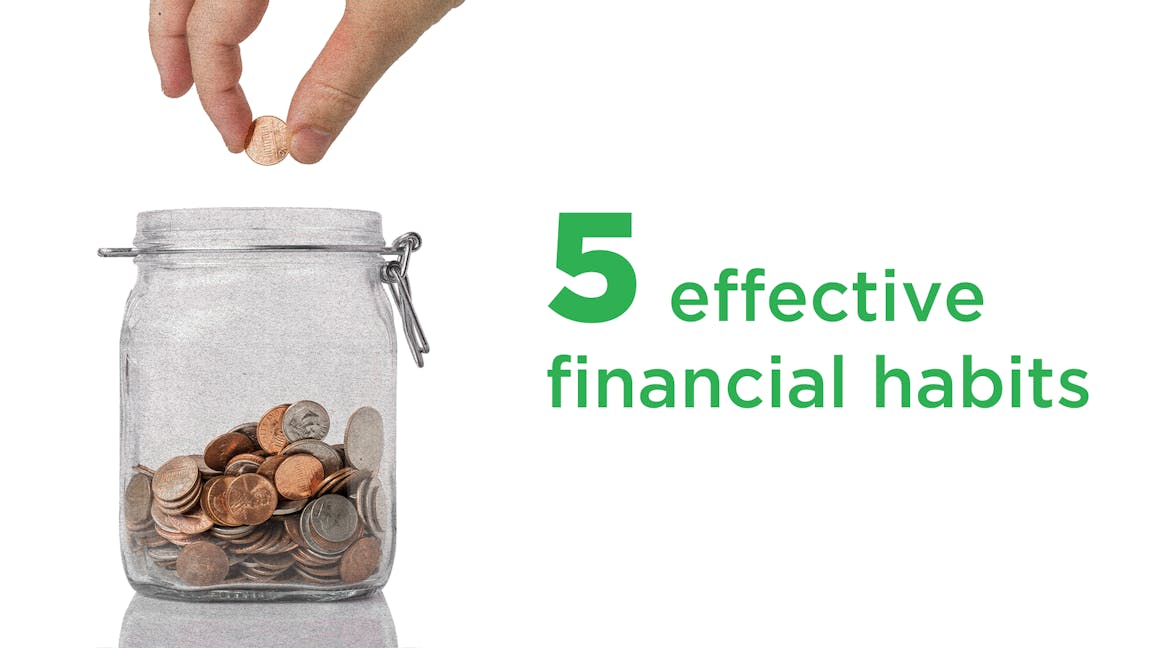 We're all saving for something. Whether it's a first home or that much needed holiday, we know that putting away money now can help us at a later date. But that's easier said than done.  
According to a recent survey by the Financial Conduct Authority, one in eight (13%) UK adults have no cash savings whatsoever, and one in three (32%) only have savings of between £1 and £1,999. With rising prices and stagnant wages impacting living standards, it's easy to get caught in a downward spiral.  
But here at Nutmeg, we like to empower people. We believe everyone has the potential to make real changes in the here and now. And these changes don't need to be seismic. The good habits listed below can be adopted by anyone at any time, and can prove to be decisive first steps towards improving your financial health.  
Replace a bad habit with a good one 
As any successful Sober October participant will appreciate, the positive effects of giving up alcohol for a month don't just include the physical ones. Those with enough willpower to forego their favourite tipple can now face November with healthier bank accounts as well as immune systems.  
Whatever your vice, cutting down on unnecessary and unhealthy forms of expenditure is much better for you in the long run. So why not invest that extra money in your future?   
Seek clarity with financial advice
Are you on the right track?  
As with any goal in life, hitting your financial targets involves having a clear roadmap for where you are now, and where you need to be. But gaining perspective is hard. To get that eagle eye view, you need an accurate picture of how your spending and saving habits will play out over time.  
Nutmeg's financial advisers are experts at providing a comprehensive assessment of your finances, and can help you stay on course. Whether it's our personalised planning advice, or a more general overview, these services will help give you the clarity and confidence to make better financial decisions.  
Would you like some guidance on your finances? As well as providing regulated financial advice, we now offer a low-cost planning service that could help you make better-informed investment decisions.  
Don't make financial decisions when emotional
We've already discussed how patience is a virtue when it comes to investing. And the same is true for our spending habits.   
While retail therapy has been shown to temporarily improve a shopper's mood, studies have also found that stress and unhappiness negatively influence the ability to make rational money decisions. This includes overpaying for goods, and selling items for less than they are worth. So while those late night online shopping splurges may give you a short-lived high, your finances may end up taking a hit.  
So, before you hit that 'purchase' button, make sure you consider if it might just be an impulse buy. If you think you might regret it at a later date, why not put in a few minutes of meditation instead?  
Ride out volatility
When investing for long-term gain, it is essential to maintain a long-term outlook. As we've previously stated, volatility is your friend. And just like any successful friendship, patience and loyalty are two worthwhile attitudes to adopt.  
We all want to feel in control, especially where our hard-earned money is involved. So when uncertain market conditions begin to drag down equities, inexperienced investors can feel inclined to limit, or even withdraw, their exposure to these short–term fluctuations.     
But downswings are part and parcel of investing, and as long as a portfolio is sufficiently diversified, the general trend should be upwards. By using exchange–traded funds (ETFs), Nutmeg investments are designed to 'follow the market', which is a passive strategy predicated on achieving positive long-term results. Slow and steady wins the race! 
Keep your eyes on the pension prize  
Many of us are good at living in the here and now. Not so many are great at future planning. 
This was proven in a 1972 experiment at Stanford University, where a group of children were left alone with a favourite treat (a marshmallow or a pretzel) and given two options. Either they eat the treat now, or wait another 15 minutes and receive two treats. A series of follow–up studies found that the children who preferred to wait for the extra treat achieved better results at school, and better outcomes in later life.  
Due to the power of compounding, the same forces are at play when it comes to saving for retirement. Foregoing even a tiny extra percentage of take-home pay can have a life changing effect on your retirement. It is the marshmallow test played out on a bigger stage, and with real world consequences. 
While some are better at the whole 'delayed gratification' thing than others, we believe everyone has the ability to make small decisions now that can improve their future financial wellbeing. So, whether allocating more money to your pension, or investing a lump sum, why not start now? 
Risk warning 
As with all investing, your capital is at risk. The value of your portfolio with Nutmeg can go down as well as up and you may get back less than you invest. Past performance is not a reliable indicator of future performance.  A pension may not be right for everyone and tax rules may change in the future. If you are unsure if a pension is right for you, please seek financial advice.