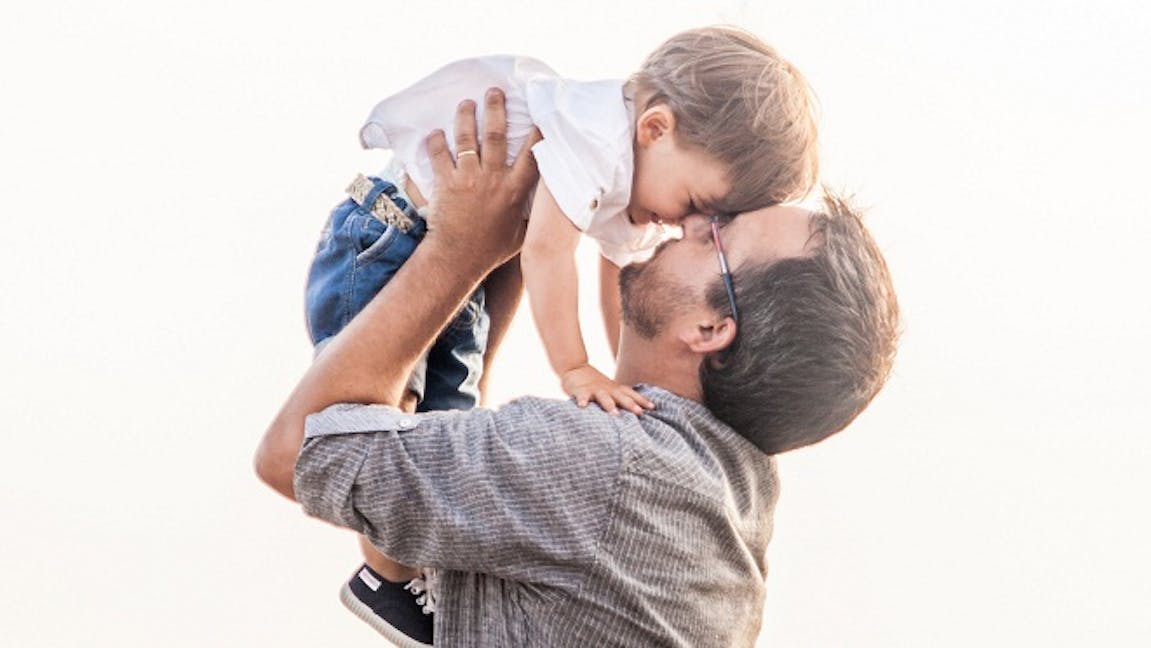 Having a goal in mind can really help you focus your investment strategy. At Nutmeg, we see some fascinating patterns emerge when we look at the kind of goals our customers are working towards, particularly when viewed alongside the level of risk they opt for and the amount they are aiming to accrue. We also see a number of trends between men and women and across different age groups.
When you start a portfolio with Nutmeg, we ask you to create a goal for your investment. It might be that you want to put money aside to buy a holiday home, or for your child's university fees, or to one day sail around the world. Whatever your motivation to invest, having an objective in mind can help give your investment journey a purpose and a focus.
With your goal in mind, this enables you to choose a timeframe for your investment and the level of risk you'd like to take, on a scale from 1 (cautious) to 10 (aggressive). You can set up a number of Nutmeg investment pots and assign different risk levels to each. And you can change the level of risk as your life circumstances evolve. If you do so, we'll review your profile to check the allocation of investment assets assigned to your pot is right for you and your long-term investment plans and make any adjustments necessary – all at no extra cost.
Goal setting
Looking at Nutmeg customer data captured between December 2013 and August 2014, we found that most customers set up just one Nutmeg goal, or investment pot, with around 15% of customers creating two or more goals. Of those that specified a name for their goal, 'retirement' and 'home' are two of the most popular goals.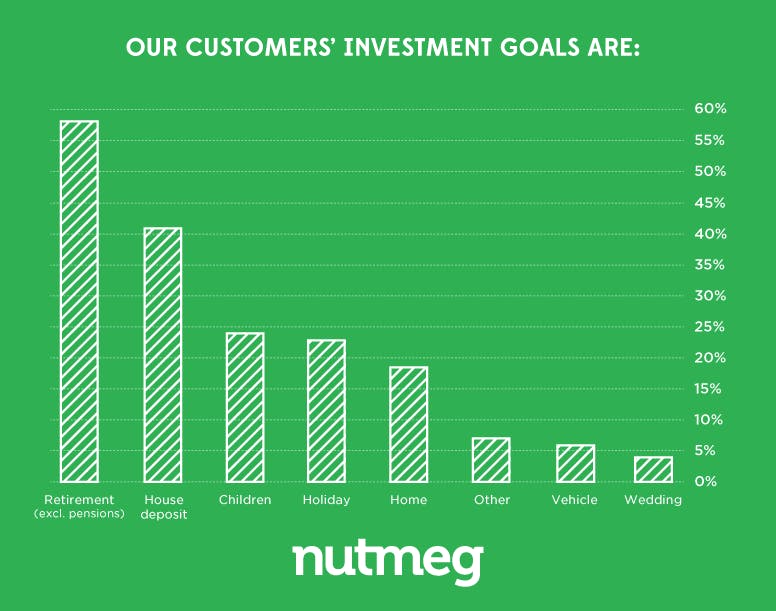 We've seen that customers who are investing to support their children take a slightly more high-risk approach with their investment pot, while the lowest risk levels are often reserved for goals such as 'holiday' or 'rainy day' fund.
This is perhaps because the investment timeframe for goals such as a 'child' fund is often much longer, which can enable investors to take more of a high-risk strategy, given that they have more time in which to ride out any downturns in the market and benefit from periods of good returns.
At Nutmeg, we found that the average timeframe for someone investing towards a child's education is around 14 years. If you're investing towards your retirement your timeframe would ideally be much longer than that. Shorter timeframes, on average six to seven years, tend to be for 'rainy day' and 'holiday' funds.
Topping up your portfolio
When you create a Nutmeg pot, you contribute an initial lump sum. You can add to that whenever you wish, and you can make regular monthly contributions. In fact, our data analysis showed that people who set up goals that they are investing towards are much better at making monthly contributions than those who just invest money with no fixed end target.
Interestingly, those that choose to make monthly contributions also take on a more high-risk approach with their investment pot than those who only pay in an initial lump sum, as you can see in the graph below.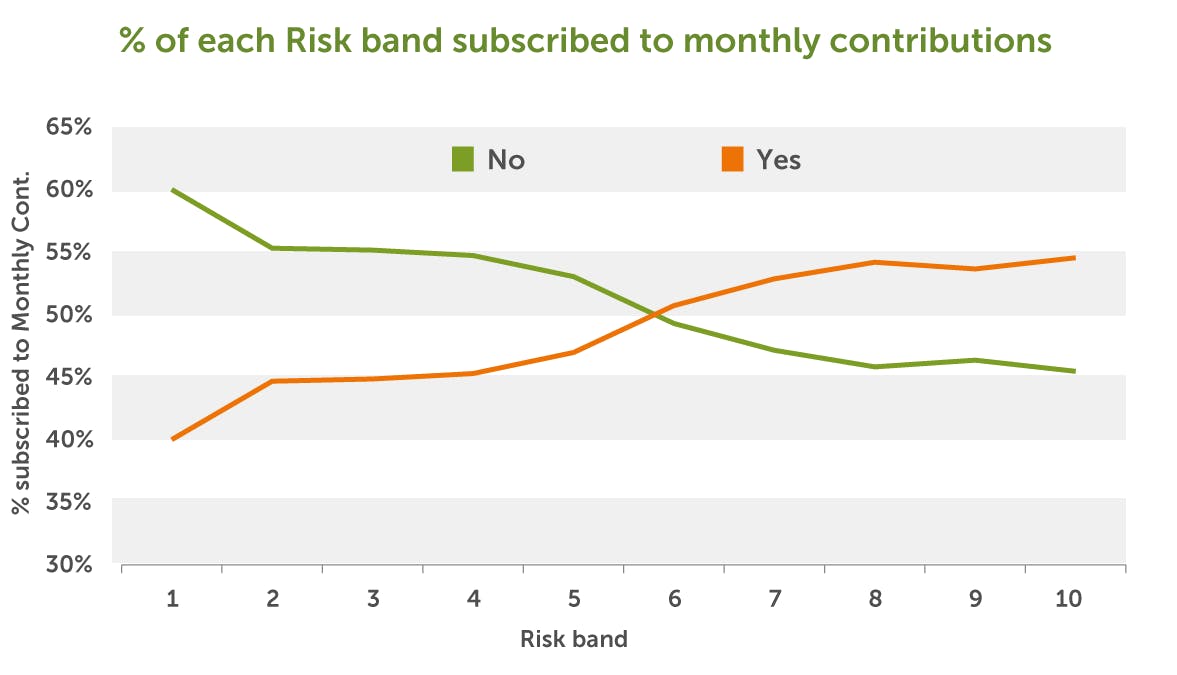 Source: Based on Nutmeg investors who have ever subscribed to monthly payments. Data captured between December 2013 and August 2014.
Calculating your risk appetite
Based on the risk level our customers select, the timeframe for their investment and their answers to our risk profiling questionnaire, we suggest which of our portfolio models is best suited, in our view, to their investment goal. However, the ultimate choice around how much risk to take is up to the individual customer.
We create and manage portfolios that are spread across a wide range of investment types – stocks, bonds, commodities and so on – as well as across different countries and sectors. This means you don't have all your eggs in one basket. It helps spread risk and your chances of benefitting from investment returns.
Men and women
Our data analysis also uncovered a few gender-related trends. We found that more female investors select risk levels 1 to 5 than their male counterparts, while a higher percentage of male investors select risk levels 6-10.
In fact, over half (55%) of women choose to stay in the medium-risk zone (risk levels 4-6), compared to 41% of men. Only a third (33%) of women venture into the higher-risk end of the spectrum, compared to nearly half (48%) of men.
When you look at the actual amounts invested by men and women in medium risk versus high risk portfolios, the gender gap starts to widen even further. The majority (64%) of funds invested by women are in the medium-risk zone (levels 4-6) compared to just 43% of funds invested by men.
Risk warning
As with all investing, your capital is at risk. The value of your portfolio with Nutmeg can go down as well as up and you may get back less than you invest. Past performance and forecasts are not reliable indicators of future performance
Image: Andrés Nieto Porras