I am very pleased to announce the appointment of Martin Stead as the new CEO of Nutmeg.
After 5 years of working with my co-founder William Todd and a host of amazing colleagues to build Nutmeg from an idea in a Silicon Valley garage into one of the UK's largest online wealth managers, it is with great pride that I share with you the news that I am stepping down as CEO of Nutmeg. I am delighted to announce that Martin Stead, our former Chief Revenue Officer, takes over the post effective immediately.
Although passing on the CEO title carries mixed emotions, having worked with Martin for some time I am convinced that he has the skills necessary to lead Nutmeg through this next stage of growth, tackle the day to day challenges and deliver on our vision for customers. Martin is a proven leader and a fanatic customer advocate. Most importantly, Martin has passion and conviction for our mission to democratise the world of investment. I'm thrilled that he's agreed to take on the role.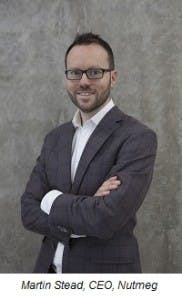 Martin's background, combined with his enthusiasm, make him the ideal choice to lead the company. Martin was educated at Cambridge and has held senior roles at Proctor and Gamble and most recently EDF energy. He also has experience of starting his own venture, such a relevant and varied background makes him a great fit for our stage of business.
Martin is a motivating force to have in the office. It is notable that two of his colleagues from EDF have decided to join Nutmeg to work with Martin again, a fact that tells me he is a man who people will happily follow.
Nutmeg 1.0 has helped redefine investing in the UK by widening access, lowering cost and increasing the transparency of high quality investment services. We've made a great start but, as a customer myself, I recognise that we still have a long way to go. Under Martin's leadership, Nutmeg 2.0 will transform financial advice and progress to be a company of technology leadership in the UK and Europe.
Every decision at Nutmeg is made with you, the customer, in mind. We're driven by the desire to help our customers achieve their financial goals. The technology that we have built allows us to offer our service to people with as little as £500 to invest – that's truly democratising. It means our customers are able to encourage their children (or parents!) to invest for the first time without feeling as though they are throwing their hard earned savings into a dark hole of uncertainty and complicated financial terminology.
Nutmeg will always remain committed to the core principles of transparency and ease of use.
Our efforts are reaping rewards. We've been growing at pace over the last couple of years, our customer base has increased by almost 40% since the start of this year alone. Nutmeg is now in the top 20 of UK wealth managers by number of customers.
People have asked why I would relinquish the CEO role at a time when everything seems to be going so well, but it is exactly the right time to introduce change. To steal a phrase from the Chancellor, it is better to fix the roof while the sun is shining.
I will continue to serve the company and will help Nutmeg grow in my new role as a non-executive Director where I'll be focusing on building the brand, developing the company vision and making sure Nutmeg has a voice among its peer group.
I want to take this opportunity to thank the board of Directors for their understanding and leadership during this transition. The board and shareholders have been aligned with our mission from day one and have never relented in focusing on the customer.  In particular I'd like to thank our venture capital partners Pentech, Tim Draper and Balderton for their backing and highlight their commitment to our long term vision, and Schroders for their support and expert perspective.
To finish my tenure I would like to say two thank you's. First to all my colleagues – team mates – who have put in so much effort, so many days with no sleep and so much passion into making this vision a reality. Many will have made significant sacrifices to work at Nutmeg instead of a big corporate and I'd like to recognise that.
Second and most important, thank you to all of you for believing in us and especially to those of you that have written in with kind words of support and encouragement, taken part in user groups, sent us feedback, recommended Nutmeg to your friends and generally been terrific supporters. It's unbelievable to me that you would do this and I sincerely appreciate it.
Ultimately, this company is all about you, the Nutmeg customer. I remain at your disposal for any questions you have or suggestions for our improvement. I hope to speak to you at some point in the future so that I can thank you for your support and continued trust in us.
I'm truly excited to see what Nutmeg can achieve next, under the leadership of Martin and his team.
Yours sincerely,
Nick
Risk warning: As with all investing, your capital is at risk. The value of your portfolio with Nutmeg can go down as well as up and you may get back less than you invest.