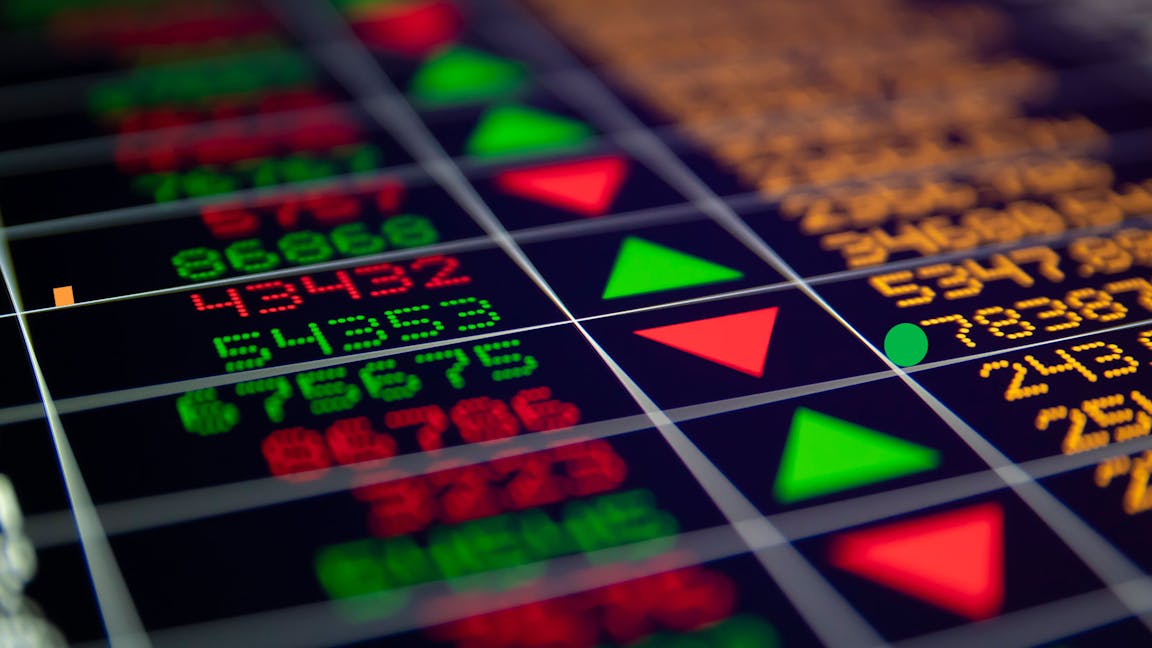 While it's easy to picture loosened ties on a busy trading floor as shellshocked brokers sweat over red digits on stacked screens, serious market movements are these days more often triggered by scheduled announcements made in more austere environments.  
Named after a former chairman, the Marriner S. Eccles Building, set upon the lush lawns of Washington D.C., is home to the 12 members of the Federal Open Market Committee (FOMC) of the Federal Reserve (Fed for short) who meet eight times a year to determine monetary policy in the US. 
How these economists see the health of their domestic economy, and communicate that through forward guidance, tends to set the tone for discussion on a global scale; such is the might of the US financial system.  
You may have heard the aphorism, 'when America sneezes, the world catches a cold', which is not far off when it comes to how professional investors see the nature of global markets and their relationship with the world's leading economy.  
Nutmeg clients will have noticed a degree of volatility in their portfolios so far in 2022 and, while this is very much a normal part of the experience for those taking a long-term view, here we touch upon the cause of that volatility and our expectations for the months ahead. How the FOMC sees the world and communicates its view is, unsurprisingly, a huge influence behind thisIn the first week of January, the Fed published minutes from the FOMC's 14-15 December meeting which showed unanimous agreement on the need to tighten monetary policy going forward by possibly raising interest rates "sooner or at a faster pace" than had earlier been forecast.  
In the eyes of some investors, the central bank is now playing catch-up with elevated inflation it only recently viewed as "transitory", and with a labour market that is looking much closer to levels of maximum employment than the Fed believed back in September. 
Chart 1 shows how the number of people claiming unemployment benefits in the US is now back below pre-pandemic levels, while the consumer price index (CPI) measure of inflation has risen sharply.   
Chart 1: US unemployment and CPI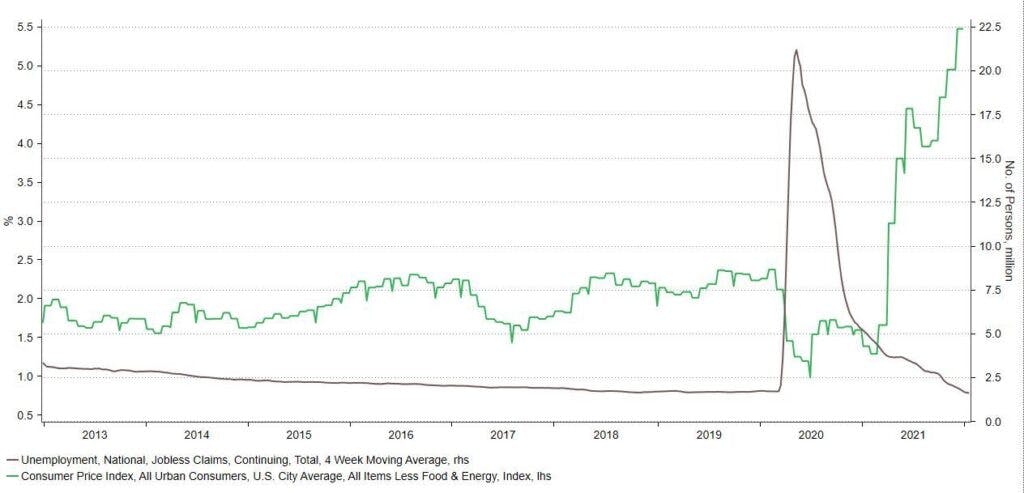 Source: Macrobond, Nutmeg, 31/12/2012 – 31/01/2022 
You might say that markets have been 'put on warning' by policy makers: the economic recovery has been embedded and recently emerged variants of Covid-19 are no longer impeding the normalisation of extreme emergency policy. Add to the mix sustained inflationary pressures and the FOMC is ready to start raising interest rates – most likely from March onwards. 
Still, just because the FOMC has shown its policy cards, we needn't be surprised. We've already seen the Bank of England raise interest rates in December and February, as well as commentary from other central banks on the need to normalise monetary policy as we move into a new phase of the post–pandemic recovery. At the same time, we have seen fears over the economic impact of the Omicron variant fade, removing a major hurdle.  
The withdrawal of emergency measures two years after the onset of the pandemic against a backdrop of robust labour markets and economic activity should not be surprising – even if the change in tone from a 'slow and steady' approach to a more hawkish Fed unsettled investors at the turn of the year. 
Re-shuffling the decks 
If, as anticipated, interest rates are going to rise faster than expected, how then might this impact investors' choices? January saw some investors scrambling to rotate away from more interest–rate–sensitive growth stocks towards those that offer value characteristics; that is those trading at lower prices than a company's performance may otherwise indicate. 
When investors rapidly re-assess their positioning, volatility is to be expected, and it's typically the most exuberant and speculative parts of financial markets that need to re-adjust – cryptocurrencies and high–growth stocks among them in January. 
This 're-shuffling of the decks' also commonly impacts sector and country exposures. Although uncomfortable in the short term, it can also present opportunities as well as risks. 
While the inflation story is likely to remain a key near–term narrative, it's not been the only cause of investors' new year jitters. The first corporate earnings season of the year, reporting their results for the final 3 months of 2021, has so far uncovered some high-profile disappointments. Even so, aggregate sales and earnings growth numbers remain strong for the fourth quarter of last year. And we think the underlying strength of the US economy bodes well for a continued increase in capacity utilisation and this should continue to boost earnings. 
Geopolitics too has also remained an ever-present risk, given the continued tensions over Russia's intentions in Ukraine. The market impact of any military action is likely to be most keenly felt in commodity markets and safe–haven assets (gold, the US dollar, government bonds). It is unlikely, however, to meaningfully affect the global macroeconomic picture, given the relative diminutive nature of the Ukrainian and Russian economies compared to the US, China, and developed European nations.  
Economic robustness 
So, has this recent market turbulence led us to alter our investment view? The short answer is no. Our reading of the macroeconomic environment over the past 12 months has meant that we have long positioned our portfolios for a continued global economic recovery, and for the pace of monetary policy normalisation to pick up. 
The underlying story here is one of economic robustness: the economic recovery is entrenched and it no longer makes sense for central banks to keep the economy on life support. It is precisely due to the strength of the underlying recovery – in particular labour markets, and the strength of consumer demand that is manifesting itself in higher goods inflation – that central banks are now beginning their journey to normalisation nearly two years after the start of the pandemic.  
Chart 2 shows how personal consumption in the US remains at elevated growth levels, supported by healthy household balances sheets and a robust labour market.  
Chart 2: Three-month average US personal consumption growth, over a year ago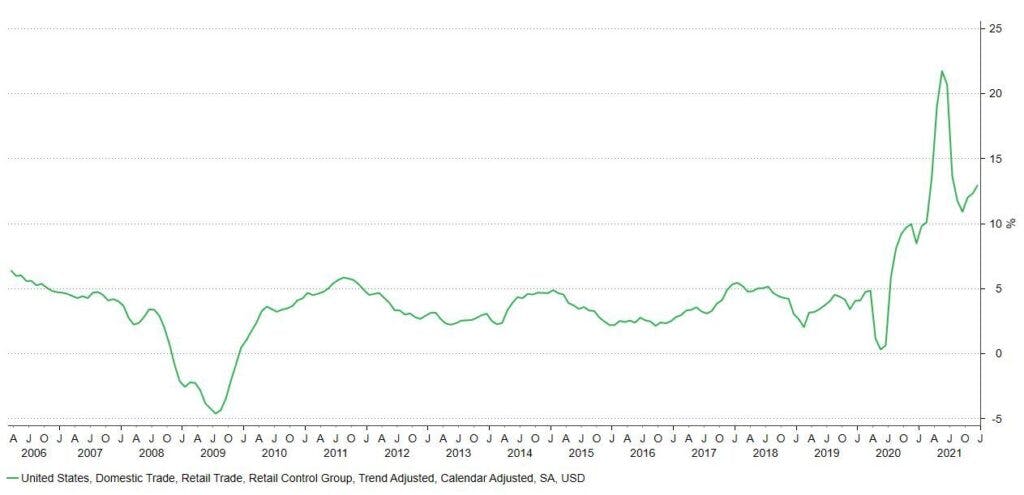 Source: Macrobond, Nutmeg, 31/12/2005 – 31/12/2021 
Despite the emergence of the Omicron variant late last year, our base case has remained for a continued pace of monetary policy normalisation, given the current inflationary pressures the global economy faces.  
Last year we cut overall exposure to US growth companies through reducing our positioning in the technology focused Nasdaq index. In its place, we introduced a holding in US financials, thus swapping an asset we believed was more exposed to interest rate rises with one we believed would benefit from them. This trade proved timely as, in recent weeks, we've seen financials significantly outperform the wider US stock market.   
We have long held an underweight in government bonds, which we see as vulnerable to rising interest rates as well as a reduction in emergency bond buying programs (when bond yields rise, bond prices fall). And although a useful asset for diversification purposes, we think US and& UK government bonds offer poor value in the current environment of inflationary pressure, given their negative after– inflation (real) yields, and their lack of fair compensation for the increased levels of fiscal risk after the expanded government borrowing throughout the pandemic period. To put this in context, we currently own only two–thirds of the bond exposure we would expect to over the long term across our portfolios.  
Beyond the easy yards 
While we expect policy normalisation to be a headwind for government bonds, we remain constructive on the outlook for equities. As we highlighted in a recent blog, long-term supportive trends remain very much intact. Though, after an unusually quiet period for markets through most of 2021, we expect market volatility to normalise in 2022, as the 'easy yards' of the recovery are behind us. 
Still, we think equities remain attractive in this environment, despite near term volatility. Although we expect monetary policy to normalise, it will remain at supportive levels (at least when compared historically) over the next 12 months, and even faster rate hikes in the year ahead will see interest rates rise to levels far below the peak of previous interest rate cycles.  
From our perspective, it's likely we are currently in the 'eye of the inflation storm', and we share the view of the IMF and central bank forecasts of inflation pressures that will moderate as the year proceeds, and so dampen expectations of aggressive policy withdrawal medium term.  
So, while rising interest rates provide a challenge to highly valued stocks in certain parts of the market, in our opinion the valuation of equities relative to government and corporate bonds remains attractive. Monetary conditions remain incredibly easy from a historical perspective while assets such as high-yield bonds do not yet appear to be signalling fundamental concerns for the economic outlook. 
As discussed, bond assets offer little compensation for the increased risks, nor do they offer inflation protection at current yields. And so we expect equities to remain in favour given their potential for inflation beating returns, backed by buoyant economic activity and consumer demand, and high investor cash positions.  
And as Chart 3 shows, it is important to look beyond short-term market moves because in even the best years for equity returns, stock markets have historically tended to experience a significant intra-year decline. This chart shows the maximum drawdown for the S&P 500 in each calendar year – in other words the difference between the peak and the trough in returns, or the highest possible loss investors could have incurred during the year.   
It's important for all investors to remember that one bad month for markets does not dictate a whole year – staying invested and letting your portfolio ride out volatility over the long term is more often the best way to meeting your investment goals.  
Chart 3: Calendar year returns versus intra-year declines (S&P 500)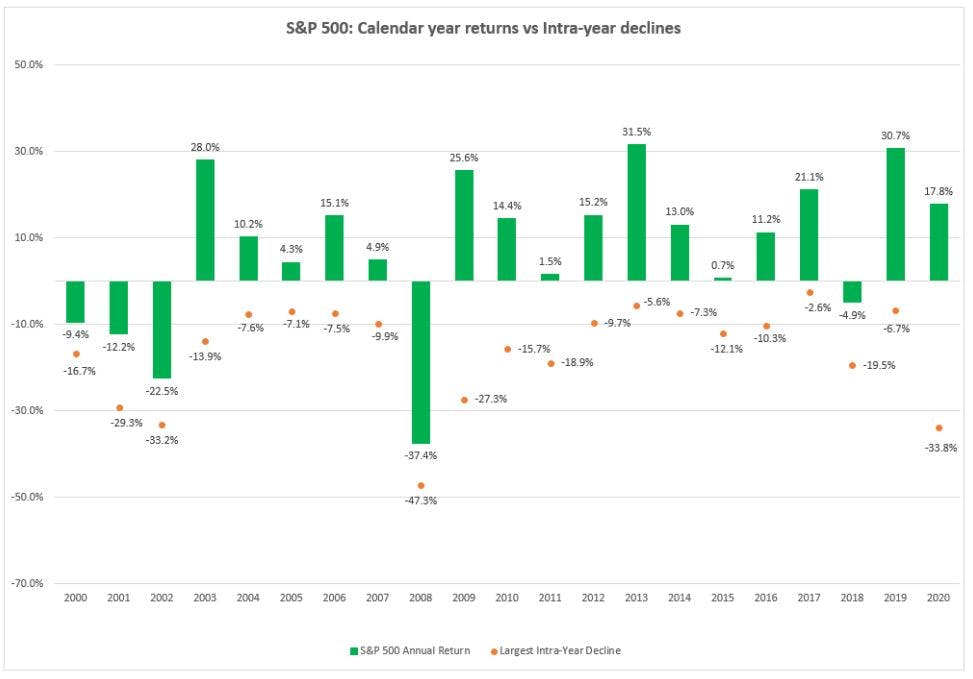 Source: Macrobond, S&P Financial, FTSE. 31/12/1999 to 31/12/2020. Annual returns & drawdowns use total return indices in local currency but do not account for fees. 
Risk warning

 

 
As with all investing, your capital is at risk. The value of your portfolio with Nutmeg can go down as well as up and you may get back less than you invest. Past performance and forecasts are not reliable indicators of future performance.