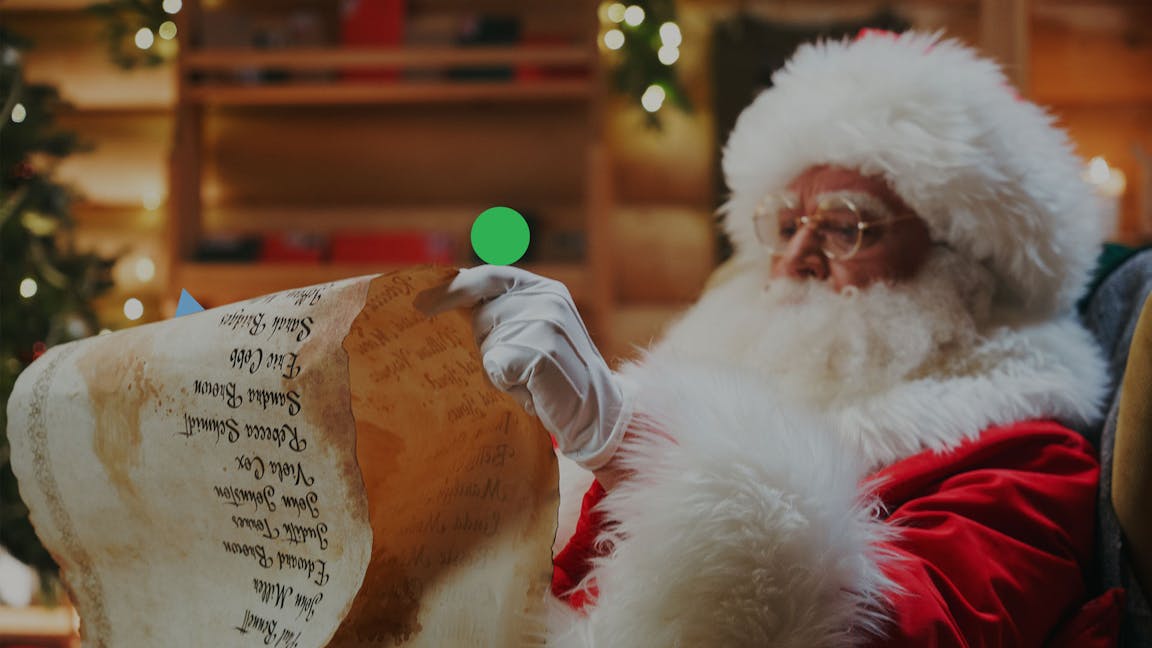 Mince pies, mistletoe, and mulled wine are just some of the seasonal delights many of us enjoy in the run up to Christmas. Some people believe that equity markets also get into the festive spirit in December, experiencing a phenomenon known as a 'Santa Rally'. But is it really – or just a popular myth?  
What is a 'Santa Rally'?  
The idea is that markets rise at the end of the year, with some suggestions that equities often outperform in December.  
There are several theories that explain why this may be the case. One is that the festive period may buoy traders, making them more bullish and optimistic. This 'December effect' drives buying, rather than selling.  
Another is that institutional fund managers – whose performance is judged on an annual basis – like to tidy up their positions or rebalance their portfolios before they break for the holidays. This means that they will sell their highest performing stocks, and buy underperformers, helping to lift the overall market.  
Is the 'Santa Rally' real?  
The concept of the Santa Rally dates back to research presented in 1942 by academic S.B. Wachtel in the Journal of the Business of the University of ChicagoThis analysis showed that over the previous fifteen years, the Dow Jones index had tended to rise from December to January.  
In 1973, Yale Hirsch revived the idea in suggesting that the stock market had rallied consistently at the end of the year.  
Over the past 40 years, markets have delivered positive returns during most months of the year. As Chart 1 (going back to the inception of the FTSE 100 in 1984) suggests, December seems to be the best performing month on average, supporting the idea that something like a 'Santa Rally' may exist.  
Chart 1: Median monthly equity market returns since 1984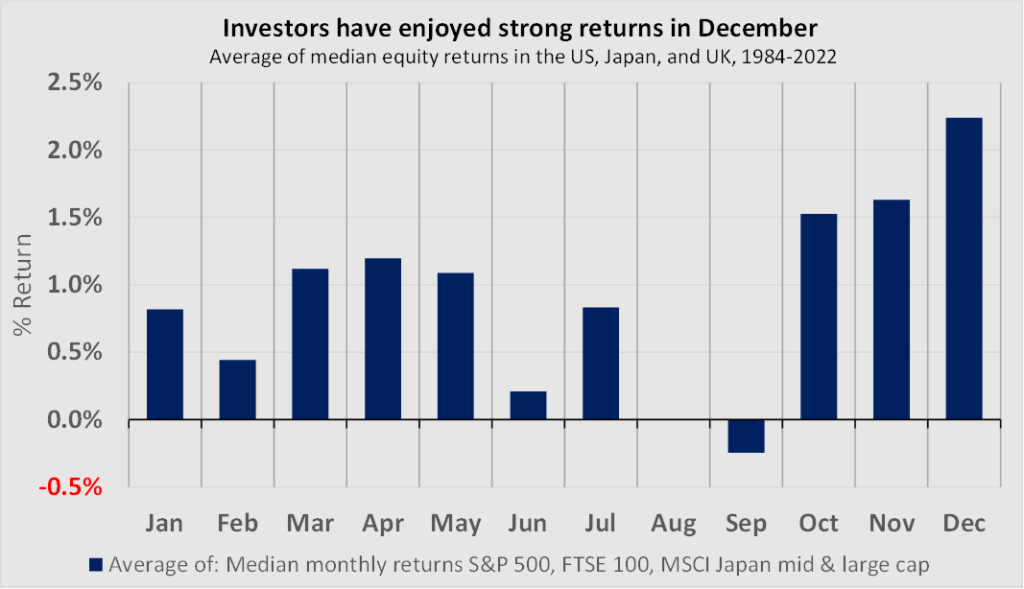 Source:Nutmeg, Macrobond
Nowadays, however, experienced investors tend to take a more sceptical view. They highlight the multitude of factors that can affect market behaviour, and the dangers of using past performance as a guide to future returns.  
That hasn't stopped the idea of the Santa Rally remaining widely popular. Speculation builds every year around whether markets will end the year on a high. While there's no statistical foundation proving that the Santa Rally exists, the hype alone can sometimes be enough to influence investor behaviour.  
Will there be a Santa Rally this year? 
In November, markets had one of their best months of the year, with some indices climbing over 20%. Commentators speculated whether Christmas had come early – or whether the rally would extend into December. 
Chart 2: Monthly percentage change in equity markets in 2022 
Source:Nutmeg, Macrobond 
November's market performance was driven mainly by signs that US inflation may have peaked, and growing optimism that the Federal Reserve (the US central bank) would relax the speed of its interest rate rises in the months to come.  
This shifted the mood across global markets, with European and emerging market indices rising over the month. After a difficult year for China, a shift in the government's zero-Covid policy helped propel the Hang Seng index up by over 25% in November.  
Will this optimism continue as we near Christmas?  
Analysts are divided. Some believe that, after an incredibly tough year, equity markets have corrected, and may be at the start of another cycle.  
Others are more pessimistic, and think we're experiencing a 'bear market rally'. They think that if or when a recession starts next year, riskier assets will sell-off again. In other words, this rally will be short-lived and temporary.  
Is December the best time of the year to invest? 
Although December may have the highest probability of returns, moments of stock market superstition can be found throughout the year.  
You may have heard of other seasonal trends, such as the 'January effect', 'sell in May and go away' or even the 'Halloween indicator', which suggests that October is statistically the worst time of the year to invest – and supposedly the scariest time to be in the market.  
However, it's important to remember that these adages shouldn't be relied upon as strategies for long-term gains. Returns can deviate substantially from seasonal patterns, which are based on backward looking, historical data.  
December 2018, for example, was a terrible month for stocks, as pessimism about the state of the global economy sank investors' spirits. Those expecting a Santa Rally would have been disappointed – and received the investing equivalent of coal in their Christmas stocking.   
What's more, we can't control or predict how markets will perform at any given time: they're influenced by a broad set of factors and can be swung by unpredictable events. For example, most were wrongfooted by the emergence of the Covid pandemic in 2020, or geopolitical factors such as the war in Ukraine which has impacted markets this year.  
The Nutmeg view  
While, historically speaking, markets have performed well at the end of the year, at Nutmeg we believe that time in, not timing the market is the best way to invest for the long-term.  
It can be tempting to try and outsmart the market, or join the hype surrounding a rally to try and end the year on a high.  
However, it's not worth the potential worry or loss that it could cause, particularly at a time of year when stress and emotions can already be running high.  
Staying invested and making regular contributions to your investment pots will mean that you stand to benefit if the market rises – Santa Rally or not.  
This time of year is best spent with friends and family. The best gift you can give yourself is peace of mind. So, leave your investment strategy to us and enjoy a happy and healthy Christmas with your loved ones.  
Risk warning 
As with all investing, your capital is at risk. The value of your portfolio with Nutmeg can go down as well as up and you may get back less than you invest. Past performance is not a reliable indicator of future performance.