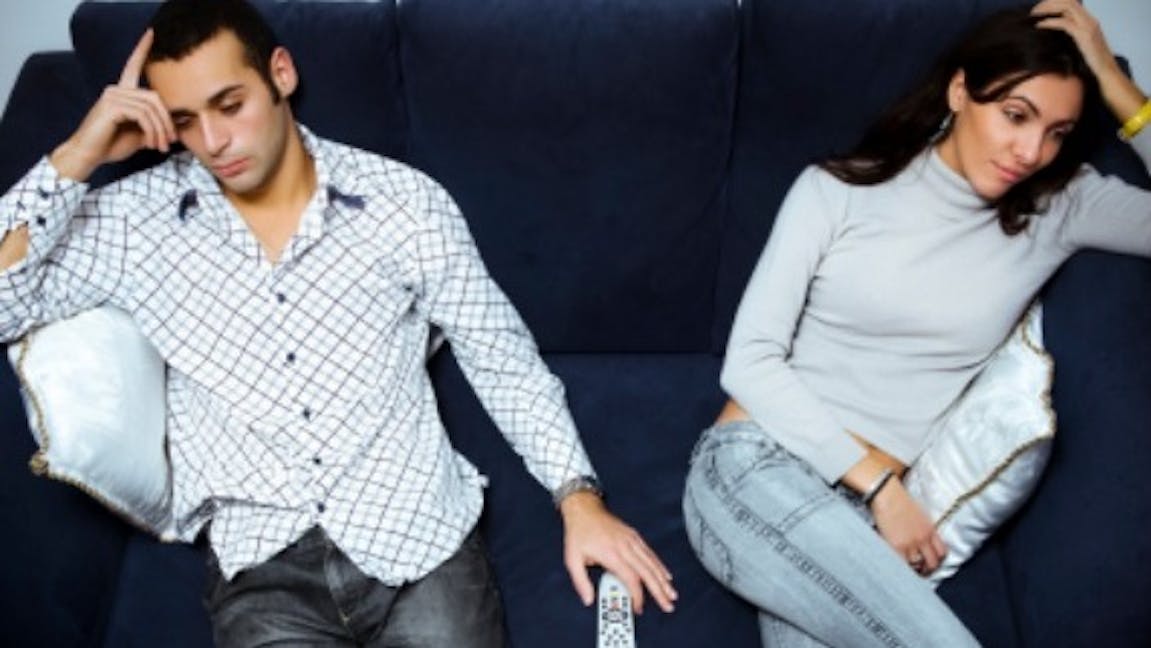 We recently carried out a piece of consumer research with Opinium to find out about couples' investment habits¹. The results revealed, rather unpleasantly, that many people today feel forced to remain in a relationship purely because they can't afford to leave their partner.
One in seven (14%) people who are divorced or separated admitted they had stayed in a marriage too long due to financial worries, rising to one in five (20%) women. Meanwhile, surviving financially after a break-up is a worry for 52% of women in relationships.
When money's too tight to mention
The research also told us that women are seven times more likely than men to stay in a relationship after they've decided to leave, due to financial reasons (20% vs. 3%). Although men and women are equally likely to get married for financial security (13%), women are more likely to be left worse off after a break-up. Half (51%) of divorced or separated women say they faced a drop in their disposable income, which is almost double the 24% of men who suffered.
It's never particularly nice to think about the possible ending of a relationship, but it seems many people could benefit from planning ahead for every eventuality and consider their ability to live financially independent of their partner should things not go according to plan. At the same time, some couples can benefit financially by pooling their investments, consolidating their money into one larger portfolio to reduce their investment management fees.
Adjusting to single life
Unsurprisingly, both men and women have to make lifestyle changes after divorce or separation, but the difference between the sexes is stark. Over a third (34%) admit that their daily living expenses increased as a result of their divorce/separation. In fact, two fifths of women (40%) said they had to increase their working hours once their divorce/separation had been concluded, in comparison to just under one in ten men (9%).
Almost one in five (19%) worry about the impact that the divorce has had on their children's financial future, 18% had to take up renting as they couldn't afford to buy in their area and 16% were forced to sell their property. Men are significantly more likely to have to leave the home and move to another area than women (24% versus 4%).
These new statistics may explain recent figures from the Office for National Statistics (ONS) which reported a 5% decrease in the number of post-recession divorces, indicating that the practical strains caused by a break-up in a time of economic uncertainty have motivated some couples to stay together².
ONS statistics also highlight the potential cost of a break-up, with single parent families spending £17,316 a year (£333 a week) compared to households with two parents spending £30,108 a year (£579 a week)³. This data shows the 'single person's premium', as spend by a single parent is much more than if the yearly cost were to be split evenly between two parents.
Retirement black hole
Women are also significantly more likely than men to be reliant on a partner's retirement savings. Over a quarter (26%) of the female respondents to our survey said that they are reliant on their partner's retirement savings, in comparison to 18% of men in a relationship. Women are also less likely to have retirement savings, with over third (33%) in a relationship revealing that they have absolutely nothing put away for retirement. This figure drops dramatically to 18% of men admitting that they aren't financially prepared for the future.
Interestingly, double the amount of men (42%) in a relationship compared to women (21%) say that their retirement savings would be impacted should they break-up with their partner.
Nutmeg co-founder, Nick Hungerford, commented on the findings: "We're galloping towards a pension crisis in the UK. In our view, there's almost certainly going to be no state pension in two decades time, except for the most disadvantaged citizens, so it's now more important than ever that we all do as much as we can to ensure we have a decent retirement pot when the time comes. Starting a long-term investment plan is easier than many people think. You can set up an intelligent fully-managed portfolio in just ten minutes and you don't need a vast sum of money to get access to that level of investment service."
Sources
Research conducted by Opinium on behalf of Nutmeg. Online survey of 2,002 UK adults from 31st January-4th February 2014
ONS Divorces in England and Wales, 2012
ONS Family Spending Report, 2012
Risk warning
As with all investing, your capital is at risk. The value of your portfolio with Nutmeg can go down as well as up and you may get back less than you invest. Pension rules apply and tax rules may change in future. If you need help with pensions, seek independent financial advice.