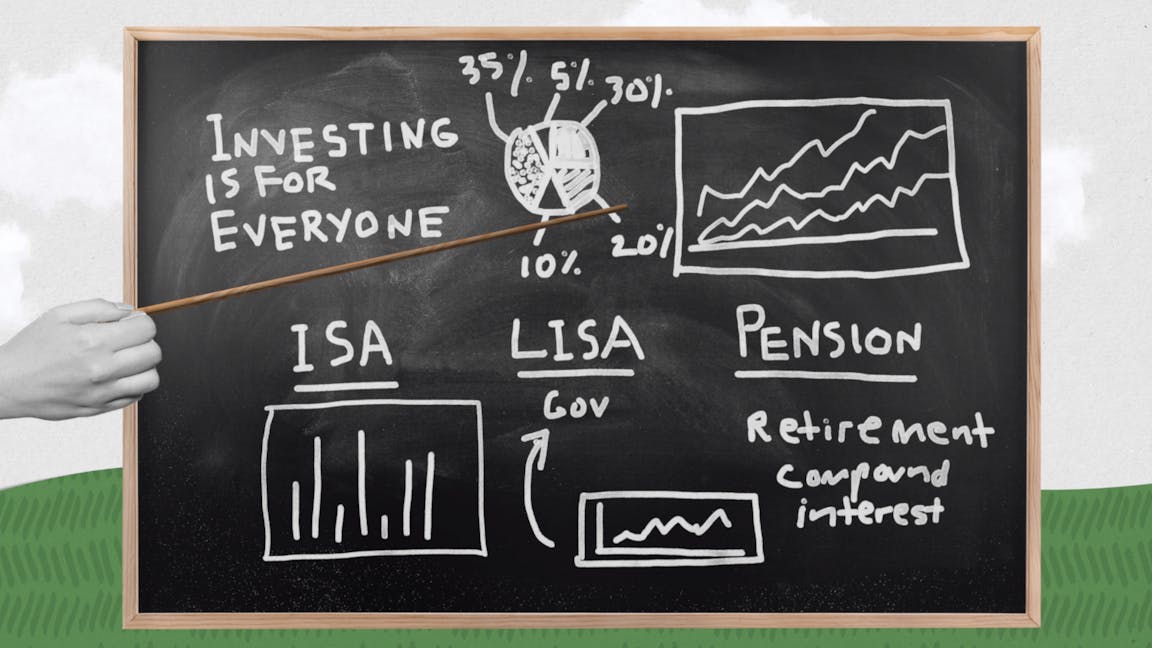 What, if anything, do you remember being taught about personal finance in school? Has its introduction to the statutory citizenship curriculum had a big impact on students' financial literacy five years on? 
In short, no. It's been found that the UK is rated below average when it comes to teaching finance in schools.¹ 
60% of UK teachers believe students leave school with a poor level of financial understanding
Given our main aim as a business is to empower generations of people to invest, this statistic kicked us into action, firstly prompting the question 'why?' and a subsequent investigation to find out what can be done to address the knowledge gap.  
Why is financial education important? 
Today in the UK, personal debt is at an all-time high, pension pots are falling behind, and the number of people investing in an ISA is at its lowest level in 18 years.²
While rising mortgage and rent prices, larger university debt and slow wage growth compared to inflation have their roles to play, there is also a 'why bother' mentality among the earning population. This has ultimately led to a quarter of British adults having no savings to their names.³ 
As countless education boards, business bigwigs and economic organisations will tell you, this situation could be turned around if greater significance was placed on financial teaching in schools, equipping students with the knowledge and confidence to build a sustainable future for themselves.  
Even short-term decisions, such as choosing a mobile phone plan or car insurance provider, demand a level of financial savviness and can have big impacts on our financial health. Add to that a need to prepare coming generations for buying a house and planning for retirement and it's clear that financial literacy has its place in the classroom.  
The current curriculum  
Citizenship as a subject – which provides pupils with the skills to play an active part in society – is a compulsory part of the national curriculum in Key Stages 3 and 4 in English schools. It's not a core subject, though, so it's not assessed and it's not compulsory in academies, private schools and faith schools. The curriculum should cover: 
Income and expenditure 
Credit and debt 
Insurance 
Savings and pensions 
Financial products and services 
How public money is raised and spent 
Wanting to understand how effective this approach is proving, we asked OnePoll to survey three groups on behalf of Nutmeg. They were: 
Key Stage 3 and 4 teachers (100 respondents) 
People aged 21+ who attended years 10 and 11 prior to 2014's introduction of financial education (500 respondents) 
Students aged 16-19 who are currently in years 10 and 11 and being taught financial education (500 respondents) 
The total sample size was 1100.  
From the results, we were able to gain fascinating insights and comparisons between the three groups.  
Unpicking the results  
Teachers 
Among teachers, the need for emphasis on financial education was palpable, as 74% of respondents felt that it is as important or more important than non-core subjects like history and geography, believing that 30 minutes a week should be dedicated to financial education. 
However, the teachers didn't feel confident in their own level of financial knowledge: 42% scored themselves at 5 out of 10 or lower. Whether this is due to the vague curriculum, lack of resources or their own attitude towards finances is unclear. Either way, the teachers felt that their students were similarly struggling, with 60% believing that students leave school with a poor level of financial understanding⁴.  
Students 
Interestingly, more students currently in years 10 and 11 reported acquiring their financial knowledge from their parents (70%) than attributed their learning to formal education (35%). This suggests that the level of financial education currently offered in schools is so lacking that students are still relying on advice from other sources.  
This lacking is also echoed by the fact that the answer that received the highest percentage (65%) when asked whether the respondents felt they have a sufficient level of knowledge to choose a financial product – such as a pension or ISA – were the students  who are currently being taught financial education⁵. This reiterates how poor current financial education is, as those who did not receive financial education feel they have more knowledge around financial products than the students. This could, however, be due to self-taught product knowledge post-education.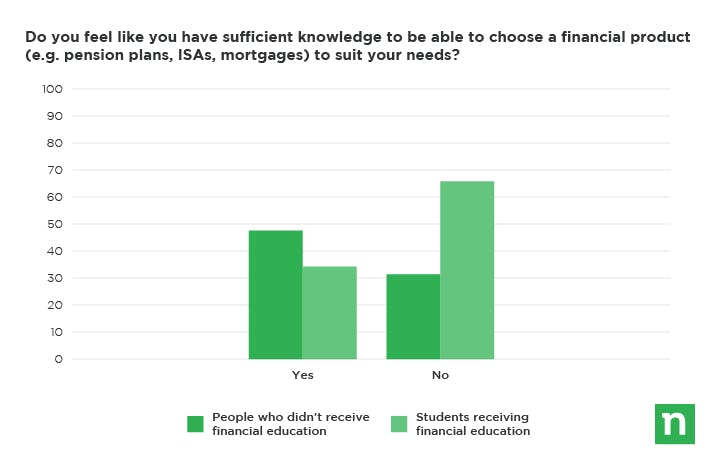 Surprisingly, the overall confidence of students who were receiving instruction in finance was lower than those who had left school to fend for themselves. 44% of those exposed to financial education in schools didn't know or didn't feel like they could confidently manage any of the financial products, compared to 17% of respondents who hadn't received education.  
67% of pre-curriculum respondents agreed that if they'd learnt more about personal finance in school then they would have more confidence with their finances as an adult.⁶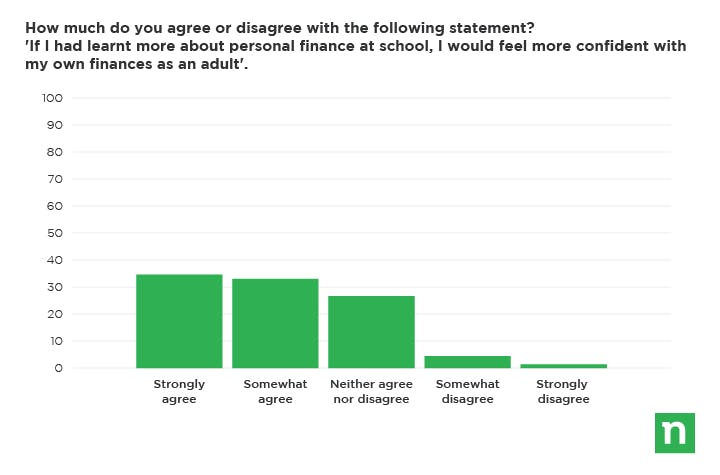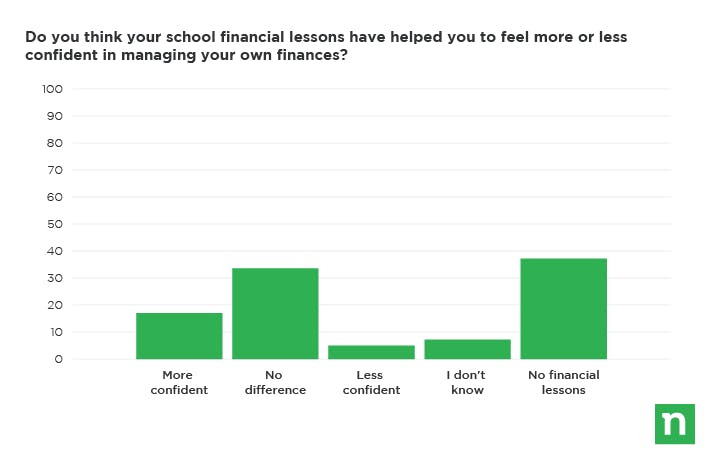 However, when the post-curriculum respondents were asked if lessons made them more confident in their financial decisions 33% said that it made no difference.⁷
Financial confidence and gender 
Women are considerably less confident in managing a stocks and shares ISA in comparison to men (14% vs 30%). This is echoed across UK investment statistics, which show that 10% of women have stocks and shares ISAs compared to 17% of men.⁸ 
This could be because of the different attitudes to investing between genders, with the main cause of women not investing being lack of confidence.  
Looking to the future 
Shockingly, despite being a mandatory part of the curriculum, 37% of students within the relevant 16-19-year-old age bracket said they aren't or weren't taught finance at school. This highlights that the current solution to financial education is still not having the necessary impact.  
But how can things be improved? And whose responsibility is it?  
The burden shouldn't fall in one place, but on the efforts of many. In order for drastic progress to be made, small changes need to be adopted by the government, schools, teachers, parents and students.  
Proposed changes could be:  
Government: more funding for financial education. As the cost of fixing economic damage caused by a lack of citizen-level financial education is much greater than the cost of providing more resources for schools, ensuring there's sufficient funding for adequate financial education is necessary. 
Financial services industry: set up schemes between schools and industry bodies – such as the Investment Association, Citizens Advice or the Money and Pensions Service – so students are learning from those with advanced knowledge in the business. 
Educational board: tighten up the curriculum, provide more detailed lesson plans, training and introduce a form of assessment.  
Schools: shift timetables to assign a set amount of time to financial education per week and begin lessons about finance from a younger age.  
Parents: understand that children are aware of what money means by the age of seven and be mindful of their child's growing attitude and behaviour towards finance.  
Students: show enthusiasm and a genuine interest in the topic.   
Supplying resources 
Countrywide changes in the public sector can take a long time to implement. In order to make immediate improvements it's up to teachers, parents and students to seek comprehensive resources.  
While the web is a good starting point, the level of jargon can be off-putting for those trying to self-educate. Comprehensive, easy-to-understand guides are the answer.  
Nutmeg offers a guide to ISAs, pensions and lifetime ISAs, complete with a detailed unpacking of definitions, benefits, FAQs and much more. Both teachers and students can use these as useful aids to help bring confidence, understanding and a brighter financial future to future generations.
Generation debt: UK 'below average' at teaching financial literacy (2018) The Conversation http://theconversation.com/generation-debt-uk-below-average-at-teaching-financial-literacy-90326
Popularity of Isas drops to 19-year UK low (2019) The Financial Times https://www.ft.com/content/d2f1c806-ad0c-11e8-89a1-e5de165fa619
A quarter of British adults have no savings, study reveals (2018) The Independenthttps://www.independent.co.uk/news/uk/home-news/british-adults-savings-none-quarter-debt-cost-living-emergencies-survey-results-a8265111.html
Based on OnePoll survey conducted on behalf of Nutmeg (2019) question to Key Stage 2 and 4 teachers: 'Overall, what level of understanding of finance, savings and investment do you think UK students leave school with?'
Based on OnePoll survey conducted on behalf of Nutmeg (2019) question to students in years 10 and 11: 'Do you feel you have sufficient knowledge to choose a financial product?'
Based on OnePoll survey conducted on behalf of Nutmeg (2019) question to people who were not given financial education at school: 'How much do you agree or disagree with the following statement "If I had learnt more about personal finance at school, I would feel more confident with my own finances as an adult".'
Based on OnePoll survey conducted on behalf of Nutmeg (2019) question to students in years 10 and 11: 'Do you think your school financial lessons have helped you to feel more or less confident in managing your own finances?'
Why don't women invest more? (2019) Unbiased https://www.unbiased.co.uk/news/financial-adviser/women-and-investing
Risk warning
As with all investing, your capital is at risk. The value of your portfolio with Nutmeg can go down as well as up and you may get back less than you invest. Past performance is not a reliable indicator of future performance. A stocks and shares ISA may not be right for everyone and tax rules may change in the future. If you are unsure if an ISA is the right choice for you, please seek financial advice. 
A pension may not be right for everyone and tax rules may change in the future. If you are unsure if a pension is right for you, please seek financial advice.