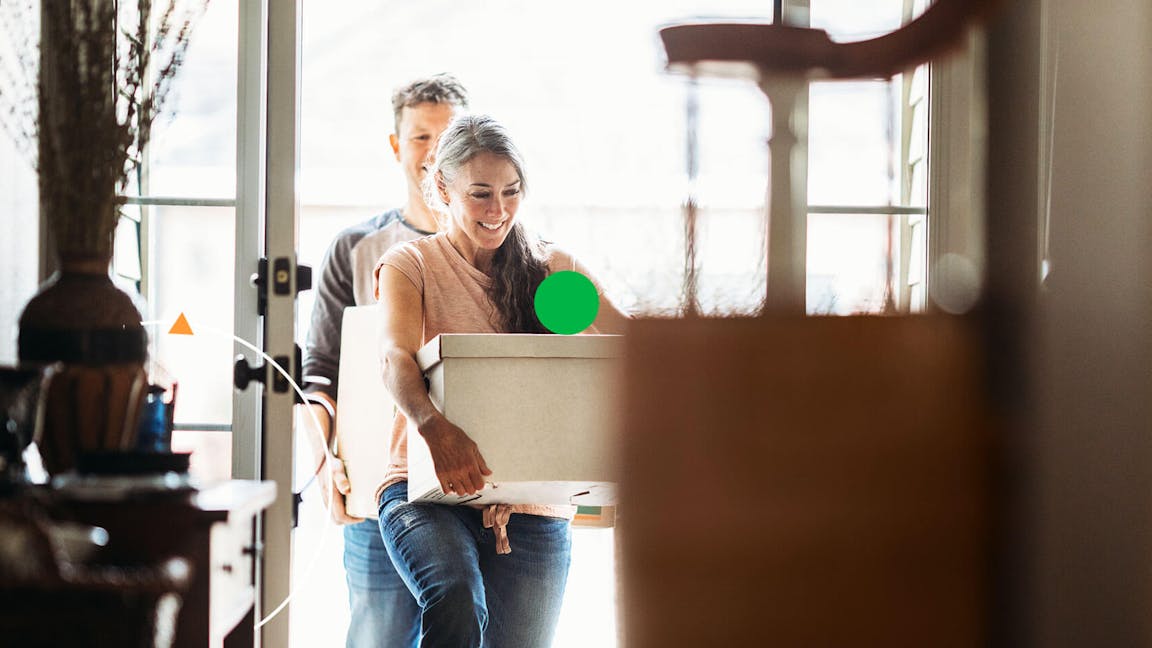 Getting on the housing ladder is at the top of many first-time buyers' wish lists for 2022 – but what's the average deposit needed in your area?
Nutmeg has crunched the numbers from official house price data to reveal how much first-time buyers would need to put down the typical 10% deposit across England.
It can take years to reach any savings goal but don't despair. The Lifetime ISA (LISA) adds a 25% government bonus to your contributions up to a maximum of £4,000 per tax year, which can help you reach your goals more quickly.
So, we've calculated how long it takes to save a deposit with help of a LISA.
The challenge for first-time buyers
Our research shows how aspiring homeowners typically need to save for five years and four months to raise a deposit for a home in England – that's seven months longer than in 2017, when the average time taken was four years and nine months.
Nationwide, the average 10% deposit that a first-time buyer needs to raise is £27,096. The figure rises to £52,589 in London, £47,265 in Guildford, £49,330 in Cambridge and £45,375 in Winchester.
While the historically high prices of homes in London and the south are well known, our analysis shows how the continued rise in house prices is challenging would-be homeowners in other parts of the country too. For example, the average house price in Shropshire was nearly 17% higher in October 2021 than 12 months previously. That means first-time buyers saving for an additional year, to an average of five years and one month, to raise the £25,516 needed to get on the property ladder.
Elsewhere, property prices were 16.5% higher in County Durham, which means saving for two years and one month to raise a £11,895 deposit; 15% higher in Northumberland, where it would take three years and eight months to reach £18,493; and 14.8% in Rugby, equivalent to five years and six months of saving for a £27,414 deposit.
Where can I buy with a small deposit?
The areas where buyers need the smallest deposits are:
Kingston Upon Hull

, where a 10% deposit of £12,130 would require saving for two years and four months with a Lifetime ISA

Blackpool

, where the typical £12,302 deposit would take two years and six months to save

Stoke on Trent

at £13,363, which would take two years and eight months.
How does the LISA work?
These figures assume that individuals can save the maximum £4,000 annually - equivalent to £333 a month - that can be put away in a Lifetime ISA (LISA). They also include the 25% annual cash bonus from the government. So those saving without the LISA may find it takes even longer to achieve their dreams of home ownership.
Lifetime ISAs can be opened by those aged 18 to 39 and the money held in the account must be used either to purchase a first home priced £450,000 or less, or for retirement. Withdrawals in most other circumstances incur a penalty charge.
Prospective homeowners can speed up the amount of time it takes to raise their deposit by using the Lifetime ISA and, depending on the individual's age and circumstances, some people can boost their deposit through investing in a diversified portfolio. However, investing comes with risks and there's always the potential for financial loss, so do your homework and always choose a reputable investment provider.
Research methodology
The research uses data on the average house prices in different cities and, where city data is unavailable, regions in England by http://landregistry.data.gov.England
The calculations are based on net contributions only and do not take into account either interest earned on cash Lifetime ISAs, or the potential gains/losses for a stocks and shares Lifetime ISA.
The calculations assume a first-time buyer has no previous savings when they open their Lifetime ISA.
The calculations do not take into account any fees for holding a Lifetime ISA. More information on Nutmeg's costs and charges is available here - https://www.nutmeg.com/costs-and-charges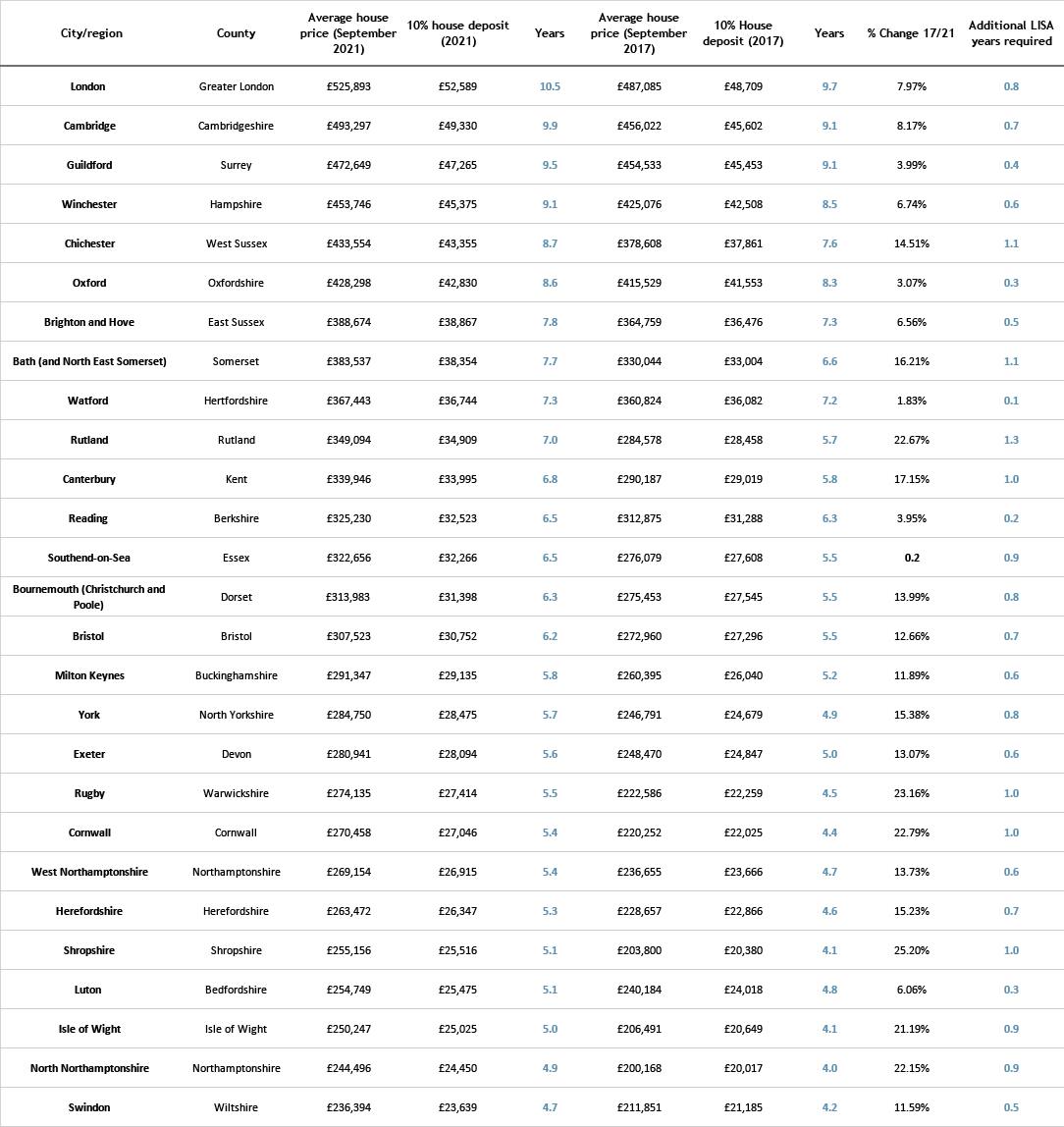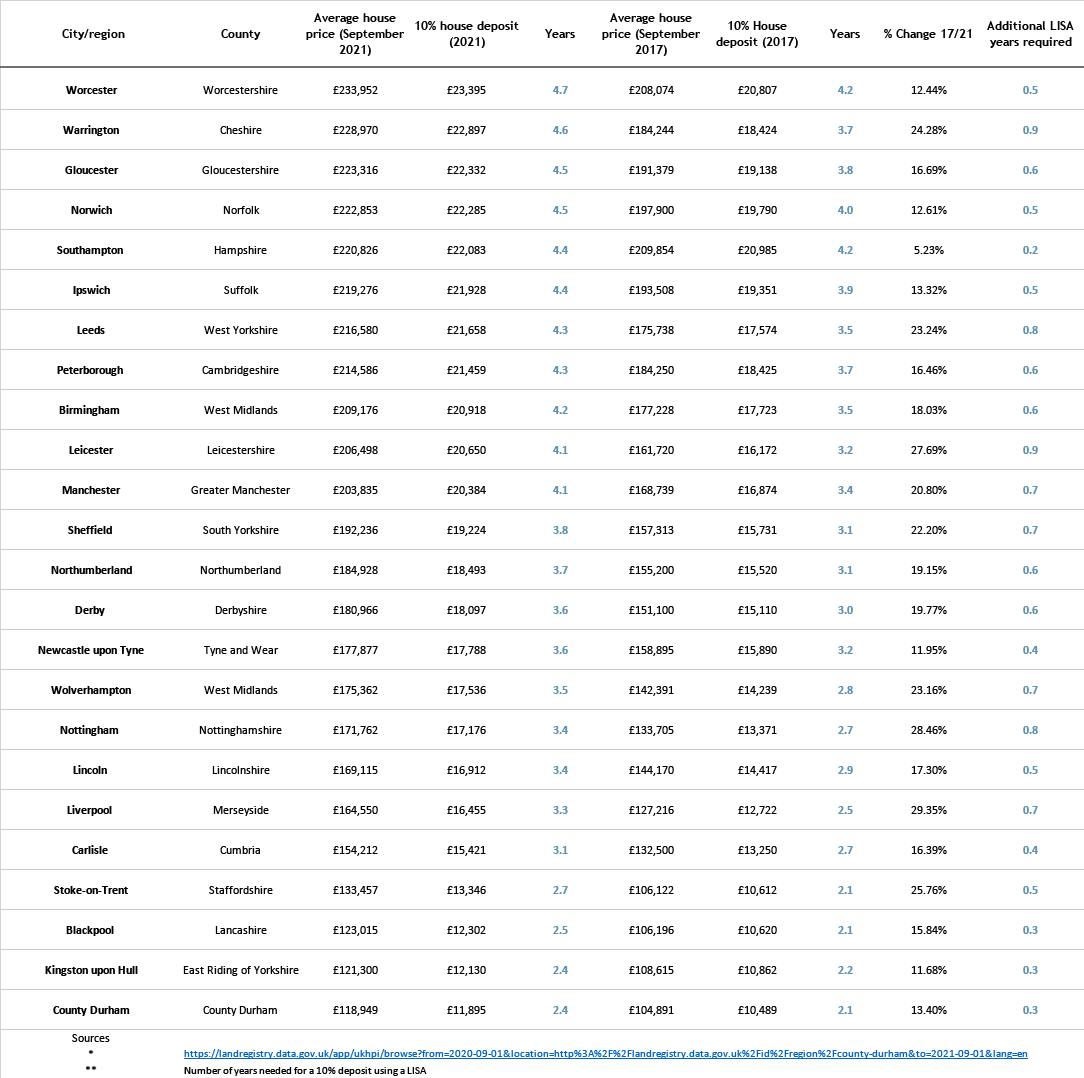 Risk warning
As with all investing, your capital is at risk. The value of your portfolio with Nutmeg can go down as well as up and you may get back less than you invest.
A Lifetime ISA may not be right for everyone
You must be 18–39 years old to open one.
If you need to withdraw the money before you're 60, and it's not for the purchase of a first home up to £450,000, or a terminal illness, you'll pay a 25% government penalty. So you may get back less than you put in.
Compared to a pension, the Lifetime ISA is treated differently for tax purposes. You may be better off contributing to a pension.
If you choose to opt out of your workplace pension to pay into a Lifetime ISA, you may lose the benefits of the employer-matched contributions.
A Lifetime ISA may not be right for everyone and tax rules may change in the future. If you are unsure if a Lifetime ISA is the right choice for you, please seek independent financial advice.