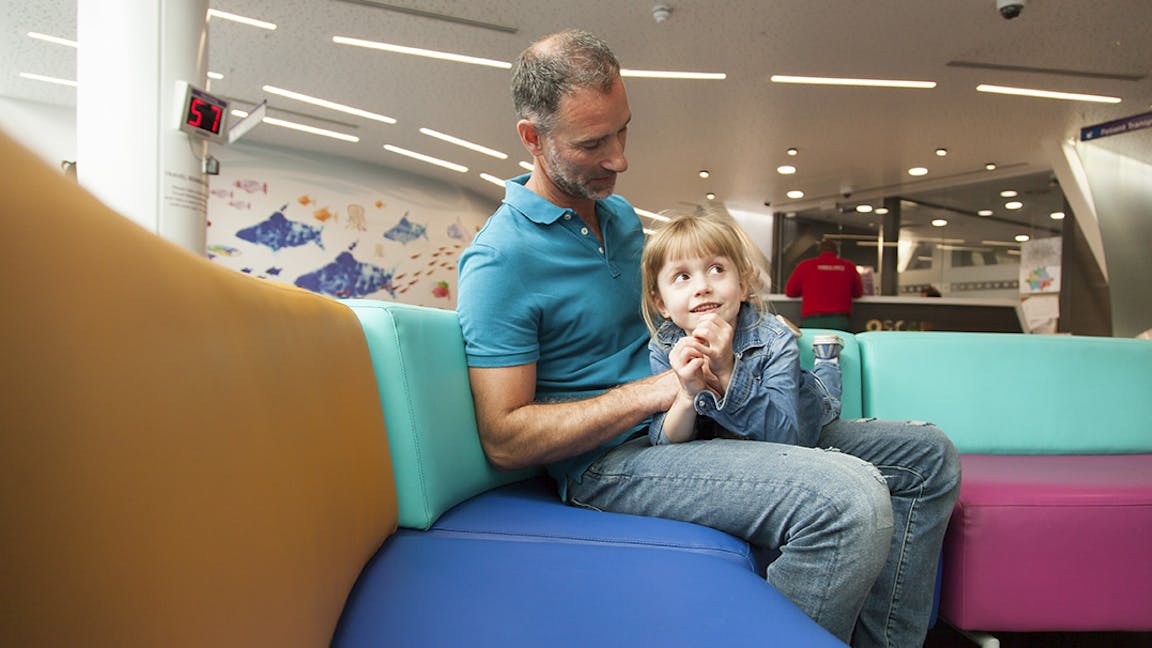 At Nutmeg, we believe every child should have the best possible chance to fulfil their potential. It's why we've recently launched the Nutmeg Junior ISA. And why we're matching donations to Great Ormond Street Hospital Children's Charity (GOSH Charity) up to £100 for every new Nutmeg Junior ISA account.
While the NHS meets the day-to-day running costs of Great Ormond Street Hospital, it relies on additional charitable contributions to provide extraordinary care, expertise and facilities. If you want to know more about how those donations will be used, look no further.
Rebuilding and refurbishment
Every day, more than 600 seriously ill children and young people from across the UK arrive at GOSH for life-changing treatments. To provide the best possible care and surroundings for these children, new buildings and wards need to be created, as well as the renovation of existing ones.
The Zayed Centre for Research into Rare Disease in Children was completed at the end of last year and brings hundreds of clinicians and researchers under one roof to advance treatments for children with rare and complex diseases.
Another transformative project at GOSH was the opening of the Mittal Children's Medical Centre in 2018. The building is home to 240 beds and spans two connecting wings, containing the latest technology and more space for children to be treated.
Intrigued? You can explore these innovative buildings in this immersive virtual reality video.
Child and family support
At GOSH, creating stress-free surroundings and a familiar environment for children and young people is vital. Paris, age 13, explains why she's looking forward to the forthcoming opening of the new Sight and Sound Centre, supported by Premier Inn.
"I have a cochlear implant and, when I go to hospital, I find it hard to understand what people are saying because it's usually really loud. But having my family and friends with me really helps. My favourite sound is probably birds in the morning, so I'm really looking forward to seeing the garden in the new Sight and Sound Centre!" Paris, age 13
Child and family support might mean funding accommodation for around 2,000 families a year who need to stay close to their loved ones, meals for breast-feeding mothers, or support for patients' families who need help with expenses.
It may also mean funding GOSH's specialist Play team. The play specialists and play workers help the children to feel comfortable and relaxed, while working with them to prepare for life-saving treatment and surgery. By helping to build confidence and understanding, the Play team's work helps empower children to have some choice and control of their hospital experience.
Support also may mean helping to fund GOSH Arts, a team that provides creative stimulation for patients and brightens up the hospital environment with art and live music.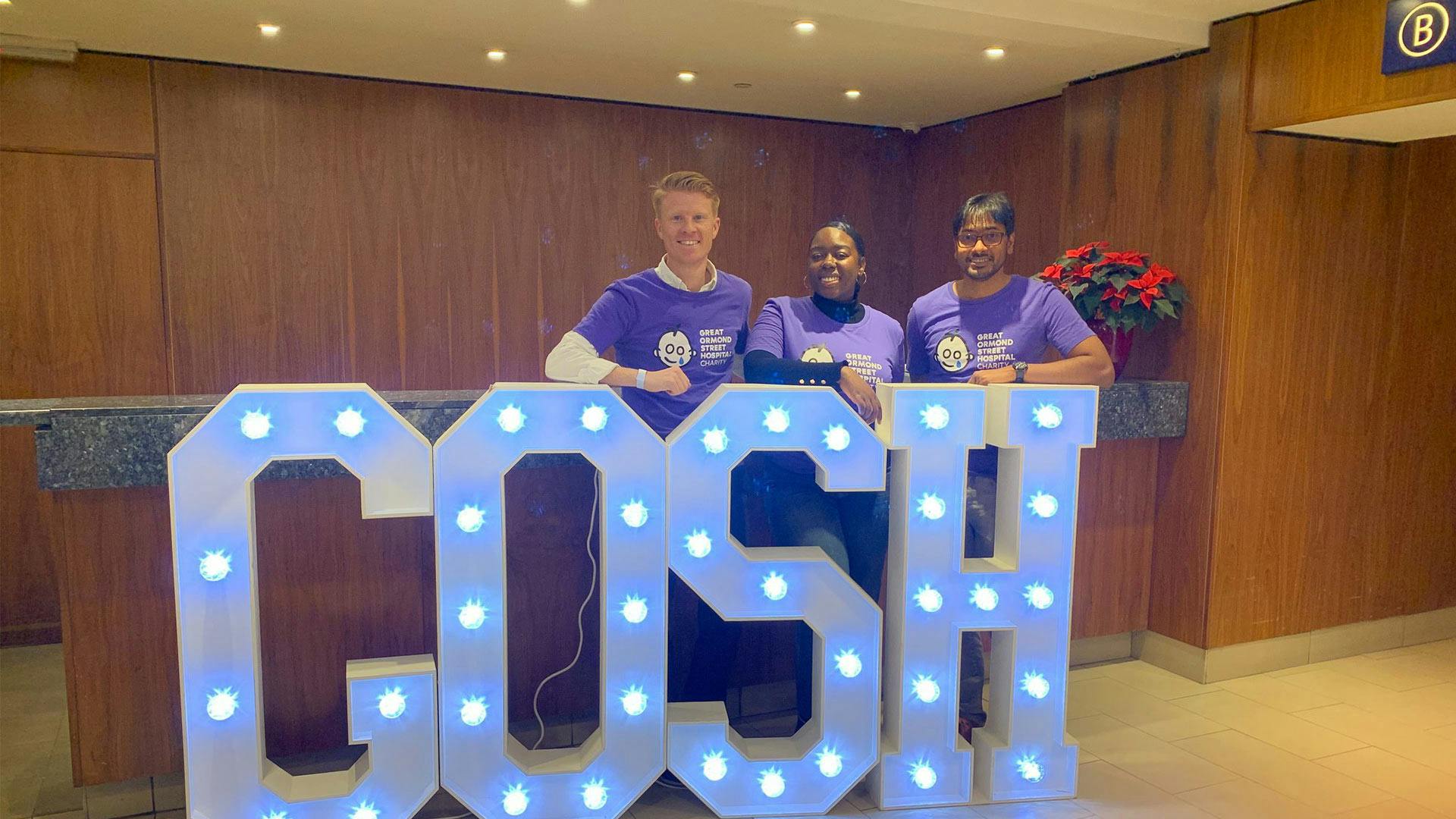 (above) Back in December James, Dee and Abu took a day out from Nutmeg HQ to volunteer at the GOSH and GOSH Charity Christmas Party
Research
GOSH receives more seriously ill children with rare diseases than any other hospital in the UK, which places it in a unique position to help transform their lives by funding research into key areas.
Meet Nina. She was born without an immune system and has been fighting for her life from just a few weeks old. It was only thanks to groundbreaking research trials that GOSH was able to save her life.
Advanced medical equipment
The charity helps fund state-of-the-art medical equipment that treats the toughest and rarest conditions.
For example, the essential updating and modernisation of operating theatres, including the latest inter-operative MRI scanning equipment, has only been possible thanks to kind donations from supporters. And GOSH Charity has committed £2.9 million to give the hospital's cardiac catheter lab an urgent upgrade, which will help specialists treat more children with heart conditions through a tiny 2mm incision rather than open surgery.
If you'd like to make a donation to GOSH Charity, you can find out more about how your donation will be used here.
If you'd like to open a Nutmeg Junior ISA, we'll match any donations you make to GOSH Charity up to £100. Junior ISA rules apply.
Great Ormond Street Hospital Children's Charity's partnership with Nutmeg Saving and Investment Limited does not infer that any financial product promoted by Nutmeg Saving and Investment Limited will meet your needs and demands. If you have any questions you should seek independent financial advice.
Risk warning
As with all investing, your capital is at risk. The value of your Junior ISA can go down as well as up and you may get back less than you invest.
To open a Nutmeg JISA, your child must be under the age of 16 and funds cannot be withdrawn until your child turns 18. Tax treatments apply and may be subject to change in the future.
If you are unsure if a Junior ISA is the right choice for you and your child, please seek financial advice.