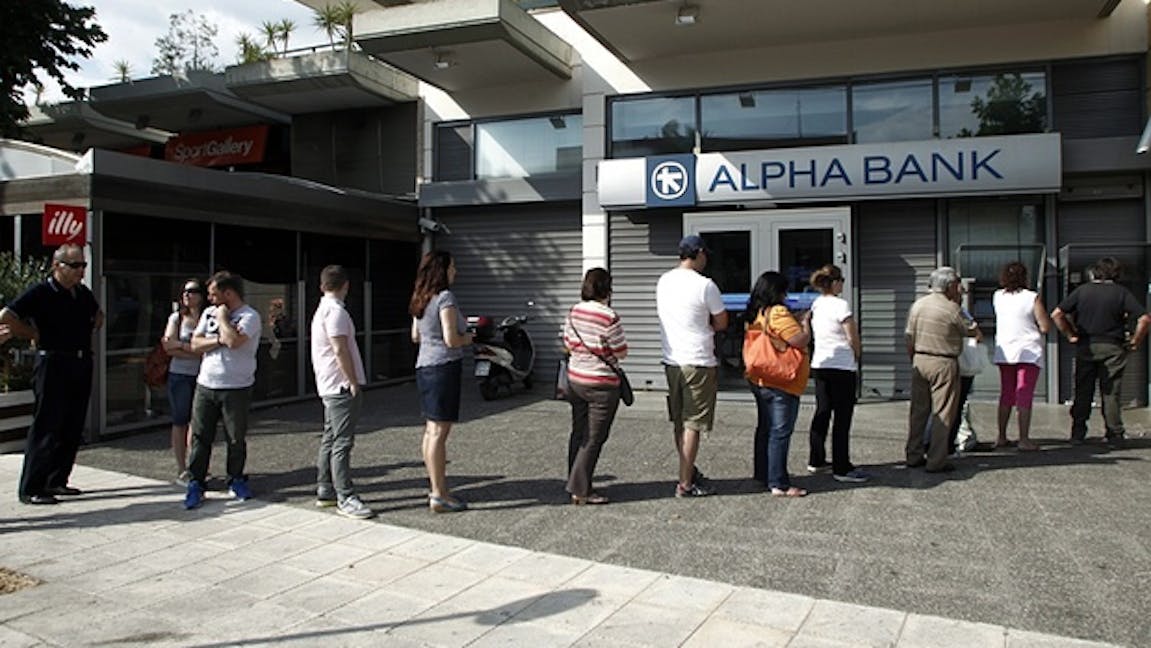 The events in Greece have caused unrest in financial markets around the world for several weeks. Here we keep you informed of the latest news and what it means for Nutmeg portfolios.
Update: 4th August 2015
Greek banks and stock markets re-opened yesterday, having been closed for around five weeks. Bank stocks tumbled by around 30%, accounting for much of the 23% fall throughout the day on 3rd August. The Athens general index finally closed 16% down.
The downward trand has continued today, on the second day of trading, however at a much less drastic rate, suggesting the markets may start to stabilise.
**
Update: 13th July 2015
The Greek government has agreed a bailout deal for around £50bn with the EU and IMF. Details are still being confirmed but we know that the deal will involve the sale of some Greek assets and an independent fund to be set up in Athens, overseen by the EU.
**
6th July 2015
Greek banks shut on Monday 29 June. Frustrated residents have been limited to cashpoint withdrawals of just €60 per day. This comes after the European Central Bank (ECB) said it would not extend its funding to the Greek government.
In the referendum held on Sunday 5th July, the Greek people voted against accepting further strict austerity measures from its creditors. It's unclear at the moment if or when talks will begin again – the Greek finance minister has resigned from his post which may clear the way for talks to begin anew, however with the "no" vote secured, it could be much more difficult for Greece to get a deal.
These are tough times for Greece and financial markets don't like such uncertainty. We've seen global stock markets fall in recent weeks as a result.
This situation has actually been boiling up for several years but is now coming to a head. Greece is refusing to pay back its loans to the International Monetary Fund and has requested a further extension and new terms on its loan agreement. Talks remain ongoing but the Greek request has so far been declined and it is possible they may exit the 19-member eurozone.
What this means for investors
Despite the knock-on effects we've seen in European stock markets, we believe the European economy is well positioned for good long-term recovery. Europe can give good returns to investors and we have constructed customer portfolios with that in mind.
The five-year-long Greek episode looks to be in its final phase and is creating short-term volatility in these markets. We fully expect to see markets bounce back once the situation is played out.
Our investment strategy
At Nutmeg we build portfolios that track financial markets very closely. We believe this is the best way to spread risk and the opportunity for reliable long-term returns. So, when global markets are down this is likely to be reflected in customer portfolios. But it is important to retain a long-term view. There will always be ebb and flow in investments.
History tells us that when markets dip, investors can get nervous and make swift changes to their portfolios. This is not always the best approach and can lead to big losses. Keeping a cool head is essential.
Does Nutmeg have any Greek investments?
We have virtually no exposure to Greece in our customer portfolios. There is a tiny amount in the FTSE Developed Europe Ex UK fund, which we use to a very limited extent in our higher-risk portfolios. But this would amount to no more than around 0.0047% of an overall portfolio and therefore have no material impact on a customer's investment returns.
It should be remembered that, while tragic for those involved, Greece is seen as a very small nation in global economic terms.
What will happen next?
It appears that a compromise on the loan repayments must be found or Greece may leave the eurozone. That might cause further tremors in stock markets initially but we believe in a long-term recovery in Europe and that markets will rise again. At that point, any investors who jumped ship could be missing out on good future investment returns.
We may also see another election in Greece if all this becomes too much for the new coalition government and they are forced to stand down.
Tell me more
If you want to find out more about the situation in Greece here are some links you might find useful:
Data sources: Bloomberg, Macrobond
Risk warning: As with all investing, your capital is at risk. The value of your portfolio with Nutmeg can go down as well as up and you may get back less than you invest. Past or future performance indicators are not a reliable indicator of future performance.