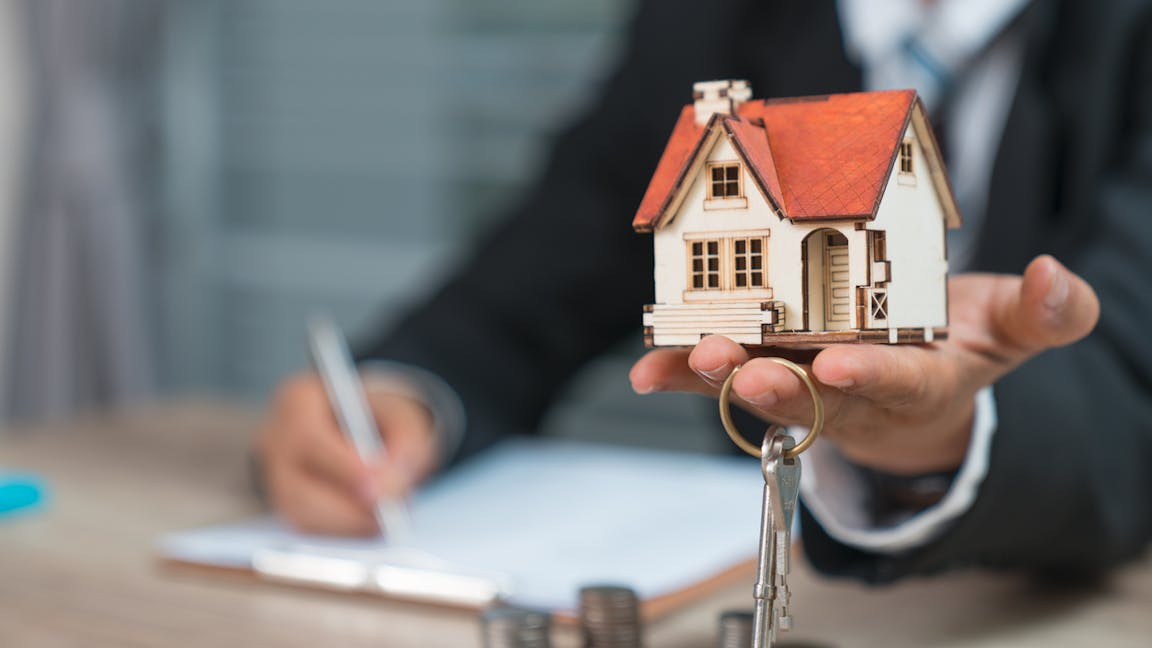 More than a third of homeowners in a poll said that worries about getting a mortgage kept them awake at night, while one in ten young homeowners said the stress was so bad they were forced to seek help from their doctor or a mental health professional¹. Clearly, buying a home is a strain – that's why Nutmeg has teamed up with Habito to help to tackle mortgage stress.
This blog is meant to be construed as purely informational and does not constitute financial, legal or tax advice. 
Given the sums of money involved, it is no surprise that entering the UK property market is a nerve-racking experience. Whichever way you look at it, buying a new home is a significant event that requires thought, preparation and a bit of courage too.
At Nutmeg, we know that many of our investors are either homeowners or saving to buy a first home. That's why we are working with Habito, the online mortgage broker. Just as Nutmeg has demystified investing, Habito simplifies the mortgage market to help you get a better deal.
Property is expensive so seek guidance on what you can afford
There's no way around it. Buying a home is a costly business, especially in the UK where, despite a recent fall in values, the average home cost nearly £218,000 in July. Cost was the main concern of 65% of first-time buyers in the country, according to research by Habito – a figure that rises to 71% for those who live in the south of England.
Help is at hand. Habito's mortgage experts are available to give tailored advice for free. If you need broader assistance with your finances, Nutmeg's financial advisers can give one-to-one guidance.
It's normal to stress out about mortgages but help is available
Mortgage applicants must prove their eligibility with a variety of private documents in a process that is riddled with jargon. Given the challenges, it is understandable that many people worry about the process. Habito has estimated that 62% of people experience some kind of mortgage-related stress during the application. These include mood swings (experienced by 30% of people in the poll), feeling sad (16%) or losing sleep (35%).
The good news is that, with Habito, you can do your mortgage application online. When you create an account, you are matched with a personal expert. They help you find the best possible deal, answer any questions you have, and guide you through your mortgage application from start to finish.
Be prepared to wait while you try to buy a home
Obtaining finance is only one aspect of the uncertainty involved in buying a home. A large proportion (44%) of buyers aged 18-34 had to make an offer on more than one property before being accepted, according to Habito's research. Competition is especially intense in London, where 17% of buyers made offers on three or more homes before finally being accepted.
Once you have an offer accepted, it may take several months before you get the keys. As well as the legal process, called conveyancing, you may have to wait for other buyers and sellers in the chain to finalise their arrangements. Habito's research found that 70% of home buyers waited at least three months between their offer being accepted and moving in to the new home. One in five had to wait at least six months.
Given the long waiting time, it makes sense to speed up the mortgage-buying process as much as possible. Some Habito customers report getting their mortgage offer within a week of their first visit to the website.
You may get the home you need, not the one you want
With something as big and complicated as a mortgage, it's unrealistic to expect every single thing to go right. Not everyone obtains their "dream home". In fact, the Habito research found that one in five buyers said they didn't get the best house for their needs.
Although that sounds worrying, the other side of the statistic is that four in five buyers were satisfied by their house. With patience and determination, you can get the house you need.
Do you need a mortgage? We can help
Habito uses breakthrough technology to scan over 20,000 products from more than 90 lenders, including direct-only deals, and provides advice on all mortgages including residential, buy-to-let, self-employed, help-to-buy and shared ownership.
Apply for a mortgage with Habito today
Source
These findings come from research conducted by Habito.
Risk warning
This blog has been written in collaboration with Habito. As part of our affiliate agreement, Nutmeg receives a commission payment for every successful mortgage arising out of this blog. Nutmeg is not involved in the actual purchase of the mortgage and the information outlined above does not constitute financial, legal or tax advice.
As with all investing, your capital is at risk. The value of your portfolio with Nutmeg can go down as well as up and you may get back less than you invest.