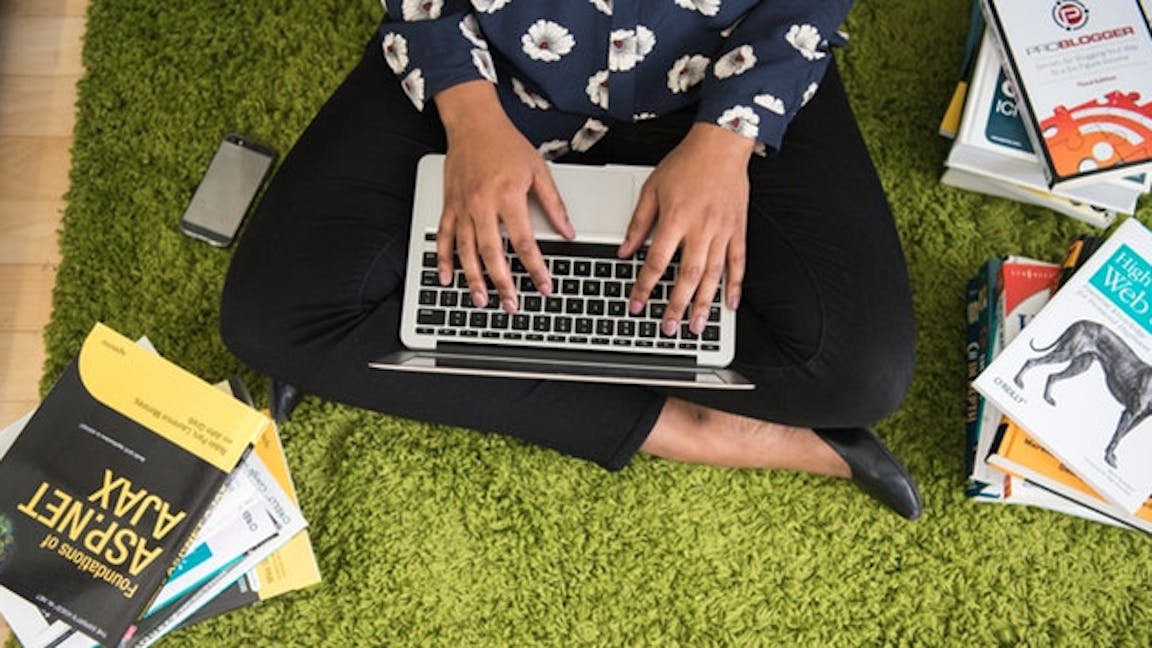 Facebook, Apple, Amazon, Netflix, and Google are known as "FAANG" stocks in the investment world. Changes to the Global Industry Classification Standard, known as GICS, will see some of the FAANG stocks reclassified from 21st September this year. Find out how this, and other changes to the GICS, impact the investment landscape and how Nutmeg portfolios are designed to maintain exposure to the tech sector.
Investment managers need to be able to consistently define investment categories so they can target the right level of exposures to different countries, geographical regions, sectors, or industries, and build efficient portfolios.
The Global Industry Classification Standard (GICS) was developed to meet this need. GICS is a tiered industry classification system followed by the global financial community, through which companies are classified qualitatively and quantitatively according to their main business activity.
Currently, GICS has 11 sectors, 24 industry groups, 68 industries and 157 sub-industries, into which all major public companies globally are categorised. The GICS methodology helps investment managers target the exposure they want in an accurate, specific, and transparent way. This helps them to efficiently customise and diversify the portfolios they build.
In simple terms, GICS makes it possible to not only compare apples with apples, but different varieties of apples with each other too.
Figure 1 – Current GICS framework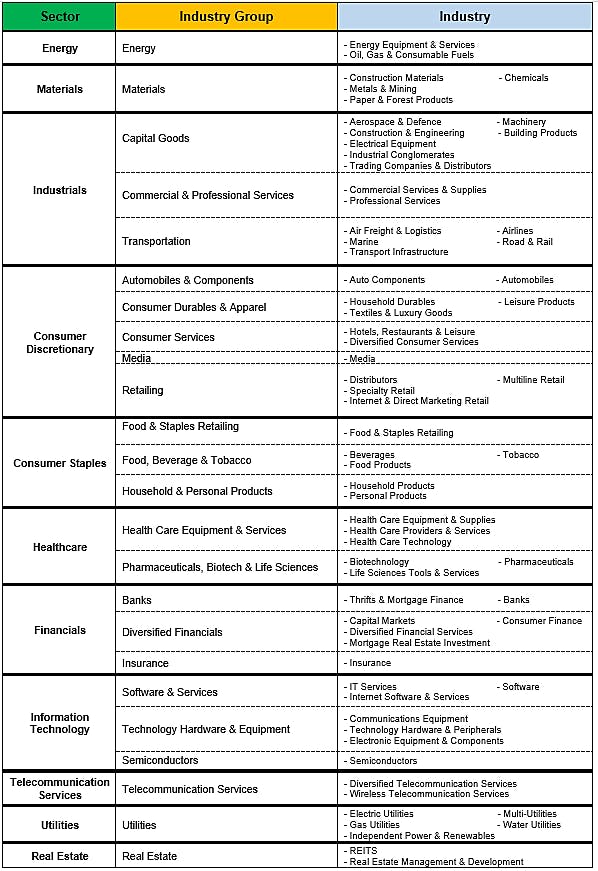 What's changing and why?
Following consultations with the investment community, the GICS methodology is reviewed from time to time to make sure that it continues to appropriately represent global equity markets, enabling investors to make consistent global comparisons by industry.
The last decade has seen rapid evolution in the way people communicate, access entertainment, online content, and other information. This change has been driven by increasing convergence between internet companies, media, and telecommunications. In light of these changes, the Telecommunications Services sector in the GICS structure is being revised to match the modern communications landscape. Alongside this, some changes will be made to the Consumer Discretionary and Information Technology sectors.
The following changes will take effect from 21st September 2018:
Telecommunication Services will be renamed to Communication Services and will be expanded to include some companies that are currently in the Consumer Discretionary and Information Technology sectors. The Media industry group will move out of Consumer Discretionary, into the Communication Services Sector, and will be renamed Media & Entertainment.
The Internet & Direct Marketing Retail industry under the Consumer Discretionary sector will be updated to also contain companies providing online marketplaces for consumer products and services, including e-commerce companies.
The Internet Software & Services industry under the Information Technology sector will be discontinued. A new sub-industry will be created under the IT Services industry called Internet Services & Infrastructure, which will include companies providing services and infrastructure for the Internet industry.
The new GICS structure will consist of 11 Sectors, 24 Industry Groups, 69 Industries and 158 sub-Industries.
Figure 2 – Changes to the Telecommunication Services Sector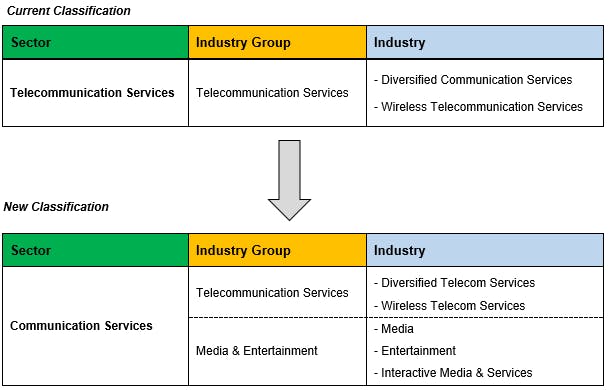 What does it mean for the investment landscape?
The changes will have significant impacts on the S&P 500 index, which consists of the largest U.S. publicly traded companies by market value, and is one of the most commonly followed equity indices worldwide.  In fact, 8% of the S&P 500 index market capitalisation will be reclassified, which accounts for around US$ 1.9 trillion. Based on current market capitalisations, the Communications Services sector will represent around 10.2% of the S&P 500 index market cap, which is a large increase compared with the current weight of the Telecommunications Services sector at 2.2%.1
Some of the FAANG stocks (Facebook, Apple, Amazon, Netflix and Google) will be redistributed across new sectors. Facebook, Google and Netflix will move from Information Technology and Consumer Discretionary into Communication Services alongside a whole host of other companies. This is worth noting, as the highflying FAANG have been among the US stock market's five most popular and best performing growth stocks in recent years. Historically, Telecommunications has been regarded as a defensive sector, consisting of value stocks and being largely domestic-earnings focused. The rebranding and inclusion of growth stocks (which are cyclical in nature), with global earnings such as Facebook and Google, means this perception will now change.
The effects are not just limited to the S&P 500, but any global indices that follow the GICS methodology. Changes in the Consumer Discretionary sector for instance, will result in major e-commerce companies such as eBay and Alibaba being included in this area of global indices, changing the sector's risk/return attributes and valuations.
The impacts will be even more significant for sector investors, who will need to reassess their sector evaluations. The composition, valuation, and performance characteristics of the sector indices will change substantially. Approximately, 80% of the S&P 500 Telecommunication Services Index, 25% of the S&P 500 Consumer Discretionary Index, and 20% of the S&P Information Technology Index will change.2
Figure 3 – Facebook, Google and Netflix reshuffled into Communication Services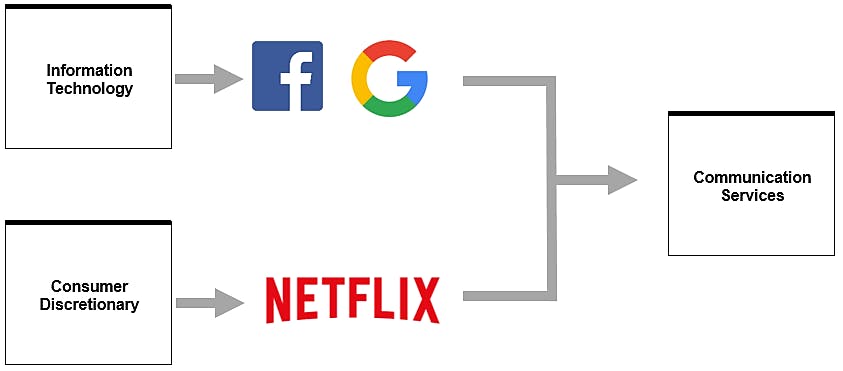 What does it mean for Nutmeg portfolios?
Technology is a key theme for us here at Nutmeg. We think the technology sector is poised to continue growing as it disrupts older-economy business models, and so we have exposure to the sector through the NASDAQ 100 index.
This index provides diversified exposure to US equities with a particular focus on technology stocks (37%) and high growth companies.2 In fact, one of the reasons we chose this strategy is because it won't be affected by the reshuffling of the FAANG stocks.  We also hold exposure in the MSCI Asia Emerging Markets index, which has a high allocation to growth-focused technology stocks (62%) as well.2
At Nutmeg, we carry out detailed index analysis and due diligence to make sure we choose the best-in-class routes to sector investments. As always, we manage our portfolios with a good balance between risk and returns in mind.
Find out more about how we invest.
Sources
Morningstar 2018
Bloomberg 2018
Risk warning
As with all investing, your capital is at risk. The value of your portfolio with Nutmeg can go down as well as up and you may get back less than you invest. Past performance is not a reliable indicator of future performance.