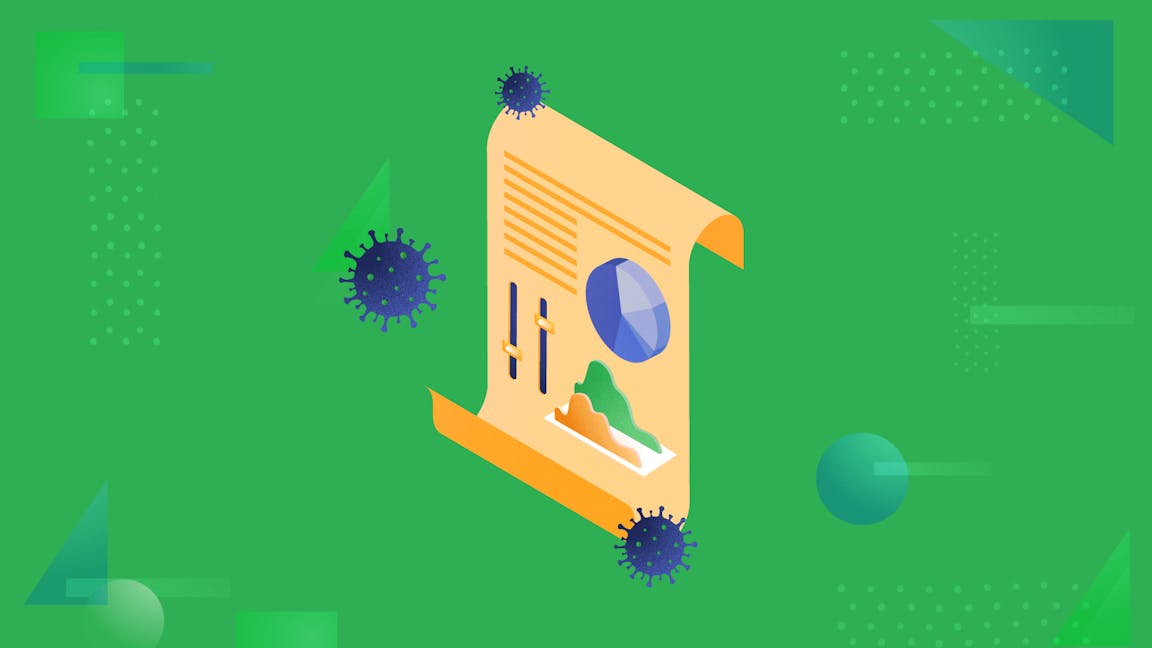 The pandemic has bred a new generation of investors who are bullish on the future and who see socially responsible investing (SRI) as crucial to providing for their financial well-being according to Nutmeg's latest research. Our research, on the impact of the Covid-19 outbreak on consumer attitudes towards money and investing, reveals that those aged 25-34 feel they will  emerge from the pandemic wealthier, more financially confident and determined to use their money to do good. 
We conducted a survey of 2,000 people across the UK and found that the pandemic is leading to significant shifts in the attitudes and behaviours of young adults towards their money. Of those 25-34 year olds that hold investments, 60% have put more money into their investment pots over the last year, compared to just 38% of the broader population.  
The pandemic has also seen many more aligning their finances with their more personal values. A quarter of 25-34 year–olds said that since the pandemic began, they are much more likely to seek out socially responsible investments (SRI). 
"The Covid pandemic has caused financial difficulties for many people across the UK, but it's pleasantly surprising to see the extent to which many young adults look set to emerge from the pandemic in a stronger financial position, and how much financial attitudes have been changed by the pandemic," said James McManus, our chief investment officer. 
"The onus is on us as providers to harness this new appetite. This means providing access to the right products – especially those which meet a growing focus on socially responsible investing – guidance and tools to enable individuals to meet their financial goals and support the rebuilding of the UK economy as a whole."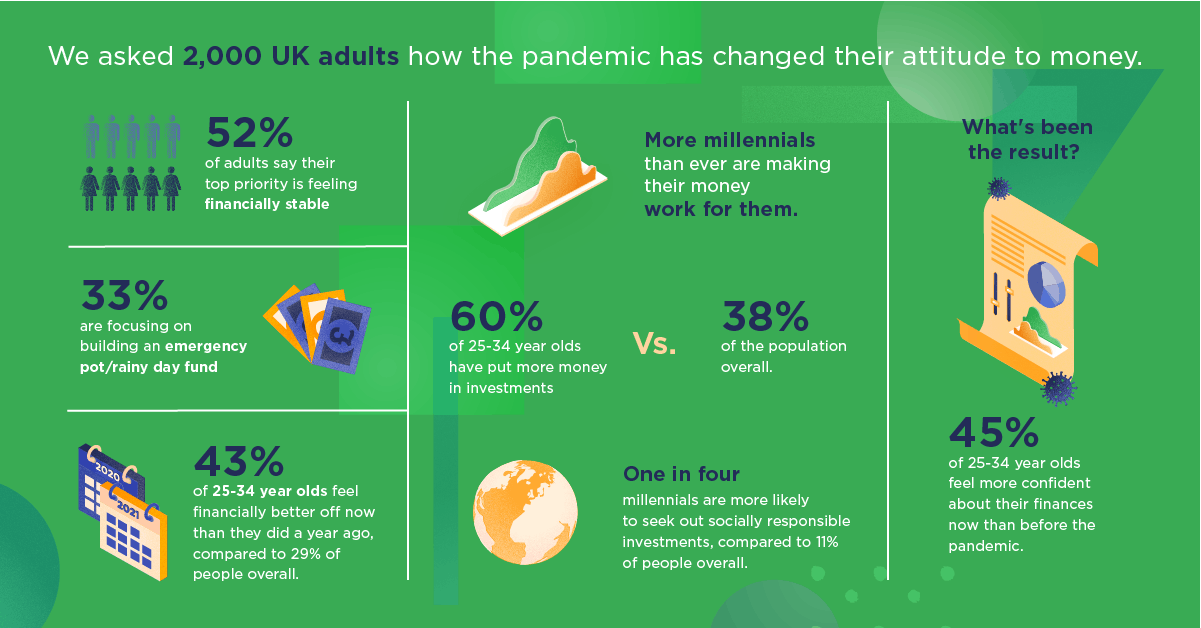 Socially Responsible Investing is showing real momentum 
Our previous research also supports this: In 2020, 42% of all new investors joining us were aged between 25 and 34 – a 58% increase on 2019. The number of new investors choosing SRI portfolios in 2020 was double the previous year.
These new attitudes and behaviours are being driven by a more positive financial outlook for millennials since the start of the pandemic. According to Nutmeg's research, 43% of 25-34 year olds, feel financially better off now than a year ago, compared to 29% of people overall. Confidence is also growing, with 45% of this younger age group now feeling better about their finances than before the pandemic.
Financial stability remains crucial though 
However, for the broader population financial stability and prudent investing remains a major concern – 52% said it was a top priority. Meanwhile, the pandemic has brought into sharp focus the importance of having a 'rainy day fund', with one third (33%) of Britons citing 'creating savings for life's unforeseen events and emergencies', as their key money focus in light of Covid. 
Perhaps more worryingly, the research also indicates that a more speculative and potentially more vulnerable, 'DIY' investor is emerging from the young millennial group of investors. 
A fifth (21%) of 25-34 year olds said they are much more likely since the start of the pandemic to make and manage investments for themselves, compared to just 8% of the population overall; 22% said they would look to invest in specific companies they see or hear about. As Nutmeg has previously covered, this trend, which can see big profits for some, can also see huge losses for many and see younger investors exit the market at the point in life when they need it most. "There's a cautionary tale in recent meme stock rallies of the perils and pitfalls of short-term speculative stock-picking which is more akin to gambling than investing," says James McManus.  
However, with the growing pick up of SRI, many millennials are now planning responsibly for their future and hoping to invest for the world they want to live in: "it is promising to see many younger investors indicating a long-term shift in behaviour and a focus on companies and sectors doing good." 
About the 

consumer 

consumer research 
All stats unless otherwise stated are from fieldwork conducted by Opinium between 5th February – 9th February 2021 via an online survey, exploring the UK's attitude to personal finances and investment in the wake of the Covid-19 pandemic. The sample is comprised of 2,000 UK adults, weighted to nationally representative criteria. Age groups surveyed are broken down into the following groupings: 18 – 24, 25 – 34, 35 – 44, 45 – 54, 55 – 64, 65 – 74, and 75+.  
About Nutmeg data  
Nutmeg investor data is accurate for the period from 1st January 2020 to 31st December 2020.  
Risk Warning
As with all investing, your capital is at risk. The value of your portfolio with Nutmeg can go down as well as up and you may get back less than you invest.