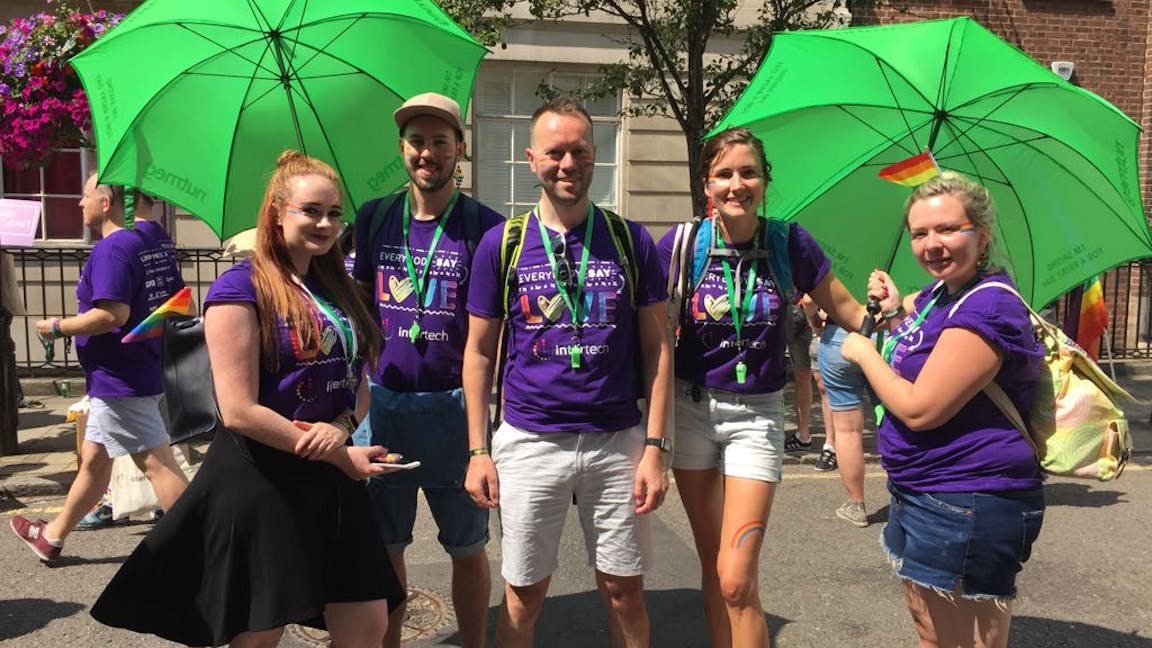 We've had a great time celebrating Pride at Nutmeg. From decorating our HQ with information on LGBT+ history, to marching in Saturday's Pride in London parade, here's what we've been up to.
Start from the heart
We marked our pride across our website and social media channels, adding a rainbow heart to our existing logo. Some of our Nutmeggers have been sporting the heart on specially-made t-shirts too.
Brunching with Pride
The kitchen at Nutmeg HQ experienced a bit of a Pride takeover. We have a group at Nutmeg called Social Nuts, made up of people who volunteer their time to organise fantastic events for our staff. They really outdid themselves by picking us up a fresh batch of rainbow beigels from Beigel Bake on Brick Lane last Friday morning.
This meant there was plenty of time to have a read of the LGBT+ history adorning the walls.
What Pride means to us
We have an active community of LGBT+ people and allies at Nutmeg, and it was great to have some of them sharing their thoughts on what Pride means to them.
Our commitment to diversity and inclusion continues
Celebrating Pride has been a blast, but we know that committing to diversity and inclusion means more than banging the drum just once a year.
Maintaining our commitment is simply the right thing to do. It's also important for Nutmeg as a business, because it means people feel comfortable bringing their whole selves to work and can perform to the best of their abilities.
We're looking forward to keeping the momentum going, taking inspiration from the huge outpouring of support we've seen over the past month.
Risk warning
As with all investing, your capital is at risk. The value of your portfolio with Nutmeg can go down as well as up and you may get back less than you invest.