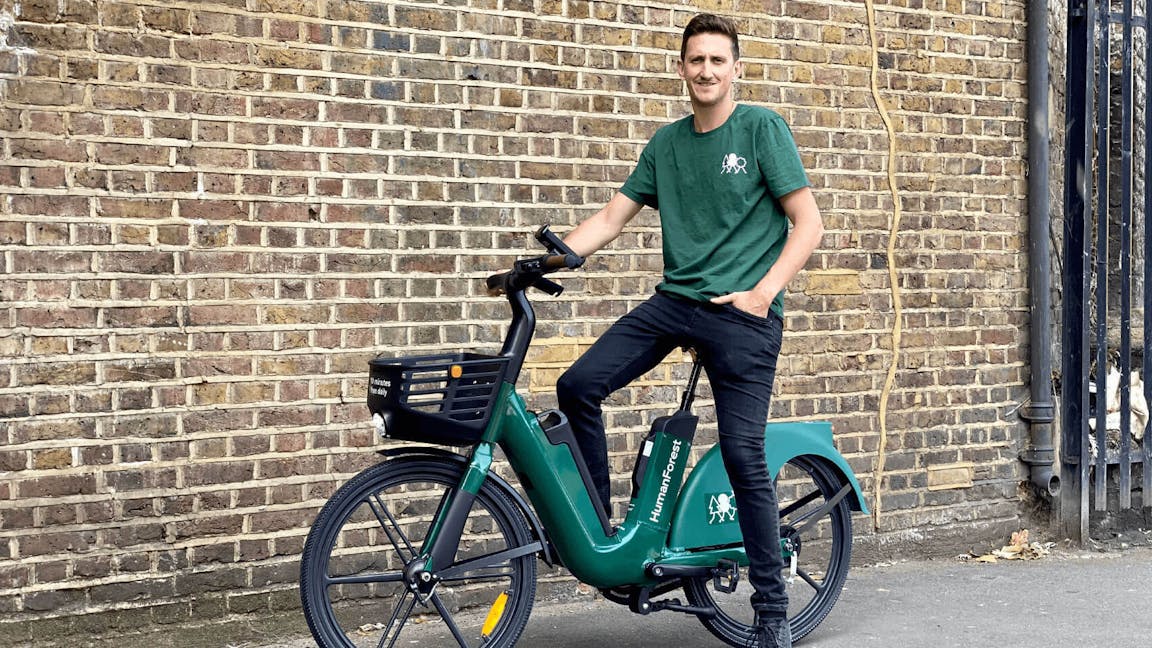 Whether it's changing the way we get around or investing in a more socially responsible way, the impact our day-to-day life has on the planet around us is a focus for many people. Nutmeg recently teamed up with e-bike sharing app, HumanForest, to help people get around London in an environmentally friendly way.  
We talked to Agustin, founder and chief executive officer at e-bike sharing start-up HumanForest about what it takes to do something completely new in the world of green transport. Their mobility solution brings sustainability to travelling in London, as no greenhouse gases are emitted. 
1. You've just launched HumanForest, where did the idea come from?  
We're so excited to have launched in London – it's a day we've been looking forward to for two years! HumanForest was inspired by a trip I took to the Amazon rainforest. It was a huge privilege to be able to visit, it had a profound impact on me and opened my eyes to the need to prevent emissions rather than relying on this fragile ecosystem.   
Having been so inspired by that trip, when I moved to London a couple of years ago to complete my Msc in Data Science, I was shocked by the lack of green transport options. I loved the city but getting around it in an environmentally friendly way was a challenge. I've built my career around micromobility and transport, so it felt to me that there was a real gap in the market and a great opportunity to have a meaningful impact.  
I wanted to harness my passion for the environment and my experience at Cabify, where I led our first push toward net zero, by channelling my energy into creating a mobility solution in London which could enable people to move and live in a sustainable way.    
2. Can you tell us how the bikes are powered?  
Practically, our fleet is powered by entirely renewable electricity. Each e-bike has a rechargeable battery, which is routinely charged and changed by our engineers, our 'gardeners' as we call them. On another level, they're powered by our passion to create a positive change for people and the planet. We see it as a twin approach to achieving a sustainable ecosystem – as we build a green company, we also want to see riders incentivised to make truly sustainable journeys. 
3. Why do you think now is the right time for e-bikes in London? And do you have plans to expand outside of the capital?
We launched our first pilot before the pandemic, but I think the last few months have really pushed many of us to rethink our reliance on cars. That includes policy makers and governments, particularly as they prepare for COP 26. We are seeing a focus on policies such as congestion charges and other levies to disincentivise private car use.  These moves are also backed by consumers who recognise the need to take action to avert a climate crisis. That really opens up an opportunity for accessible and sustainable micromobility solutions like HumanForest.  
Cycling occupies a unique place in our transport mix; unlike e-scooters, bikes have been with us for well over a century and they offer a viable, safer solution for journeys like commuting. Shared dockless e-bikes bring technological innovation to a long established and much-loved way of getting around.  
I'm focussed on re-Foresting London at the moment. Once we've proven what we can do in a place like London, that has so often been a transport pioneer, then of course, the possibilities are endless! 
4. What's next on the horizon for HumanForest? Where do you see the industry in five or ten years?
I want to see HumanForest become the UK's largest operator of shared dockless e-bikes but I'm keen to ensure that we grow in a sustainable way. Ultimately, I want HumanForest to be able to provide free mobility to as many people as possible. If within a decade, sending people to the moon can be done in an environmentally friendly way, that's where I want to be.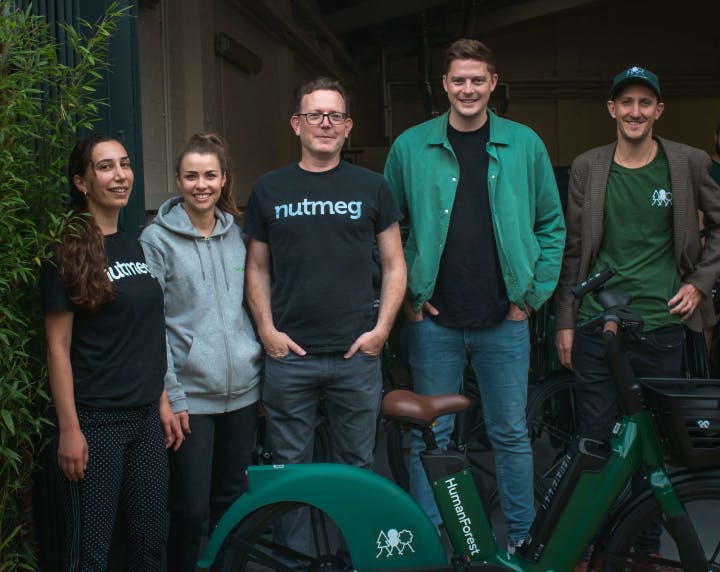 Risk warning
As with all investing, your capital is at risk. The value of your portfolio with Nutmeg can go down as well as up and you may get back less than you invest.