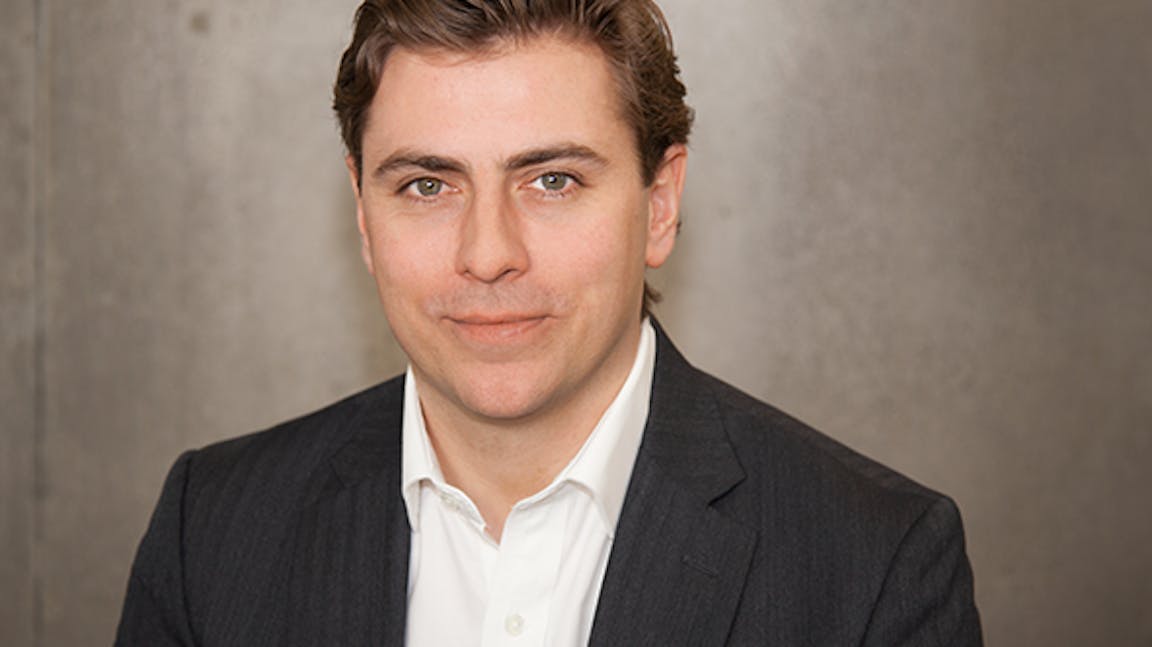 Introducing Nutmeg's Portfolio Review service. A bespoke analysis of your assets outside Nutmeg.
To celebrate the launch of our Portfolio Review service, we sat down for a chat with portfolio manager, Alex Longton. Alex began his career working with UK entrepreneurs and ultra-high net worth individuals at Coutts. He moved to Nutmeg in August 2013 to be involved with what he describes as "fresh and exciting opportunities to change wealth management".
Q: What is the Portfolio Review service?
Alex: We know that 58% of our clients hold investments outside Nutmeg, whether that's with a financial adviser, private bank or a platform (where they manage investments on a DIY basis). Our Portfolio Review Service is designed to provide a detailed analysis of an individual's holdings and the overall exposure of their investments outside Nutmeg.
Having worked in the wealth industry for 12 years, I've seen several portfolio reporting styles and the quality varies – either depending on the story the banker wishes to tell or access to data, some of which can be quite out of date. You also often see performance based on assumptions that aren't realistic, such as a five-year return on a professionally managed portfolio that apparently hadn't rebalanced once in the period or use of an inappropriate benchmark.  Ultimately it makes for an unreliable reflection.
We set out to create something that would be most beneficial to our clients, looking at the key areas of exposure. With that in mind, our Portfolio Review service looks at:
Asset allocation
Geographical breakdown
Sector exposure
Currency exposure
Fund ratings
Portfolio risk
Total portfolio cost estimation
We want our clients to benefit from our investment team's almost 100 years combined industry experience and to get a clear and accurate picture of their investments, so members of the team carry out each review to ensure high quality.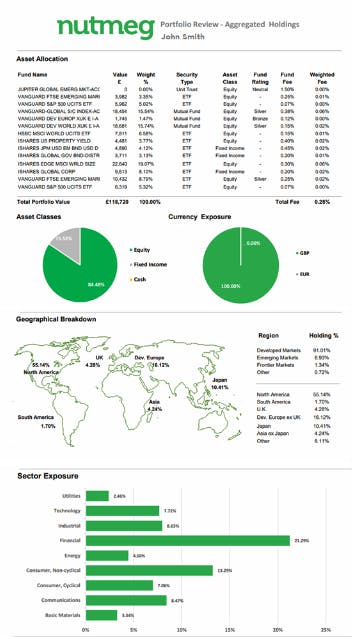 Q: Who is it aimed at?
A: The service is not just for Nutmeg investors – it is for anyone who wants to know more about their investments. It will be most beneficial for those people who hold a variety of assets – not including property and alternatives such as art – outside Nutmeg, such as cash, bonds, shares and funds. We want to give people more insight into their financial lives. I'd recommend the portfolio review service to anyone who wants more clarity and a holistic overview of their investments.
Q: Why do people need this service?
A: The service, which is free of charge, provides an independent perspective on assets held outside of Nutmeg. The report summarises the key features of these assets, as well as a total cost calculation that, if acted upon, could save clients money. Clients also have the option to talk through the results of their review with a member of our investment team to give further clarification. Having this insight provides the individual with a much better understanding of their investments as a whole, rather than looking at each part in isolation. This will hopefully allow them to move forward with insights and in a way that will ensure their money is working for them.
Q: What has been a highlight of the pilot scheme?
A: The main point of interest for me is seeing differing levels of risk that people take with their wealth and the diversification achieved – some being off the chart risky, others achieving respectably low levels of volatility with global equity portfolios.
We ran a small pilot to test the service and the feedback has been overwhelmingly positive. Clients have told us that they've enjoyed receiving transparency on their investments – particularly those whose assets have come together in a piecemeal and unstructured way. Clients have also been pleased to see the overall cost and risk of their investments and there is a majority who still believe that their headline management fee is all they pay – unaware of the associated underlying and intra-fund fees.
Q: How can I apply?
A: Getting started is easy. Simply head to the Portfolio Review page and upload a recent valuation statement and summary of fees paid straight to our website. We'll then do all the analysis and build your assessment. You'll receive a report from us when it's ready – this usually takes a couple of working days – and then, if you want to, you can book in a chat with our team to discuss the results of the review.
Risk warning
As with all investing, your capital is at risk. The value of your portfolio with Nutmeg can go down as well as up and you may get back less than you invest.