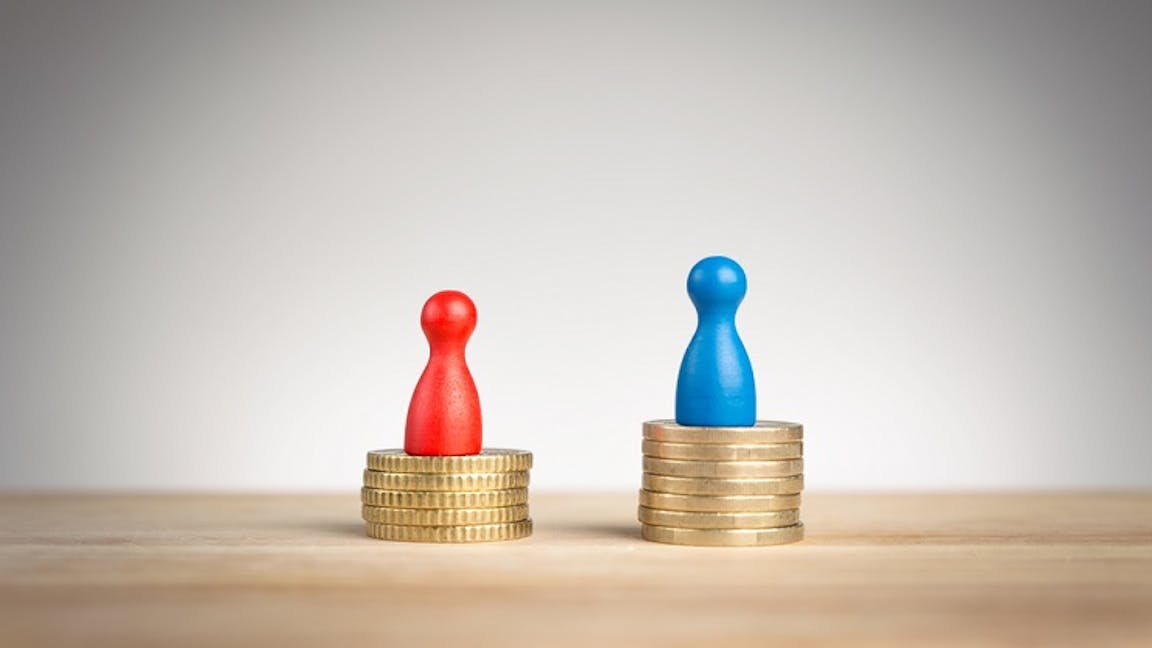 While progress is being made on closing the gender pay gap, research reveals there's also a pensions gender gap. We take a look at some of the causes.
Longer life expectancy and greater financial costs are putting pressure on pension pots, but new research has found that women are more likely than men to have a shortfall in retirement income.
According to the UN's Progress of the World's Women report, released last year, not only are women less likely than men to receive a pension, they also receive fewer benefits. Whether in developed or developing economies, women are disproportionately at risk of experiencing poverty in old age.
The extent of this polarity differs by country; in Jordan, for example, 82% of men receive a pension versus just 12% of women. And this pattern of divergence is visible across the world.
What causes the gap?
A number of factors contribute to the pensions gender gap. The UN's report highlighted some of the most common causes. Most notably, women are typically paid less than men so their pension contributions are lower. Until the gender pay gap is remedied, the pensions gender gap is likely to persist. Add to this that many working women will take time off for maternity leave, combined with an earlier retirement age and it's easy to see why a shortfall emerges.
In such cases, women whose retirement income has been negatively impacted by maternity leave and childcare responsibilities may rely on a partner for financial support in retirement. But divorce or the death of a partner may reduce women's financial independence and lead to a depleted income in old age.
Another critical factor is that women's life expectancy exceeds men's. With women typically living five years longer than their male counterparts, this puts added strain on their retirement income funds. Less money has to last longer.
An endemic problem
Despite long-term awareness of this issue, it's still an underlying problem for today's female workers. The Fawcett Society, which campaigns for equality, released a study in April that found the pensions gender gap was particularly concerning for women in their 20s and 30s. According to the think tank, women in this bracket are vulnerable to retirement poverty because they're cutting back on pension contributions to pay for childcare. In fact, the Society found that many women in their 20s and 30s are shouldering the full cost of childcare alone. Combined with student debt, lower wages and maternity breaks, they face increasing challenges to save for retirement. Sam Smethers, Chief Executive of The Fawcett Society said:
"Women are putting everyone else's needs before their own, especially when it comes to who pays for childcare. Their baby becomes her childcare bill."
A Department for Work and Pensions spokesman said: "We want all women to have a financially secure retirement, which is why we introduced wide ranging reforms to make pension saving easier and clearer, including through the introduction of the new state pension and automatic enrolment."
"We are also committed to supporting mothers by making childcare more affordable and more accessible, and we are doubling free childcare for nearly 400,000 working parents of three and four-year-olds from 15 to 30 hours."
It remains to be seen whether these measure will be enough to prevent this generation suffering from pension inequality.
Risk warning: As with all investing, your capital is at risk. The value of your portfolio with Nutmeg can go down as well as up and you may get back less than you invest. Pension rules apply and tax rules may change in future. If you need help with pensions, seek independent financial advice.