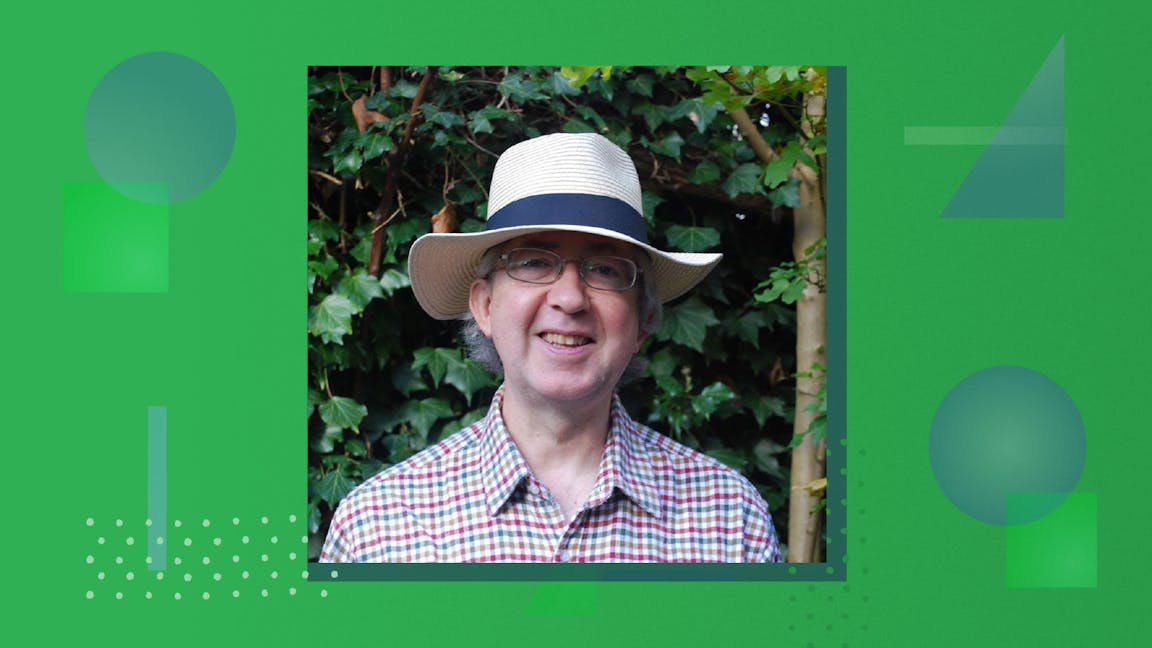 In my early career I had various jobs in local government and the voluntary sector. My last 'conventional' job was information officer for a small national charity, something I enjoyed but wasn't able to do for as long as I'd hoped. 
With no other opportunities on the horizon, I decided to fulfil a long-standing ambition and see if I could make a living as a professional freelance writer. It was nerve-wracking at times but, 30 years on, here I still am! 
Although I've always been interested in financial matters, I didn't really get into investing until I was in my fifties. I was making more from my writing by then and, even after the taxman had taken his share, I still had some money left over. In addition, in 2013 my partner Jayne sadly passed away, and I inherited a fairly substantial sum from her. 
Finding yourself with a large amount in the bank is daunting if you haven't been in this position before and aren't sure what to do with it. In retrospect, I made some good decisions and some questionable ones.  
In particular, I put a lot of money into property crowdfunding, which at that time looked like a new and exciting opportunity (it typically involved buying a share in a property and receiving rental income and a share of any profit when the property was later sold). While some of these investments delivered the promised returns, others didn't, and I lost money overall. I still have some money tied up in property crowdfunding projects that I don't know when (or if) I will ever see any return on. 
On the other hand, investing with Nutmeg was one of my better decisions; in retrospect I only wish I'd put in more. Initially I invested just over £6,000 in a fully managed Nutmeg stocks and shares ISA. I was so pleased by how well my initial investment performed, that two years later I added £4,000 from another ISA that hadn't been doing so well. I've continued to invest with Nutmeg, though with the up-and-down income of a self-employed freelancer I do this through occasional lump sums rather than regular monthly payments. 
The year 2020 was obviously tumultuous for investors (and everyone else). Through late February and March my Nutmeg ISA fell significantly as equity markets took the full hit from the Covid pandemic. That was obviously a worrying time, but by that point I had enough faith in Nutmeg to resist the urge to panic-sell. I actually held my nerve and invested more at that time as asset prices had fallen so much. 
Since late March my ISA has made a remarkable recovery and is now worth substantially more than it was pre-pandemic. Obviously, I am anticipating further ups and downs in the coming months, with a possible global economic downturn in prospect. Nonetheless, I believe that in the longer–term world (and UK) markets will recover and as I don't anticipate needing this money in the near future, I intend to remain invested in Nutmeg and add to my holding again as the opportunity arises. 
Although performance is obviously key, there are many other aspects of Nutmeg I like too. They provide a simple, easy-to-understand investment platform, and the customer service (in my experience) is excellent. Their charges are competitive, and I like the fact that you can have multiple 'pots' within the same ISA wrapper, with different risk levels and investment styles. 
Indeed, I recently created a new pot using the new Smart Alpha portfolio option, where your money is invested in ETFs selected by the J.P. Morgan Asset Management multi-asset solutions team. This allows Nutmeg clients to benefit from J.P. Morgan Asset Management's global experience and expertise, while still paying very competitive fees. I look forward to seeing how my Smart Alpha portfolio pot fares. And I know I can move money between it and my Fully Managed one should I want to.
I am semi-retired now and looking forward to collecting my state pension in a year's time. I have no particular purpose in mind for my Nutmeg ISA, but knowing the money is there and easily accessible if needed – though withdrawals can affect ISA allowances – is very reassuring. I sleep more soundly thanks to my Nutmeg investments and intend to continue investing with them through whatever retirement may have in store for me. 
Nick runs a blog called Pounds and Sense in which he shares personal finance advice and information from an older person's viewpoint. He invites anyone reading this article to take a look at his blog and subscribe for free if they like it! 
Risk Warning: As with all investing, your capital is at risk. The value of your portfolio with Nutmeg can go down as well as up and you may get back less than you invest. A stocks and shares ISA may not be right for everyone and tax rules may change in the future. If you are unsure if an ISA is the right choice for you, please seek financial advice. 
Crowdfund investing involves risks, including illiquidity, lack of dividends, loss of investment and dilution, and it should be done only as part of a diversified portfolio. Crowdfunding investments are targeted primarily at investors who are sufficiently sophisticated to understand these risks. 
The thoughts and opinions expressed here are solely those of the writer.