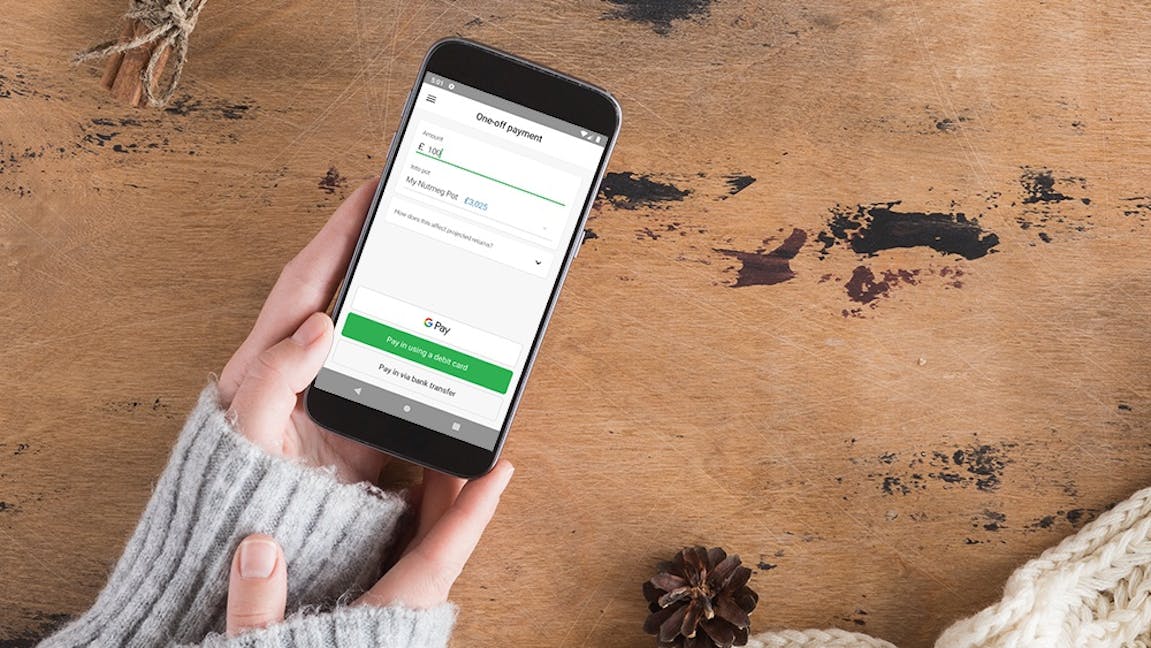 Nutmeg has become the first digital wealth manager in the UK to offer customers the option to top up their account via Apple Pay and Google Pay. As well as being a quicker and hassle-free way of making deposits, this new feature also offers improved levels of security.
As part of Nutmeg's ongoing commitment to improving the experience of customers, we've identified these digital payment systems as a great way to top up on the fly. Once you have an account set up, you'll no longer be fumbling through your wallet to make that next deposit.
In 2018, UK consumers made 708 million payments through online and mobile payment methods such as Apple Pay or Google Pay – a greater number of payments than standing orders or cheques. The trend of app-based payments is set to continue, with this number forecast to triple to 2.4 billion payments by 2028¹.
So, what are the key benefits?
Alongside the ease and convenience of having multiple cards accessible from your device via Apple and Google Pay, there's the security factor – an important issue in this day and age.
As fraudsters adopt ever craftier ways of purloining your hard-earned money, stricter regulations are being introduced that will provide an extra layer of protection. Strong Customer Authentication (SCA) is an EU regulatory requirement that aims to reduce fraud and make all online payments more secure.
SCA payments require two or more of the following: something the customer knows, such as a password or PIN; something the customer has, such as a code sent to their phone or a digital token; or something "inherent" in the customer, such as face-recognition or a fingerprint.
As a result of slow adoption and the complexity of requirements, the Financial Conduct Authority has agreed an 18-month phased introduction, effectively extending the deadline to March 2021. But Nutmeg has released this feature ahead of this date to help give our customers the best security we can.
Let us know what you think
By becoming the first digital wealth manager in the UK to adopt Apple Pay and Google Pay, we're continuing to put the customer at the heart of what we do.
If you have any questions about this new service, or have any suggestions for any improvements, please don't hesitate to get in touch with us.
Sources
Risk warning
As with all investing, your capital is at risk. The value of your portfolio with Nutmeg can go down as well as up and you may get back less than you invest.