It's getting on for a year since Nutmeg opened its doors to the public. But whether you joined us recently, you've been with us from the start, or you're still deciding if Nutmeg is right for you, I wanted to share some of the basics of what you can do with Nutmeg directly through the site, whenever is convenient for you.
In this first part, I'll cover learning about your investments, our monthly investment updates and creating multiple funds.
Learn about your investments
Nutmeg is a discretionary manager which means we make the investment decisions and take action for you. That said, because you know your circumstances better than we could ever hope to, you always have control over the level of risk you feel comfortable taking with each pot of your money. Most importantly, we give you complete clarity over what investments we plan to make for you (before you contribute a penny), and what investments we've made for you once invested.
When you set up a fund, after answering a few questions about your goals and means, click on 'Get results' to bring up multiple views of the investments we would make based on the risk profiling, timeframe, and risk parameters you've chosen. You can view these investments by asset class, sector, or geography, see a table of the individual investments, read about each one, or see the full list of investments we choose from and dig into the factsheets for each yourself. We're working on improving access to the key information about investments, but in the meantime you can always find out as much information about them as you wish for your own peace of mind.
Illustrative list of investments we'd make for a fund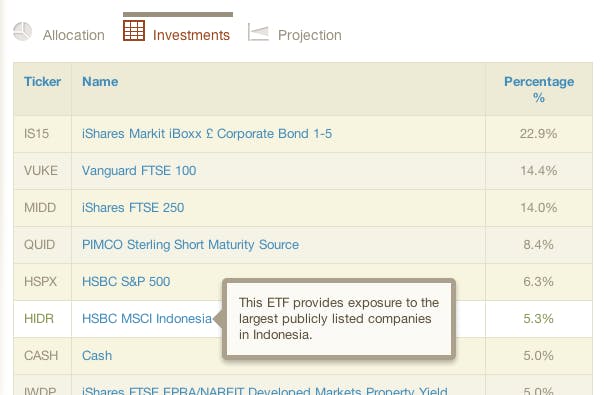 Illustrative split of asset classes for a medium risk portfolio
Because we monitor each of our portfolios continually, you can also read a note from our Chief Investment Officer, Shaun Port, about why the asset allocation is the way it is for the current month by mousing over 'Why this mix?'
Read 'Why this mix?' to hear from our Chief Investment Officer
If you're already invested with us, you can view all these details for each of your funds by clicking on the fund in your portfolio, then clicking 'See more fund details'.
We also recommend that you take a little time to learn more about how we invest.
If you're not ready to invest and want time to think it over, you can click to save it for later. We'll save it as a draft fund, always accessible at the bottom of your portfolio. You can then choose to either delete it, or review and add money to it later, once you've given it more thought or the time is right.
When you save a fund you can always come back to it later

Monthly investment updates
Our team is constantly monitoring the markets and our customers' portfolios, and once a month we make adjustments and rebalance accordingly (learn more about that process by reading an inside view of the Nutmeg Asset Allocation process). Every Nutmeg customer receives a monthly update email where our investment team lays out the economic backdrop, what it means for your portfolios, and how we've modified them, if at all. To make it more digestible, we publish videos each month where Shaun explains both the economic backdrop to our decisions and the impact on our investment strategy.
Set up multiple funds at different risk-levels or for different goals
When getting started with Nutmeg, most people begin with just the one fund. But Nutmeg is designed to reflect the many different contexts of your money — just as you might choose to do different things with the money from your salary versus the money from an unexpected gift or a bonus. Your portfolio page first gives you an overall view of all your investments with Nutmeg, and, beneath that, we display each of the funds that you've set up. You can set up each fund at a different risk-level, and/or for a different purpose or goal.
For example, some customers choose to set up funds where one contains money they are keeping at low-risk, while another is a smaller pot with which they're more comfortable taking a higher degree of risk – and more willing to absorb potential losses. Other customers set up funds for different real-life purposes – perhaps one fund for investing towards a house deposit, and another for the longer-term goal of contributing towards a child's education.
Organising your funds by risk

Organising funds by purpose

Our platform allows you to manage your money flexibly while leaving you in control of the risk that we'll take with each fund — all without the hassle of choosing the specific investments to make.
This multiple fund model also affects how we manage ISAs. Because ISAs are technically just a tax wrapper around a set of investments to give them specific tax benefits, when you set up an ISA with Nutmeg we make sure to wrap the investments you own whether you have one fund or several. This means, that you don't have to create a fund just for your ISA — you can create funds for what matters to you and we'll make sure to manage the investments within your ISA across each of your funds. I'll be writing a specific post to explain the details of how this works in part 3, but most importantly, as a customer it means you can create funds with labels that matter to you, not that correspond to the way the tax system happens to work.
In the next post I'll be sharing how to edit your funds, top up or withdraw, and how to transfer money between funds.
For more on the basics see how Nutmeg works.
Risk warning
As with all investing, your capital is at risk. The value of your portfolio with Nutmeg can go down as well as up and you may get back less than you invest. Past performance and forecasts are not reliable indicators of future performance.