All eyes are on the second quarter earnings season. With profit reports from the likes of Facebook, Caterpillar, and Exxon released next week, we await key insights into how companies across the economy are faring amid the pandemic. We also provide an update on increased tensions between China and a number of major trading partners, while giving an overview of the ongoing Brexit negotiations.
What have we seen from second quarter earnings and what does it tell us about economic recovery?
The Q2 earnings season this year is the first time that companies are going to report the impact of Covid-19, and the subsequent lockdown measures. It is particularly important here to look at those businesses in tech and online commerce, who are expected to fare better than others in this environment. In analysing the data, investors will have a specific review of the margin level expectations. The increase in margin multiple is believed to have contributed to around half of the equity total return over the last 25 years. US corporate profit margins will be severely impacted by the virus, falling from a recent record high of more than 12% to numbers around 9.5%, which is a significant decrease. 
In the first week of results, we saw earnings from some of the big banks, which showed us some relatively mixed results. Trading results were pretty good, in particular in the large US banks like JP Morgan and Goldman Sachs, who showed large increases in the profitability of their trading business. But this was offset by slower activity elsewhere, and increased levels of provision for future corporate defaults. We also saw earnings from Netflix, one of the businesses that was expected to do well from the lockdown, who unfortunately missed their earnings expectations. In fairness, Netflix warned in April that growth was expected to slow. But investors were anticipating a pleasant surprise, which wasn't forthcoming. Their stock is currently the 17th biggest market cap in the US, so these results are quite significant.  
Looking at the calendar, many results, especially those of the big tech companies, will be published around month-end, with Google, Facebook and Amazon all reporting during this period. We will also have some other important companies, like Caterpillar, Exxon, and BP, providing some bellwethers for their performance during the Covid-19 period, and what will be their forward guidance.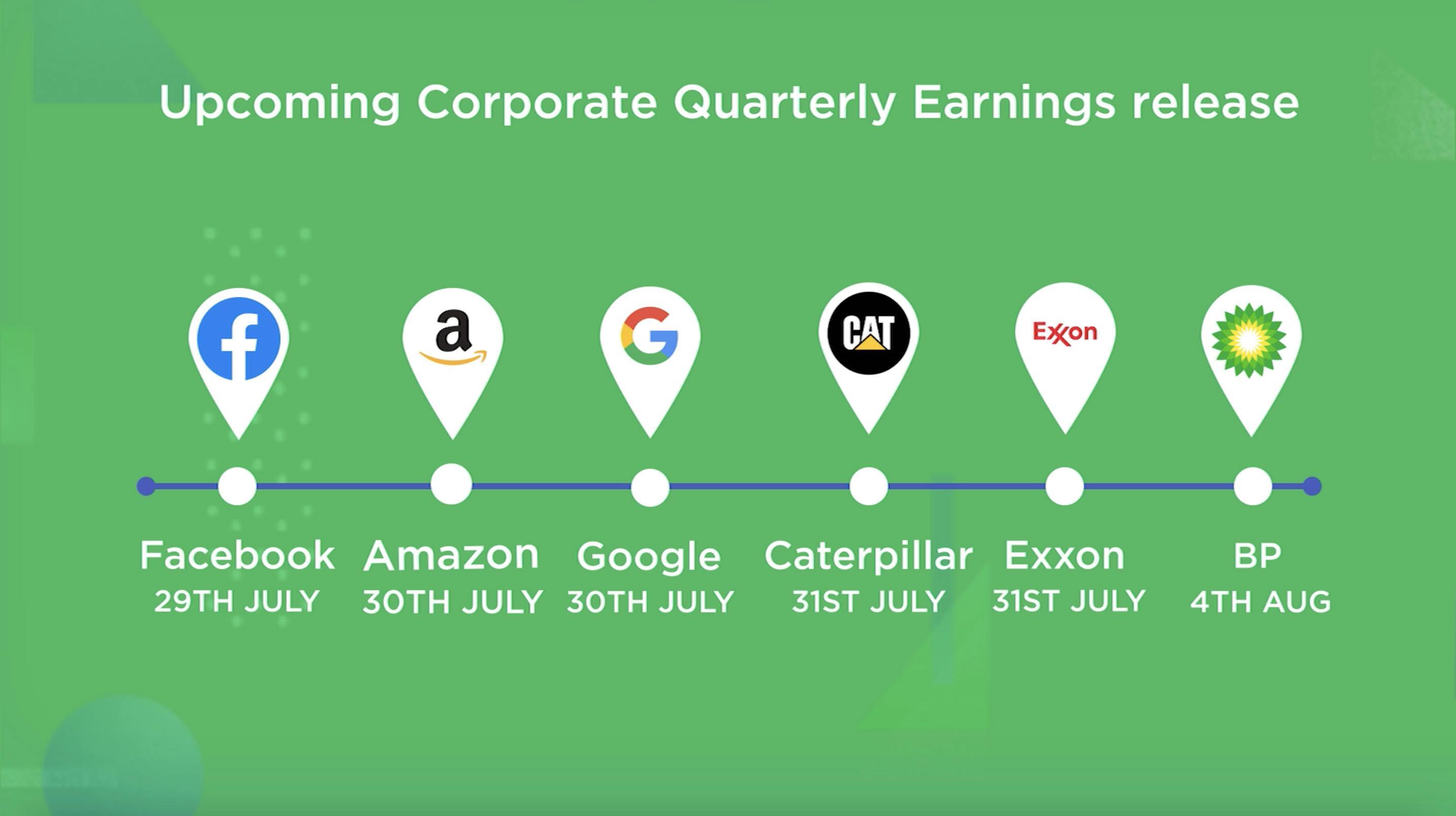 Tensions between China and a number of major trading partners have increased in recent weeks, should investors be worried?
On 15th July, the US president signed the legislation to allow his administration to impose sanctions on Chinese officials in retaliation for the Chinese government's security law. As a recent example, the New York Times decided this week to move its digital hub from Hong Kong to Korea, marking the first major relocation by an international news organisation, with others potentially following suit.  
We are also seeing increased levels of tension between the UK, Europe and China. The UK finally banned Huawei, the Chinese conglomerate, from involvement in its future 5G network, and has recently suspended its extradition treaty with Hong Kong – a move that wasn't appreciated in China. So far, markets haven't reacted to this news flow, but if we were to see increased levels of tension, and in particular around the technology industry complex, from Apple sales in China to the usage of TikTok in the US and elsewhere, this could have further ramifications.  
July was set to be a crucial month in Brexit negotiations, what have we seen so far?
The biggest news was the official deadline for the UK to ask for an extension, which was the 30th June. This deadline has of course passed. It seems now almost certain that the UK will effectively leave the EU on 31st December, deal or no deal.  
There were a few other soft deadlines at the same time. One around fishing, and one around financial services completing the equivalence assessment, with no deal being reached on those points. On our side, we don't expect a lot will be achieved in the coming weeks, and we're likely to see only sporadic news stories, distilled to the press, good or bad, depending on the progress of the day. But ultimately – and this is really what matters – it seems unlikely that a full and comprehensive deal will be achieved. And this has been reflected in the Pound lately, particularly against the Euro.  
The main question is whether some sort of a deal, acceptable by both sides, and avoiding a radical rupture, will be reached. Or, whether no deal will be achieved, bringing us back to more or less the middle of last year. In our opinion, we will only know with more certainty by the end of October/November what the most likely scenario will be. Until then, we will continue to see ups and downs depending on the daily news flow.  
____ 
About this update:  This update was filmed on 21st July 2020.    
Data sources:  Bloomberg, Macrobond, HSBC, FTSE 100,  
Risk warning:  As with all investing, your capital is at risk. The value of your portfolio with Nutmeg can go down as well as up and you may get back less than you invest. Past performance and forecasts are not reliable indicators of future performance.