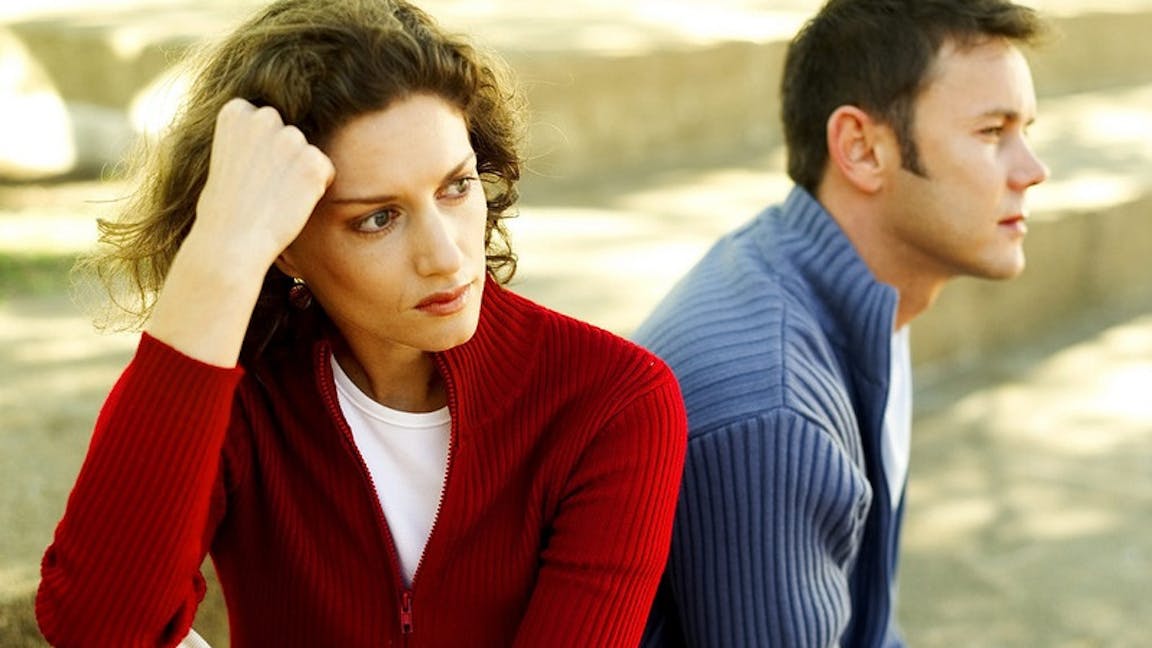 A recent Nutmeg survey revealed that the difference between a couple's salaries is causing relationship issues for those in their 20s and 30s. But, while they're firmly focused on short-term household income, are they losing sight of their longer-term investment plans?
We conducted a piece of research into female breadwinners in order to understand couples' views on salary, their finances and investment management¹. 100 years on from the start of the suffragette movement, we wanted to see just how far society had come towards achieving equality when it came to financial matters, in the home and in the workplace.
Growing pains
One of the surprising facts in the results was that there's growing tension for young adults over the difference between their salary and their partner's salary. More than one in five (22%) couples in their 20s, admitted there was tension in their relationship as a result of a differential in wages. This decreased to 14% of couples in their 30s, 9% in their 40s and just 2% for those in their 60s.
Has this always been the case? As they grow older will these annoyances and frustrations simply fade as the relationship grows and they start a family? Or does today's generation of young adults uphold a more vigorous attitude towards money and their partner's earning potential? And how does this shape their view of long-term investing?
We asked: Does the salary gap between you and your partner cause tension in your relationship?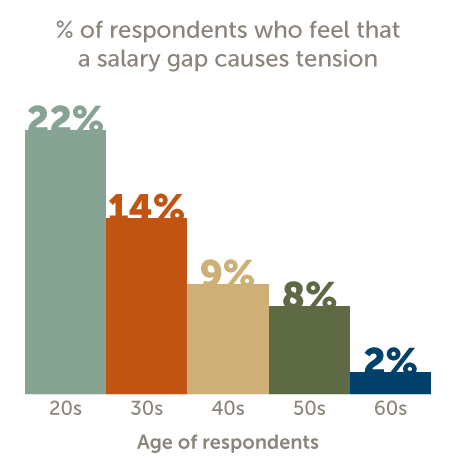 Gender wage gap is closing
Certainly, if we look at the employment landscape there's plenty of evidence to suggest the gap between male and female average salaries is closing. For instance, recent figures from the Department of Business show that 19% of FTSE 100 board directors are now female, up from 17.4% in May this year and a rise of 6.5% from February 2011. Though it must be said the wage gap is 21.4% in the UK, according to Eurostat, which is above the 17% average of EU member states and far in excess of the likes of Italy, where it's less than 10%.
Regardless of the European comparisons, we could reasonably assume that a variance in salaries between genders was more expected decades ago than it is now. With that in mind, perhaps couples are indeed more demanding of their partner's ability to pull in a decent income – and to do so now! The role of breadwinner is not as clearly defined as it used to be.
There is also quite possibly more eagerness these days to progress quickly in a career, switch employer more frequently to get a salary jump and scramble up that ladder of life ambition as soon as possible. And, of course, times have been particularly tough in recent years with inflation outstripping interest rates, widespread job uncertainty and salary freezes all too common.
In it for the long haul
While it's natural for many young couples to have short-term targets in life, there's perhaps never been a greater need for them to take a long-term view of their finances and invest small but early for their futures.
If they're planning a family, they need to be aware of the escalating costs of further education. The property market continues to be volatile. We're in a period when savings account interest rates are getting beaten up by inflation, so the money in their bank is effectively losing value. And in 40 years' time, it's possible that state pensions will only be available to the disadvantaged few who most need it.
As a desire to live short term may well be on the rise, the need to invest long term appears to be growing as well.
Sources
Online research of 2,000 respondents, conducted by Opinium, commissioned by Nutmeg
Risk warning
As with all investing, your capital is at risk. The value of your portfolio with Nutmeg can go down as well as up and you may get back less than you invest.