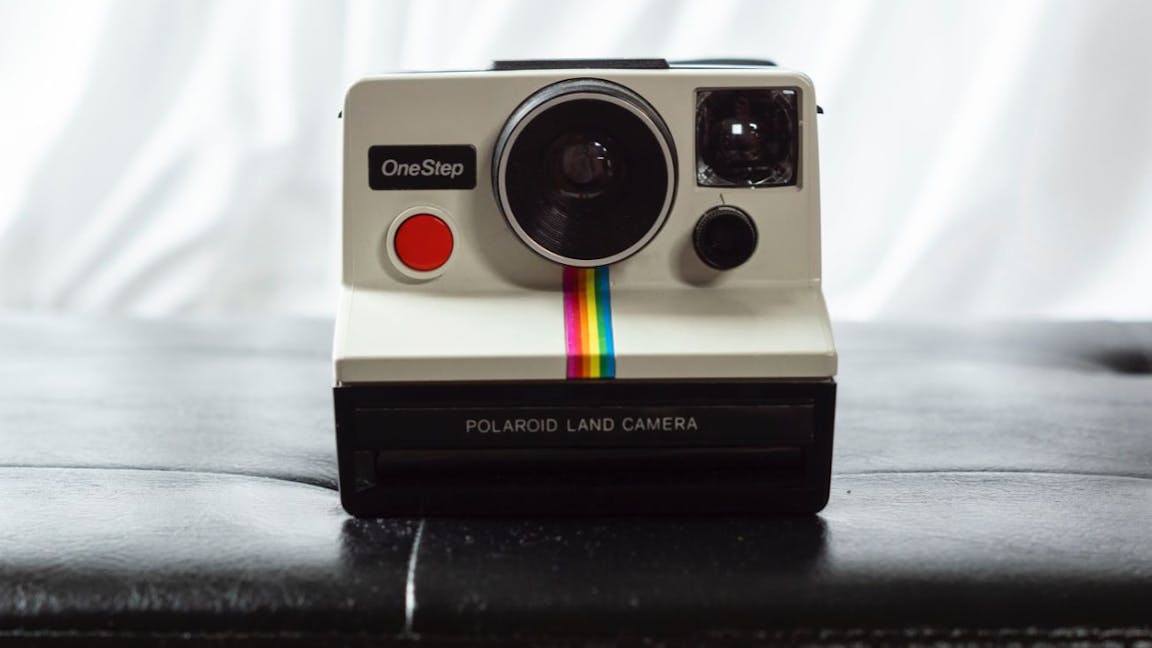 If you're a frequent Instagram poster, scrolling through your feed gives a glimpse of your interests and the type of lifestyle you lead. From fitness classes to decadent restaurant meals, Instagram is the medium for showcasing what you've been up to.  
While many turn a blind eye, Instagram-inspired lifestyles could come at a price. Not wanting to give up snapping memories in favour of squirrelling pennies away for a rainy day means saving for things like a dream holiday, a pension or even getting on to the property ladder gets pushed down the priorities list.¹ 
But what if we told you that you could do both?  
If you're worried about your savings, looking at the little squares on your Instagram profile may give you some insight into where your money is going, so you can change your financial habits for the better. 
Using Instagram as an indicator, we looked at the average number of pictures a person would post over a month, the types of activities being posted and analysed the most popular hashtags within them to see where many of us are spending our hard-earned disposable income. We tallied up the average cost of items in top Instagram posts and recreated them – keeping to a £100 budget and using cost-saving tips – to give you simple cutback solutions while continuing to live your best life on the 'gram.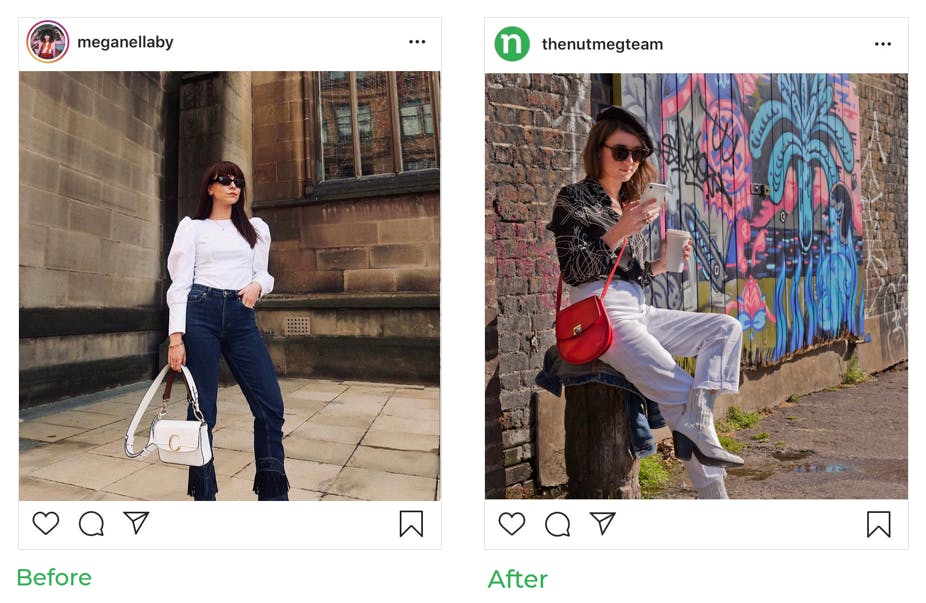 #OOTD
Average cost: £731.90
Cost-saving option: £28.49
Cash Saved: £703.41
An acronym for 'Outfit of the Day', the OOTD hashtag is used to document everyday outfits and has over 255 million posts, having become a go-to tag among the influencer community. After researching the price of popular outfit posts on Instagram, we found the average cost of an #OOTD is £731.90². Not only is the price high, but the popularity of aiming to keep on top of trends often causes followers to regularly purchase fast fashion, unknowingly supporting an industry that has been scolded for its negative impact on the environment and the lives of its workforce.  
Information around this impact has grown significantly, lending momentum to the sustainable fashion movement. With hashtags like #OOOTD (meaning Old Outfit of the Day with around 25k posts) , #SlowFashion (over 3m posts) and #OutfitRepeater (over 20k posts), more and more influencers are now encouraging a move away from fast fashion into a minimalist style using ethical brands or wearing old clothes more often.³ 
Sourcing pieces from charity and vintage stores, we managed to buy a complete outfit for just £28.49 – a cost saving of £703.41. Not only can sourcing from second-hand shops lead to a considerable saving compared to one purchased from a luxury brand, but the pieces bought were saved from ending up in landfill and contributed to a good cause.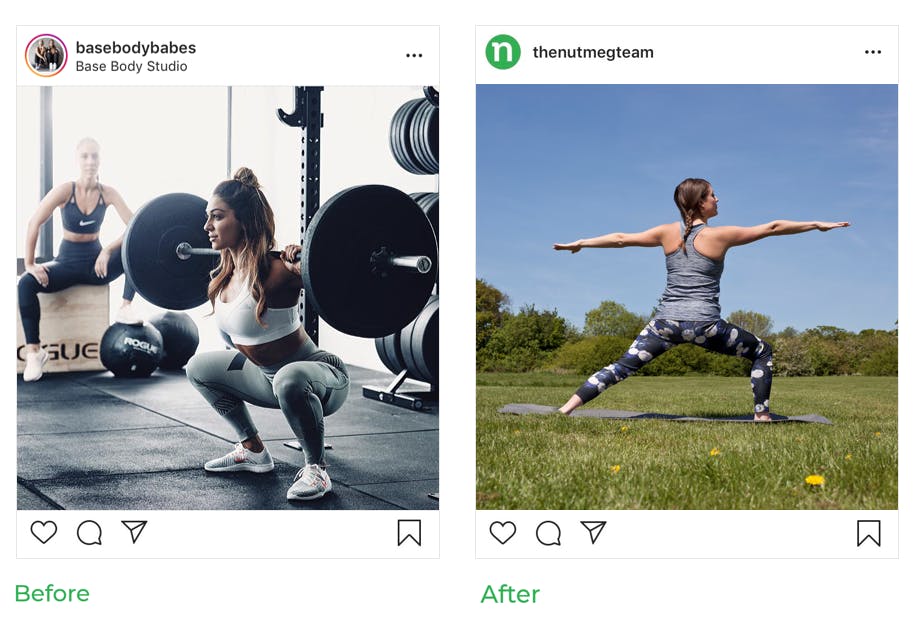 #gym
Average cost: £271.38
Cost-saving option: Free
Cash saved: £271.38
It's no coincidence that the health and fitness industry has boomed in line with the popularity of Instagram, with an increased number of gym openings in the UK as well as monthly average spend on gym memberships. Active users regularly share their exercise regimes to advocate highly-active lifestyles, but expensive gym memberships and the pressure to wear the latest activewear sees fans' bank accounts take a hit.
Getting outside is one of the best ways to aid in both physical and mental fitness. Instagrammers can remain financially fit by grabbing some mates and heading to a park for some self-guided exercise. With tons of fitness videos online, it's easy to find your favourite activity of choice and follow along, creating a bespoke session for yourself.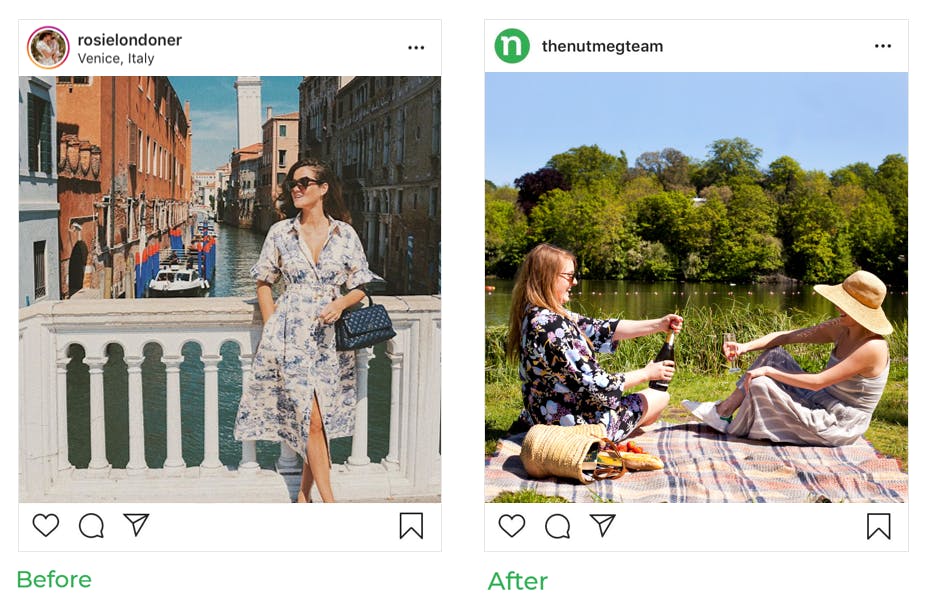 #minibreak
Average cost: £381.60
Cost-saving option: £13.95
Cash saved: £367.65
With over 406 million travel-focused posts on Instagram, it's easy to get swept up in the wanderlust and book a last-minute trip to the country du jour, with the social platform acting as inspiration in the decision-making process. Mini breaks are usually squeezed into a long weekend, making their frequency (as opposed to a two-week break) higher and more appealing, giving jet-setters the opportunity to fly to several countries over a year instead of one or two.
After looking at the most popular mini break destinations on Instagram and researching the cost from online travel retailers, it was found that the average cost of a mini break was £381.60. If three mini breaks were taken in a year, that's a spending of over £1,000.
On top of the cost, there's increasing environmental pressure to reduce our carbon footprint with one of the biggest ways to do so is by cutting how often we fly. You can help offset carbon emissions and save money by taking a staycation. Driving, walking or taking a train to a natural beauty spot in a nearby place that you've never visited before will still give you that same sense of adventure as well as a new found appreciation for your home. Instead of booking a long weekend in Venice, we took a train to an open space in London with a picnic – all for £13.95.
If it's a trip of a lifetime you're saving for, opting for staycations over overseas mini breaks will satisfy your travel craving in the short-term while conserving your coins for a bigger holiday in the future.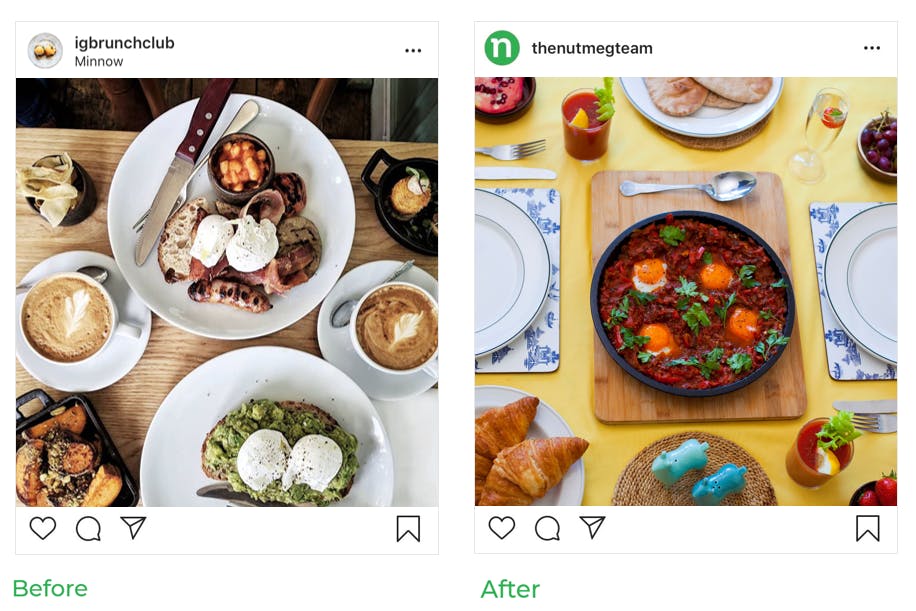 #brunch
Average cost: £32.41
Cost-saving option: £11.38
Cash saved: £21.03
We've all seen the swathes of aerial shots showing stylised tables of enviable dishes on Instagram, otherwise known as brunch. Brunch has become a staple trend for foodies and faddists alike, with weekends often encompassing at least one hotspot visit to sample the menu and get a snap. But a big bill for brunch can quickly rack up, especially if you order a cocktail (or three). Picking dishes off the menus of the most-snapped brunch hotspots on Instagram, we found that the average cost of brunch per person was over £30.
Save for the avant-garde establishments, many brunch places serve up similar ingredients like eggs, avocado and sourdough toast, which can be easily rustled up at home. Taking it in turns to host brunch with friends still fulfils the triad of socialising, eating delicious food and Instagramming, with the added gratification that you've kept roughly £20 for your savings. We whipped up brunch with pastries, fruit and Bloody Marys for just £11.38 per person.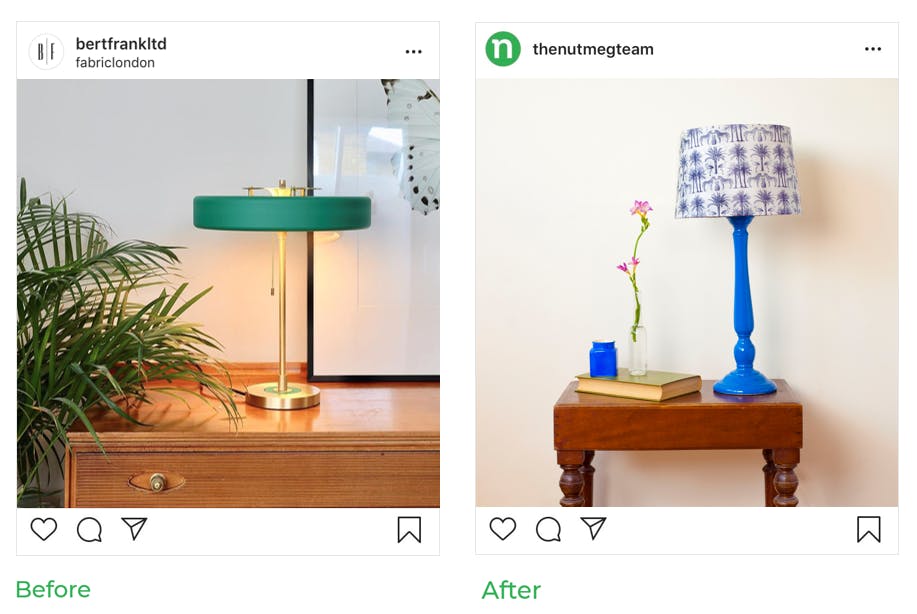 #homeinspo
Average cost: £1,131.10
Cost-saving option: £24.74
Cash saved: £1,106.36
Instagram is never short of interior design inspiration. Images of luxury houses filled with plush furnishings are only ever a few taps away, with many influencers documenting their complete home makeovers for fans to see. The home hashtag came out on top as the most expensive trend to follow, with Instagrammers spending an average of £1,131 per post.
While the new-in pages of home retailers are tempting, you can source pieces for your abode for a fraction of the price through upcycling. By purchasing a lamp from a charity shop, spray painting it and modernising the lampshade, we gave this home accessory a new lease of life, practised some crafty skills and ultimately didn't splash much cash, spending just £24.74.
The mark of any good trendy homemaker is the ability to find unique items that no one else has. This method allows users to do just that, all it takes is an eye for spotting potential and a bit of DIY work.
A penny saved is a penny earned
By choosing these alternative options, we made a saving of £2,469 per month across all of the chosen hashtags.
If this money was invested into a Nutmeg ISA in August 2019, alongside monthly contributions of £350, you could see this amount grow to a potential portfolio value of over £100,000 by 2039, according to our on-page ISA calculator.
It just goes to show that with a few smart swaps, you could invest wisely in a more sustainable future.
How did we work this out?
We based the calculation on a person posting one picture per popular category per month. We then added the combined average cost of the products/activities within these posts together and subtracted the total amount of costs saved across the five categories if the money-saving option was chosen (see table below).

Sources
Young people aren't starting a pension early enough, Lisa Caplan, Nutmeg 2016, https://www.nutmeg.com/nutmegonomics/young-people-arent-starting-pension-early-enough/
Based on analysis of publicly available Instagram posts and hashtags, June 2019
https://www.instagram.com/explore/tags/oootd/
https://www.instagram.com/explore/tags/slowfashion/
https://www.instagram.com/explore/tags/outfitrepeater/
Saving pounds: The rise of the budget gym, Lora Jones, BBC July 2018, https://www.bbc.co.uk/news/business-44766250
Featured Instagram Posts
#OOTD: https://www.instagram.com/p/BvT66Hgnxew/
#gym: https://www.instagram.com/p/Bun9x9JFH87/
#minibreak: https://www.instagram.com/p/BohHWqmAJge/
#brunch: https://www.instagram.com/p/Bt8BK_cnKf5/
#homeinspo: https://www.instagram.com/p/BUZBAakFrMP/
Risk warning
As with all investing, your capital is at risk. The value of your portfolio with Nutmeg can go down as well as up and you may get back less than you invest. Tax treatment depends on your individual circumstances and may be subject to change in the future. A stocks and shares ISA may not be right for everyone and tax rules may change in the future. If you are unsure if an ISA is the right choice for you, please seek financial advice. Projections are never a perfect predictor of future performance, and are intended as an aid to decision-making, not as a guarantee.