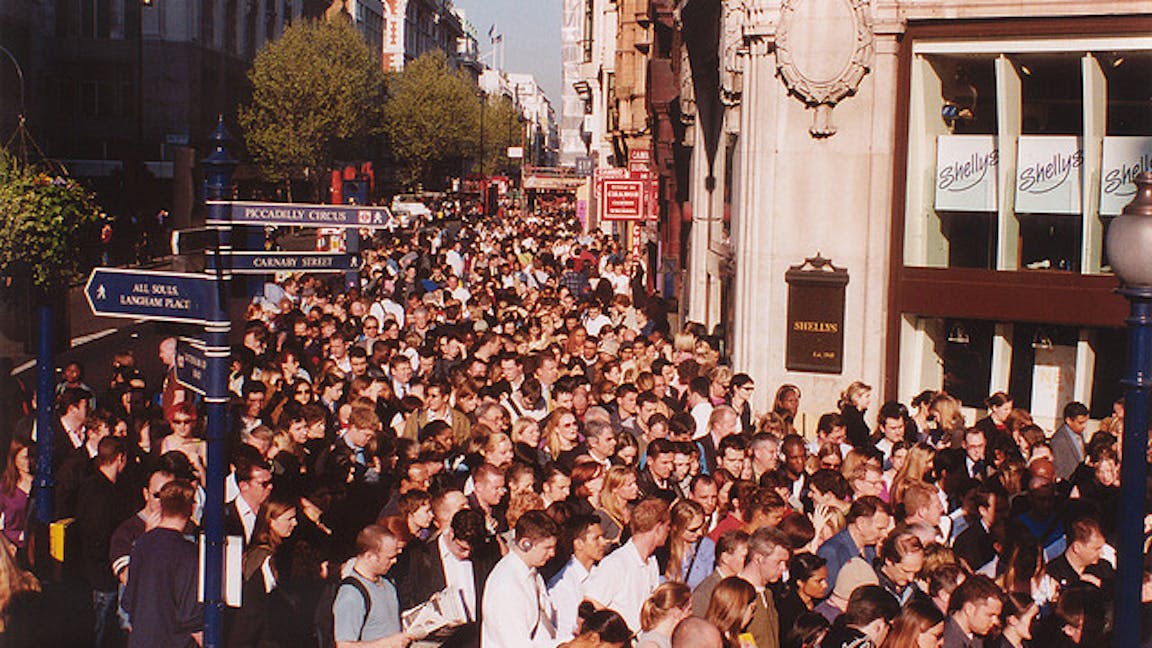 It's 6.20 on a Monday morning. The only noise drowning out the sound of the planes overhead is the occasional wail of a police siren. You get up and walk to the nearest Tube and find the drivers on strike. So you go to the bus stop. The first three buses are full. The fourth…
So you resort to walking, which takes even longer than it should, as two of the streets have been cordoned off by the police. Is it a stabbing or a helicopter crash? No one seems to know. No one talks to you. You arrive at work an hour late. You log straight onto zoopla.com to check out cottages in Sussex. Silently you scream: WHY DO I LIVE IN LONDON?
Sound familiar? Every year, some 250,000 Londoners move out of the capital in search of a gentler pace of life. But if you're going to continue working in London, is it worth spending half your life on a train so that you have a slightly bigger kitchen to slump in at weekends? Nutmegonomics provides some useful facts, figures and further reading for those considering the leap.
The average season ticket into London costs £3,800. According to a study by Lloyds TSB, a ticket from Woking in Surrey will set you back around £2,800, while commuting from Cambridge is well over £4,000.
However, you can make significant savings on the cost of housing. Move half an hour outside London and the average house price is £270,000 – some £283,000 lower than living in zone two or three. As long as you can put up with an hour a day on a train (and try to forget that this adds up to almost two weeks commuting a year), you'd have to commute for over 100 years before you'd forked out the same sum. Then again, given current trends in the retirement age, perhaps that's not completely unrealistic…
Once you get more than 90 minutes outside London, house prices flatten. Have a look at this wonderful graph.
You don't have to live near a large railway station. According to research by Savills, many people choose to live slightly further from London so that they can get a seat in the morning. Their journey might be longer, but at least they can do some work on their laptops, instead of fuming about the proximity of their neighbours' armpits. Technocommuters – apologies: their word, not ours – should consider Milford instead of Guildford; Whittlesford, not Cambridge; Pangbourne, not Reading; Cooksbridge, not Haywards Heath. More inspiration here.
Choose the right compass point. Almost too obvious to mention, but if you work in the City, it's not ideal to commute into Paddington every day.
You're not alone. On average, Londoners spend 75 minutes travelling to and from work – the longest in the country. In Wales, by contrast, people spend only 41.4 minutes a day commuting.
At least you're not Dave Givens. In 2006, Dave Givens, who worked for Cisco in San Jose, was awarded the dubious honour of "America's Longest Commute". His daily 372-mile round trip, from Yosemite to San Jose, took seven hours and saw him drinking 30 cups of coffee. And his prize? 0,000 in petrol money.
Risk warning
As with all investing, your capital is at risk. The value of your portfolio with Nutmeg can go down as well as up and you may get back less than you invest. A pension may not be right for everyone and tax rules may change in the future. If you are unsure if a pension is right for you, please seek financial advice.