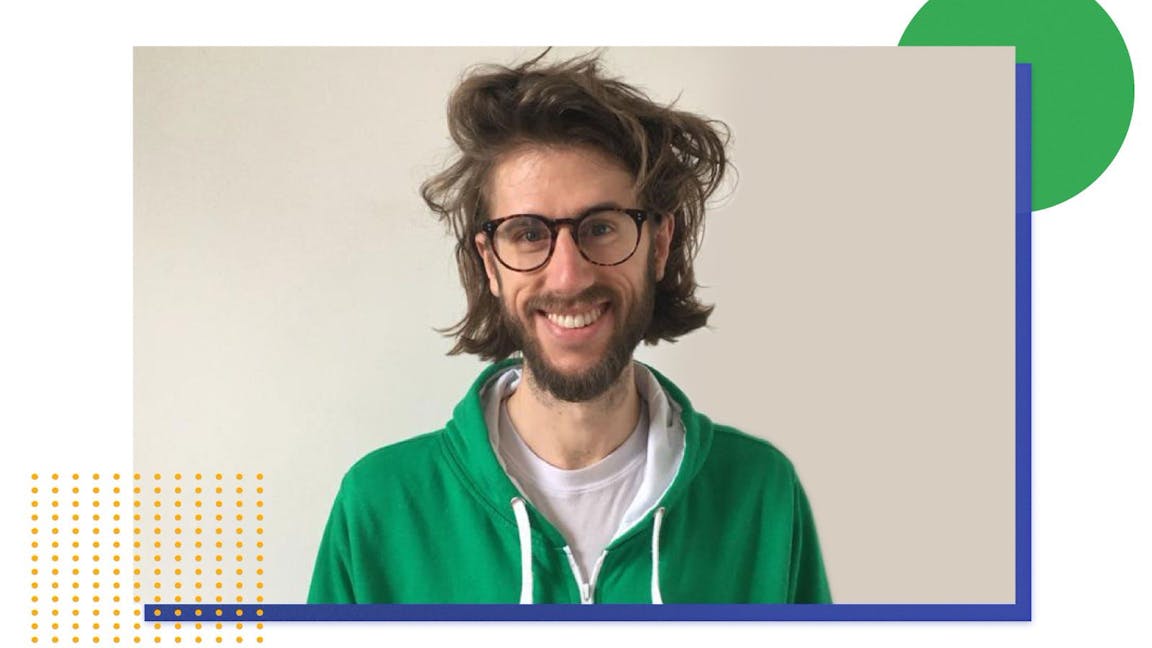 Nutmeggers are a socially conscious bunch. That's why you'll find that socially responsible investing (SRI) is especially popular among them. In a series of blog posts, we're asking why our team members chose this investment style.
Name: Matt Timms
Job: Copywriter
Describe your role: If you see words anywhere on the Nutmeg website, app or on our advertising, there's a good chance I wrote them.
Products I have: Pension, Lifetime ISA and ISA.
Investment goal(s): To buy a first home. My partner and I each have Lifetime ISAs to benefit from the government bonus. We don't expect to buy a house for at least three years or so. I also have money in a stocks and shares ISA, which I don't expect to touch for at least five years. I don't have a specific goal in mind for that. Outside of Nutmeg, I also have some cash savings, which is money that I might need for more immediate purchases like holidays or for emergencies.
Why SRI? I'd describe myself as someone who's quite socially and environmentally conscious. I'm vegan and I'm involved in environmental activism. If I can align my investments with my values, it makes me feel more attached to my money, whereas investment can sometimes feel as though you're throwing money into a black hole. To be honest, I feel that SRI is a no-brainer. If you can measure your investments on environmental, social and governance criteria, why wouldn't you?
What are the key issues for you? Climate change and carbon emissions are the obvious ones, but I feel there are other important issues that don't get as much attention. I'd like to see more coverage of executive pay and tax transparency, for example. I'm also interested in supply chain management. As supply chains get more complex, I see a lack of transparency. As a customer, it's difficult to know where your goods have been made, who made them and in what conditions.
Does SRI go far enough? If I was going to handpick investments myself, I would probably exclude any fossil fuels company and any company that isn't vegan. However, I recognise that many approaches to SRI don't exclude these sectors entirely, instead opting to remain an active stakeholder in energy companies that are making efforts to improve, for example. I admit that I have my own biases against certain companies, but when you look at the data, some of these companies are doing good things and perhaps can make progress over time. That said, you can only really measure what's there. MSCI and Nutmeg are doing their best to interpret that data, but it's widely recognised that corporate reporting of environmental, social and governance (ESG) data isn't yet where it needs to be. I hope that as SRI becomes more widespread, the data becomes better and more reliable.
Do you have concerns about performance? I have a fairly high tolerance for risk. I don't mind if my investments go up and down in the short term because I'm a long-term investor. However, I did prepare myself to expect short-term performance that was worse than I could have had in a non-SRI portfolio. My prediction was short-term underperformance followed by long-term outperformance.
Were you right? I was wrong. In the short term, my SRI portfolio has actually performed better than non-SRI portfolios. Performance has sometimes been negative because of the effects of the coronavirus pandemic, which obviously isn't great, but in such an environment I'm happy to be invested in SRI because I know the companies in my portfolio are being scored on issues such as workers' health and safety.
Would you recommend SRI? I would. One of the things I've told friends is that if you invest with Nutmeg, you can see how your portfolio stacks up in terms of carbon emissions, boardroom diversity and things like that. They're usually impressed. If you're an investor you can earn £100 by referring a friend.
Anything else you'd like to share? There's loads of interesting blog posts about SRI on Nutmegonomics. SRI isn't one thing and there are so many inaccurate labels and bogus commitments out there. Why not read up on the topic today – and invest tomorrow!
Risk warning
As with all investing, your capital is at risk. The value of your portfolio with Nutmeg can go down as well as up and you may get back less than you invest. Past performance is not a reliable indicator of future performance. Tax treatment depends on your individual circumstances and may be subject to change in the future.