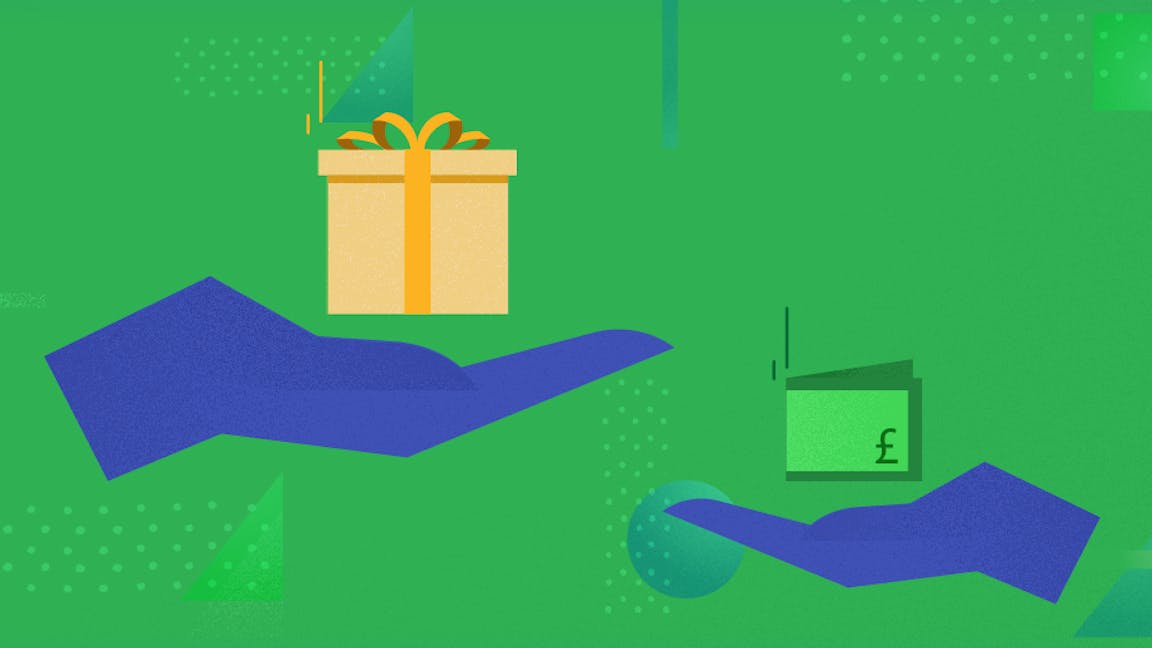 Do you worry that gifting money to children will be seen as lazy or thoughtless? Have you ever wondered whether the money you spend on token gifts could be doing more for the children you care about? Despite past research¹ showing that many of us worry that gifting money to children risks being seen as lazy or thoughtless, our research shows that it has become more popular – and socially acceptable – due to lockdown. But might cash be gifted in a more efficient way? If it were invested, for example.
A staggering £3.8 billion² is spent on gifts for children each year, yet the shelf life of physical gifts is often less than 12 months. We wanted to get a better understanding of the stigma around gifting cash among adults, parents and children in the UK. And if it has changed as a result of the coronavirus pandemic and subsequent lockdown measures.
Prior to lockdown we spoke to adults, parents and children and despite only a tiny proportion of children (4%) saying they would be disappointed to receive money, three in five (62%) adults felt there was more sentiment and effort involved in giving a physical gift. While the same number (62%) believed children were more excited to receive a physical present than money.
However, adults appear to have overcome their prior concerns that gifting money could be seen as lazy or thoughtless, with two in five (41%) adults more inclined to gift money to children rather than giving physical presents during the pandemic. And the effect could be longer-lasting, with a third (34%) of adults saying they were more open to gifting money over physical presents in the future.
So, if almost half (47%) of children say they would be happy to save the money they receive as gifts, could the cash we're spending on our children, grandchildren, nieces, nephews, godchildren, etc. be put to better use?
On average, UK adults spend around £20 per present for an average of five relatives, godchildren and friends' children in their family and social circle each year. Cash may not replace a well-thought out gift with sentimental value, but our research shows that children receive a lot of physical gifts that soon become superfluous. Often, they'd prefer cash they could save or invest.
Looking at a period of 10 years, we explore in the below table how children could be nearly £400 better off if just £100 of the money we spent on gifts each year were invested in a Junior ISA.

Capital at risk. Forecasts are not a reliable indicator of future performance.
With more than half (55%) of parents saying their children receive too many presents and 38% saying they've wanted to gift money but avoided doing so because of how it might be perceived, it's time to consider the potential long-term benefit of a cash investment.
By putting money away in the right product, birthday and Christmas presents could grow to a substantial amount by the time a child turns 18 – perfect to fund important financial milestones and costs such as driving lessons, gap years, and house deposits.
While in the past people may have thought that savings accounts and cash savings could amount to a healthy nest egg for their child, in reality, given current savings and inflation rates, investing in stocks and shares, could be a more effective way to invest for your child's future.
Investing the current annual allowance of £9,000 a year into a Junior ISA equates to a sum of £279,924 after 18 years, assuming an annual return of 5.5%⁴. By comparison, the same amount saved into the current top paying cash Junior ISA would be worth over £55,000 less, at £222,553. And to help give your children a financial head-start, your friends and family can pay into a Nutmeg Junior ISA via bank transfer.
Although there is a risk that investments will go up as well as down in value, an investment that benefits from compound returns over a longer-timeframe could mean your child goes into adulthood with a significant sum of money.
Sources
All research unless otherwise stated was conducted by Opinium Research. Fieldwork conducted by Opinium Research, amongst 2,000 nationally representative UK adults during June 2020, and amongst 2,002 nationally representative UK adults, 1,009 parents of 7 to 17-year olds and their children during January and February 2020.
£3.8bn calculation: In a nationally representative survey of 2001 UK adults, 1565 said they had children in their social circle. 1565 / 2001 * 52,383,000 (UK adult population) = 40,969,213 or 41 million. On average this group spent £92 (£19.2 x 4.9 children in social circle). 40,969,213 * £92 = £3,775,722,670 or £3.8 billion
3.25% interest rate best available as of 9th July 2020. Source: Which? https://www.which.co.uk/money/savings-and-isas/isas/junior-isas/best-junior-cash-isas-aqsu71x1pjq2 Calculations don't take inflation into account.
Predicted net returns based on all-time performance of fully managed Nutmeg Portfolio 7. Calculations don't take inflation into account.
Risk warning
As with all investing, your capital is at risk. The value of your Junior ISA can go down as well as up and you may get back less than you invest.Past performance and forecasts are not reliable indicators of future performance. To open a Nutmeg JISA, your child must be under the age of 16 and funds cannot be withdrawn until your child turns 18. Tax treatment depends on your individual circumstances and may be subject to change in the future.If you are unsure if a Junior ISA is the right choice for you and your child, please seek financial advice.