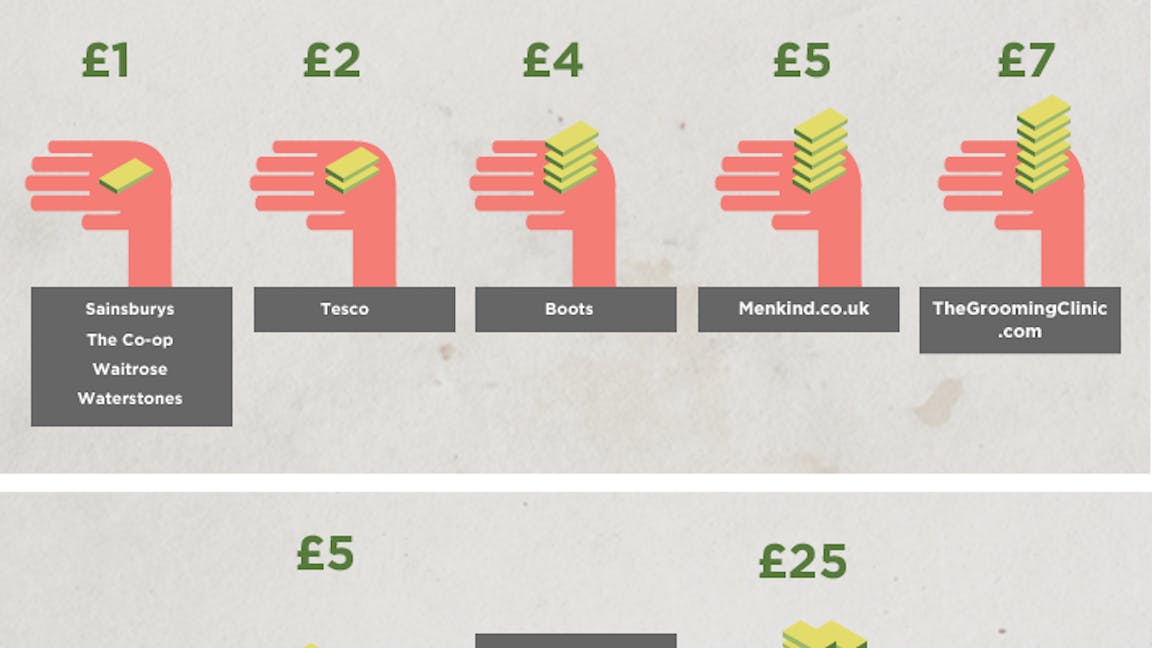 In for a pound, in for a penny – that pretty much sums up the numbers game with loyalty schemes. At Waitrose, Sainsbury's and The Co-operative – as well as Amazon and Waterstones – you get a penny back for every pound you spend, while Tesco offers a mighty 2p and Boots a racy 4p.
The figures can be fluffed up a little if you take your own bag, buy petrol on site and promise not to swear at checkout interns who bundle talcum powder in with your asparagus. If you use a retailer's credit card you may feel the love a little more. But in general, being part of the 1 per cent club is what you get for not cheating on your supermarket.
There are, however, ways to turbocharge and cross-pollinate your points. With Tesco's Clubcard scheme you can trade in normal vouchers for Clubcard Rewards and potentially triple their value elsewhere – on magazine subscriptions, health and beauty or Topps Tiles, for example.
Nectar cards (as favoured by Sainsbury's and friends) have similar leveraging powers, as does the Boots card, but read the small print carefully and consider that the rigmarole of boosting can be offset by simply shopping around for cheaper stuff. Infidelity, it seems, is sometimes to be encouraged – which is, of course, why retailers set up these sticky schemes in the first place.
Loyalty, and then some
Scamper higher up the spending tree, towards the aspirational nooks of the retail world, and you may find your value as a customer is expressed with an upper case Ta Very Much.
The loyalty card offered by Liberty, one of London's swanky department stores, means that customers get a £5 voucher for every £150 they spend, £10 for every £250 and £25 for every £500. By contrast, you have to splash out £500 at House of Fraser for a measly five quid token of their appreciation.
Online fashion retailer mywardrobe.com also offer escalating levels of cheer. With tiers (Bronze, Silver, Gold and Black) depending on how much you spend, faithful shoppers can qualify for £50 off if they spend £200 or more, as well as special 20% off shopping days, exclusive previews and VIP events at the two-grand-a-year black level.
Miss Selfridge also racks up the rewards the more you splurge. Every time you spend £35 or more you get a stamp with a treat for your next purchase. The treats start at £4 off and ramp up to £10 off, via 10% off, free lashes (eyes, not Fifty Shades of Grey) and 20% off.
Even Harrods recognises the value of its customers not schlepping away from home, with a points system in action from £500 to £10k. At the top tier lucky shoppers can get 2 hours' free car parking, which is worth a small fortune in Knightsbridge.
In fact, there are very few retailers or service providers not putting some kind of price on loyalty – everyone from the original Air Miles (now called Avios) to the perks offered by mobile phone companies (extra minutes, concert tickets etc) to credit card providers (the chance to borrow for a mere 20% per annum).
So where's the catch?
You know the deal. Loyalty schemes are set up by companies, to encourage you to spend more with them, more often, and to give them valuable data on your spending habits. This info is, in turn, used so they can target you more easily with offers and incentives, and even pass on your information to other 'chosen friends who may interest you'. In essence, they sell your shopping DNA.
So retailers increasingly know more about you. They'll know all about the inappropriate undergarments you buy and just how much you're lying when you tell your doctor that you drink 21 units of alcohol a week. But you don't get nothing for nothing, so if you are generally happy to suck up this trade-off, in exchange for money-off perks and often exclusive access to events and product previews, go ahead.