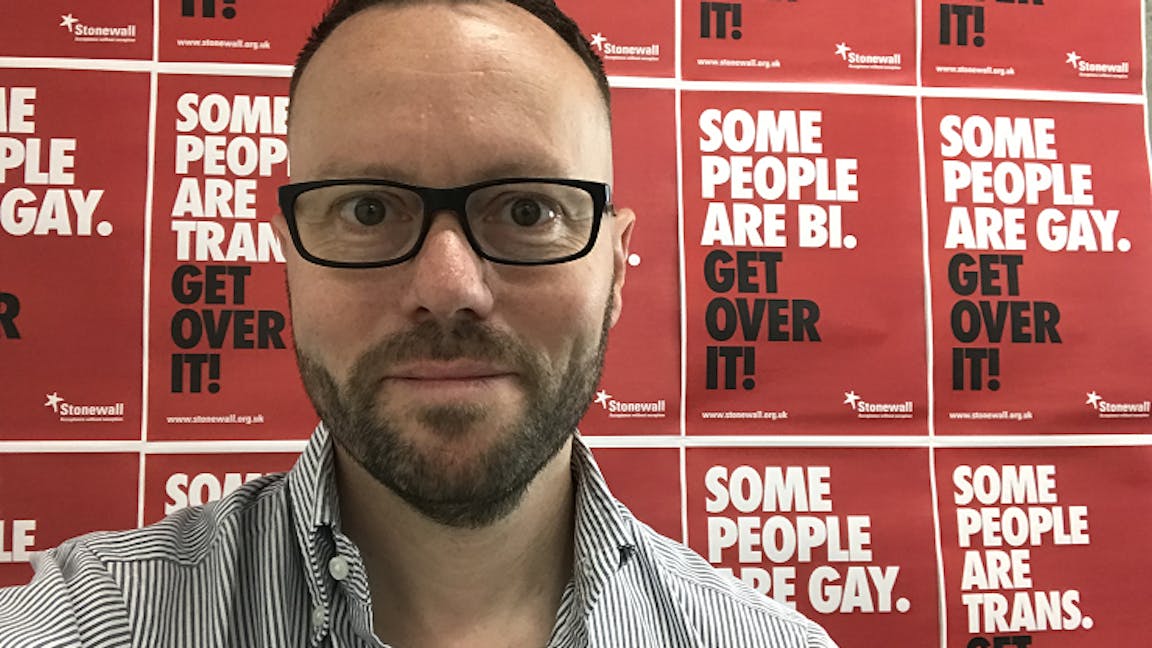 When I was at school, there were barely any LGBT+ role models around. Gay people were just starting to find themselves represented in the mainstream, but generally as controversial characters in the storylines of the nation's beloved TV shows.
Society has come a long way since then. Section 28 (the law that made it illegal for teachers to discuss homosexuality in schools) has been repealed. Marriage is now possible between same-sex couples. And the Equality Acts of 2006 and 2010 make any discrimination on the basis of sexual orientation illegal in the workplace.
The law is important, of course, but attitudes haven't necessarily kept pace. I went back to my school recently and despite how much wider society appears to have progressed since I left, I was struck by how much homophobia and stigma still lingers in our playgrounds. On the surface of it, kids continue to use the word 'gay' as a throwaway substitute for anything that's 'bad', while on a deeper level, cyber bullying can make targeted homophobia impossible to escape.
This is why I support initiatives like Diversity Role Models, who run workshops in schools where I go and tell my own story.  I'm the CEO of one of the UK's most exciting and fastest growing financial services businesses. And I am gay. The implicit message in this speaks volumes; I haven't been held back. By making myself more visible to young people, I hope to be able to demonstrate that with hard work and passion, anyone can be successful. 
It's essential that positive role models remain visible and vocal until it's no longer a matter of any interest that a person is gay, or transgender, or anything else.
Why inclusive workplaces matter
As a business leader, creating a diverse and inclusive workplace is firmly grounded in logic. There are obvious benefits: diversity of thought leads to better solutions, employees that represent and understand the customers they are designing for helps them succeed, being inclusive gives you access to the best talent, to name a few. However, to me the most obvious business case for embracing diversity is the productivity benefit.
My background is in marketing, a discipline which encourages you to develop a deep understanding of human motivations and behaviours. Maslow's Hierarchy of Needs details the importance of safety as a critical foundation for achieving other aspirations in life. So, if an employee doesn't feel safe to be themselves at work, can we expect them to do their very best work?
It's important to me that Nutmeg is a safe place for everyone, regardless of their ethnicity, gender, sexual orientation, or anything else. I talk openly about being gay in the office, on social media and at events. We have an active LGBT+ community at Nutmeg and currently have a decorated and informative "History of Pride" wall in the office for the run-up to London's Pride event. Nutmeg actively supports the promotion of diversity in financial services, including being a member of the Women in Finance Charter and Stonewall Diversity Champions.
However, it's often the things you would not expect that can have the biggest impact. For example, for a transgender person, going to the bathroom can be a cause of real anxiety (which is why we have unisex as well as gender-specific facilities). I want people who work at Nutmeg to do the best work of their lives, and enjoy doing it. By making certain that something as simple as using the toilet is taken care of, we can tackle the unseen stresses that might hold people back from doing just that.
In short, creating an inclusive workplace where everyone can thrive is not only the right thing to do, it's the sensible thing for any business leader to do.
Challenges for asset managers
At Nutmeg, our business success is predicated on actively seeking out diversity. By bringing together the best software engineers with the smartest traders, macro economists with digital marketers, financial advisers with data scientists, UX designers with fund managers, we are able to innovate better and disrupt an entire industry, for the good of our customers.
Being a vibrant fintech company enables us to more easily attract diverse talent than a traditional asset manager might be able to. The heritage of asset management – and all its associations – may prove difficult to overcome. Part of the battle is attracting people to work in an environment where they might feel the weight of tradition is working against them.
Nutmeg's mission is to democratise wealth management and make high quality investing open to many more people in society. At the same time, we hope to make a career in investments open to many more people, too.
Risk warning
As with all investing, your capital is at risk. The value of your portfolio with Nutmeg can go down as well as up and you may get back less than you invest.