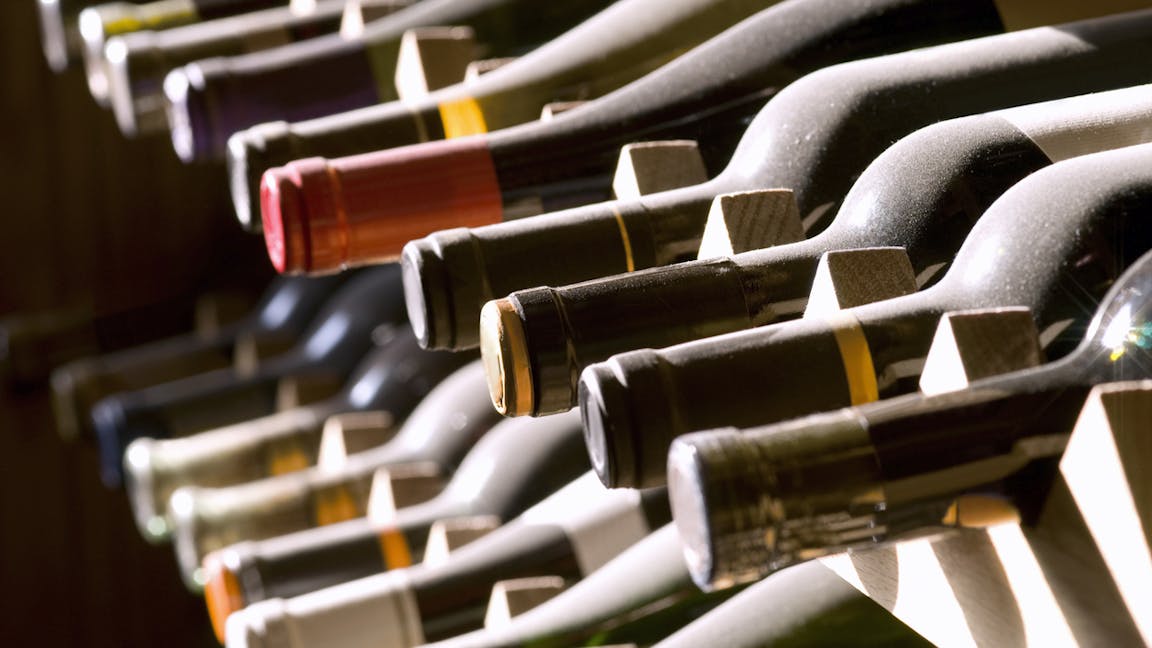 If, like many Nutmeg customers (and employees!), you have an interest in both wine and investment, you might wonder whether you could combine these passions and do some wine investing. In this article we look at the pros and cons of putting your wealth in bottles.
Investing in fine wine can be lucrative¹. Generally, investors seek to make money by buying cases of sought-after vintages and selling them on in five or more years. In the past two decades, the trade has been buoyed by demand from China, where fine wines are viewed as a status symbol.
Fans of wine investing say there will always be demand for the best bottles. A vineyard can only produce a certain quantity each year. These enthusiasts may also argue that wine demand is independent of the price of other financial assets, such as shares. The stock market might fall, they say, but that need not stop you making money on your Château Mouton Rothschild 2010.
But before you start buying up cases of claret, there are some issues to consider.
The market for wine investing is unregulated, so watch out for scams
The Financial Conduct Authority does not regulate wine investing, possibly because it does not consider the market large enough. The global market for fine wine has been estimated at between $5-6 billion². We can put that into perspective by comparing it with the trillion-dollar market capitalisation of a single company, such as Microsoft³.
Unregulated markets can attract conmen and tricksters. Although there are many reputable wine merchants out there, there are many scammers who would try to fool you into buying overpriced wines with little resale value. A group of merchants have set up an industry body, the Wine Investment Association, to try to combat the conmen.
You probably can't store your fine wine investment at home
What newcomers to wine investing don't always realise is that fine wine stored anywhere but in a professionally managed warehouse is difficult to sell. If you keep your wines at home, bear in mind that a buyer has no guarantee you have not stored them incorrectly. Imagine paying a small fortune for a fine Burgundy cuvée that had been turned to vinegar by exposure to heat.
Serious wine investors typically put their cases in a bonded, "duty paid" warehouse such as London City Bond or Octavian Vaults. Of course, these warehouses charge for storage.
The tax situation is unclear as is the potential return on your investment
Enthusiasts sometimes say wine investing is tax effective because the taxman has historically considered wine a "wasting asset", something with a predictable life of less than 50 years on acquisition. Wasting assets are exempt from capital gains tax. But in recent years the Inland Revenue has qualified its view to indicate that fine wines are not automatically exempt⁴. The situation is not clear cut and you may want to seek specific tax advice from a specialist.
Another thing is that, like any investment asset, your returns are not guaranteed. In the past, a single wine critic named Robert Parker had the power to move prices with his judgements. Although he is no longer a dominant force, wine critics still exert a big influence. Changing consumer tastes and politics can also affect fine wine prices. For example, the Chinese government's crackdown on corruption after 2012 reportedly led to a fall in demand for the most valuable Bordeaux vintages⁵.
What about a fine wine investment fund?
There are ways to invest in the wine market other than by buying cases yourself. You could invest in a wine fund, for example, in which a fund manager pools the investments of many people and uses them to trade in fine wines. By investing in a fund, you would not have to arrange wine storage yourself, though you would have to pay the fund manager's fee.
This is confusing, I need a drink
If this all sounds a bit complex, we understand. Wine investment is not for everyone. If you would rather invest in a more conventional way, a Nutmeg stocks and shares ISA is designed to take the stress out of investing. We also offer Lifetime ISAs and pensions.
You probably deserve a drink for reading this far. We can help you with that, too. Why not check out this offer from our friends at Virgin Wines.

Fifty pounds to spend at Virgin Wines plus free delivery
Virgin Wines are delighted to offer savvy investors a fantastic £50 wine voucher to spend on the wines of your choice, plus FREE next day delivery.
With mouth-watering mixed cases starting at just £4.99 a bottle, this £50 voucher acts as the perfect introduction to Virgin Wines' excellent WineBank service.
Terms and conditions
You must be over 18. UK delivery only. You can't exchange it for cash. Not to be combined with any other promotion. This voucher is only valid if you try Virgin Wines' WineBank and buy at least a 12 bottle case worth £99.88 or more. There's no obligation to buy any more wine. You can cancel your WineBank membership at any time and withdraw any funds you've added. For full T&C's please visit www.virginwines.co.uk/terms
Sources
Risk warning
As with all investing, your capital is at risk. The value of your portfolio with Nutmeg can go down as well as up and you may get back less than you invest. Tax treatment depends on your individual circumstances and may be subject to change in the future.