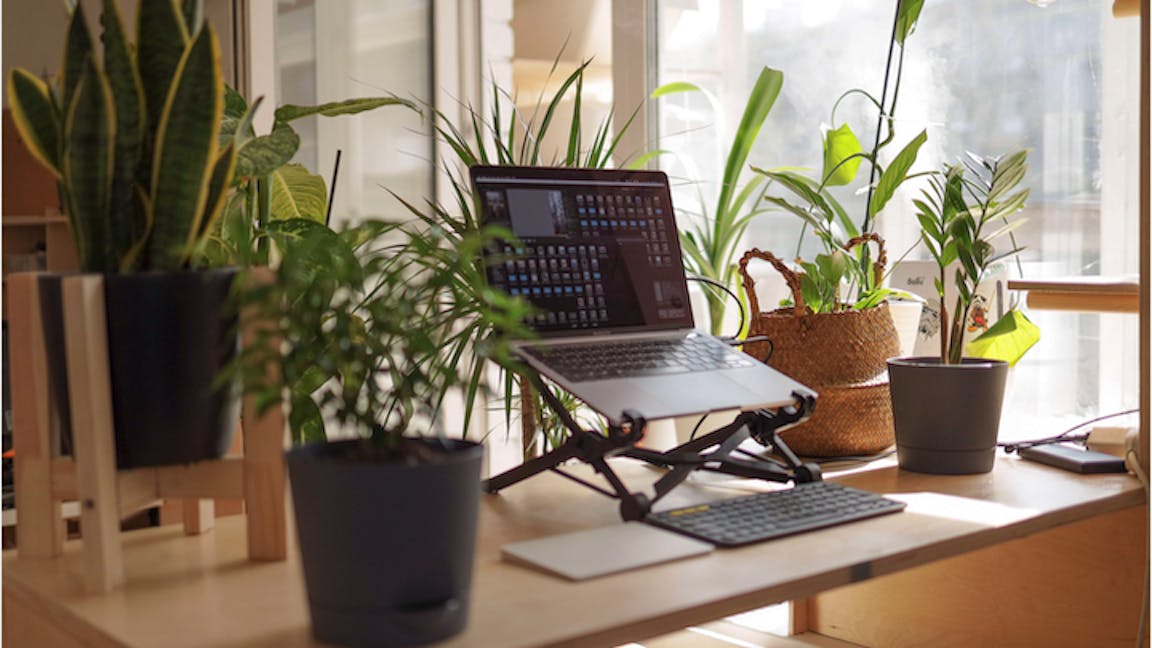 Brits are diverting money spent on season tickets and commuting into their pensions, boosting their retirement by over £1,500 a year, explains our personal finance specialist, Annabelle Williams.
Working from home has become the norm for millions of people and while it can be a challenge to live and work in the same place, you may be thankful when it comes to retirement.  
From reduced outgoings on petrol, public transport and buying lunch at the office, the typical adult has saved more than £4,000 by working from home since March 2020. That's equivalent to £241 a month. 
A canny few (14% of people) have increased the amount they pay into their pensions by an average of £128 per month.  
Over a year that means an additional £1,536 invested each year for retirement. Maintaining this increased pension contribution for 30 years could mean retiring with £170,000 more than if they had kept to their pre-pandemic contribution rate.  
The figures come from Nutmeg research as we sought to understand how the Covid-19 pandemic has changed household finances, for better or worse. We polled 2,000 adults and based on the typical amounts being put aside for retirement alongside projected investment performance, the average person could retire with a pension pot worth £531,000. 
However, with the additional contribution from home working, the same person could potentially have £702,000 in their pension.   
For many people travelling to work prior to the pandemic consumed a significant chunk of their monthly pay – in London public transport is the most expensive in the world. From a money-saving perspective, this period of working from home marks a golden opportunity for people who previously spent much of their income on travel.  
But it's vital that any money put aside for the future is kept in the right kind of account for you and your needs.  
Easy-access cash savings accounts are ideal for people building up an emergency fund or saving for a specific goal in the near future. But as interest rates on cash savings accounts tend to be poor, they may not be the right place if you're hoping to increase your wealth over the long term.  
Money put into a pension, however, is invested so it has a chance to grow into a larger sum over the long term. While markets tend to rise and fall over short timeframes, meaning the value of investments can slide and then recover, over a longer period of three to five years or longer investments can potentially give greater returns than leaving savings in cash. Pensions also come with valuable tax incentives from the government, while employers contribute into workplace pensions. 
This week the government said that working from home guidance may be reintroduced during the winter months in a bid to keep the Covid-19 infection rate at bay. Many employers have continued allowing staff to work from home even as restrictions have been lifted, and our research shows that fewer than a fifth of adults expect to work full-time from their office or workplace over the coming year. 
So, Brits could be able to save on commuting costs for some time to come. If those savings are invested into a pension, retirement could be a rosier prospect too.

Sources
Research: Analysis is based on consumer research conducted by Opinium in August 2021, among 2,000 employed UK adults. The average amount saved amongst all Brits was £241 per month – individual average amounts saved were used when calculating the amount saved per scenarios. 
Projection assumes investment growth of 5% per annum. All figures take into account Nutmeg investment fees, fund costs and market spread and are inflation adjusted for contributions and drawdown (increase of 2% per year). These scenarios assume a 30-year retirement. 
Risk warning: As with all investing, your capital is at risk. The value of your portfolio with Nutmeg can go down as well as up and you may get back less than you invest. Projections are never a perfect predictor of future performance, and are intended as an aid to decision-making, not as a guarantee. The projection includes the effect of Nutmeg's fees, investment fund costs, and market spread. A pension may not be right for everyone and tax rules may change in the future. If you are unsure if a pension is right for you, please seek financial advice.