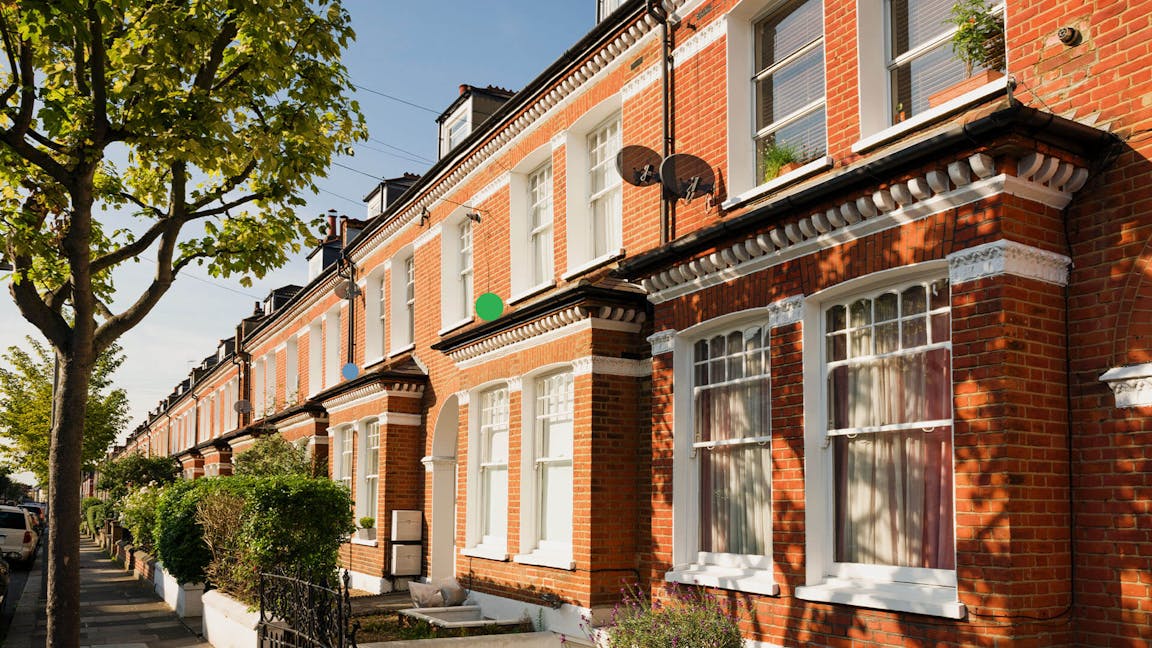 With rising interest rates, the process of getting a mortgage and buying a home is getting trickier. We offer some tips to help you get your foot through the front door, whether you buy now or invest for later.
If you've been looking to buy your first home or to upsize to something bigger, the recent hike in borrowing costs may have delayed your decision. In July 2023, mortgage costs hit their highest level for 15 years in the UK, with the average two-year fixed deal at 6.66%.
With rents rising as well, holding off buying or upsizing may not be the best decision for everyone, while those who decide to wait will need a plan for when they do decide to buy.
We offer some options to consider which can help you make a firm financial plan to help get you through what could be a few turbulent years.
How are interest rates impacting the cost of borrowing? 
The Bank of England has raised interest rates sharply in a bid to control rising prices by dampening consumer demand. The rise particularly affects mortgaged homeowners, who must pay more, unless they are lucky enough to be on a long-term fixed rate.
In 2023, interest rates have been hiked sharply, and many expect them to peak even higher. As a result, the average five-year fixed-rate mortgage at the time of writing was 6.17%, according to Moneyfacts.
On a 25-year, £200,000 mortgage, an interest rate of 6% would result in a monthly payment of £1,288.60, compared with £948.42 at 3% as it was around 12 months ago. These amounts include the repayment of the mortgage when it matures.
Those who already have a mortgage but who are struggling to pay increased monthly payments, or who are worried about how they will afford a new deal when a fixed rate expires, have a few options.
They can talk to a mortgage broker who may be able to find them a competitive rate, extend the term of their mortgage to bring down monthly payments, or see if they can overpay some of their mortgage debt.
Those who still cannot pay increased housing costs might even need to consider selling or downsizing their property. But before such drastic action, other options include switching to an interest-only mortgage or seeking a mortgage payment holiday. However, a mortgage payment holiday may affect your credit rating.
What should first-time buyers consider in the mortgage market?
For first-home buyers, the options are less clear. If house prices are about to fall, nobody wants to be saddled with a home in negative equity, while fixing a mortgage for the long term at current rates may look like a mistake if mortgage rates fall as quickly as they have risen.
However, with rents and bills rising too, it may be hard for those who are not able to live with parents or family members to save for a deposit if they continue to wait.
For those who are wanting to upsize, there are also difficult decisions to make. Increasing the size of a mortgage at a time of high rates is expensive, and you could be left paying more if rates rise. On the other hand, many borrowers need to upsize to gain space for their growing families and they cannot wait for interest rates to drop.
How to get the best deal on a mortgage
If you feel that the most sensible option is to wait before you buy a home or upsize to a larger one, there are steps you can take now to put yourself in a better position when the time comes.
One option is to save or invest with a goal of building a more sizeable deposit. It can be hard to put money away for a deposit at the moment, but the larger the deposit you have compared to the value of your property, the better the rate you will receive on your mortgage when you come to buy. However, if you do decide to invest, it is advisable to take a long-term view of at least three years, which could delay your purchase. With all investing there is no guarantee of future returns and you may get back less than you invest. 
How to get government support to buy your first property 
The Lifetime ISA (LISA) can give your deposit a boost with a 25% bonus from the government to your hard-earned nest egg. With a LISA, the government adds an extra £1,000 bonus to every £4,000 you save or invest, with the maximum you can contribute each tax year at £4,000. They are also tax efficient in that any interest gained or returns made on contributions under the annual allowance are free from Dividend Tax, Income Tax, and Capital Gains Tax.
LISAs can only be opened by those aged between 18 and 39, but you can contribute to them until you are 50. They must be used either to buy a first home valued at £450,000 or less (after holding the LISA for at least 12 months), or the money can be left until your retirement and withdrawn after the age of 60. There will be an exit penalty to pay on withdrawals at other times.  
LISAs are available as either cash or stocks and shares variants, the latter being what we offer at Nutmeg.  
Read more: Investing for your first home or retirement? A guide to Lifetime ISAs

Using an ISA to save or investing for a deposit
A LISA will either be not suitable or available if you already own a property or are over 40; or you may want to save or invest more than £4,000 in a year. In this case, an ISA could be a good option for you, in that you can contribute up to £20,000 in any tax year (including any money contributed to a LISA).
While there is no government bonus included with an ISA, these are still tax efficient with no tax paid on any interest gained or returns made on contributions under the annual allowance.
Nutmeg offers a stocks and shares ISA, while again it is recommended that any investments are made for the long term, of at least three years.

How to improve your credit rating
In an environment of higher interest rates, those with the best credit ratings will receive the lowest interest rates, so it pays to make sure that yours is squeaky clean.
You can check the data that credit ratings agencies hold on you for free at Experian (30-day free trial) or Credit Karma (free). This will include the credit cards and other deals you have applied for, as well as any missed payments.
If there are errors in your credit record, you can write to the provider and correct them, while checking simple things like whether you are on the electoral roll at your address can help to make it easier to get a mortgage when the time comes.
Using a credit card responsibly can improve your credit rating – just make sure you set up a Direct Debit to pay it back every month.
If you pay regular rent, you can also ensure this is added to your credit report, either by asking your landlord to do this or using an app. Find out more at The Rental Exchange, which is a partnership between ratings agency Experian and social enterprise group The Big Issue. Regular rental payments on your credit record may make it easier to get a mortgage in future.
For more help to get on the property ladder, take a look at our blog article on how long it could take to save up for a deposit.
Need more help?
If you would like to discuss your financial goals further, you can book a free call with one of our experts to talk through your options.

Risk warning
As with all investing, your capital is at risk. The value of your portfolio with Nutmeg can go down as well as up and you may get back less than you invest. A stocks and shares ISA may not be right for everyone and tax rules may change in the future. If you are unsure if an ISA is the right choice for you, please seek financial advice.
A stocks and shares Lifetime ISA may not be right for everyone and tax rules may change in the future. You must be 18–39 years old to open one. If you need to withdraw the money before you're 60, and it's not for the purchase of a first home up to £450,000, or a terminal illness, you'll pay a 25% government penalty. So you may get back less than you put in.
Compared to a pension, the Lifetime ISA is treated differently for tax purposes. You may be better off contributing to a pension. If you choose to opt out of your workplace pension to pay into a Lifetime ISA, you may lose the benefits of the employer-matched contributions. If you are unsure if a Lifetime ISA is the right choice for you, please seek financial advice.