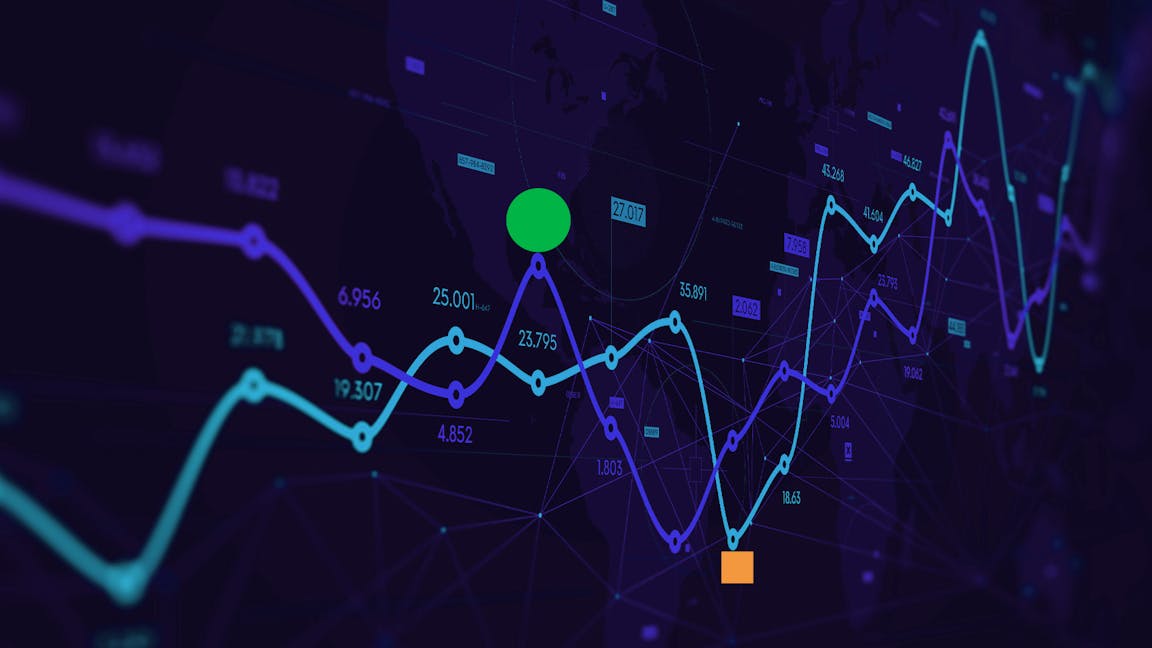 Nutmeg clients are able to easily change the risk profile of their investments, but is this something you should consider given current volatile market conditions?  
We've had clients asking us if they should amend their risk profile in response to the uncertain environment for markets, and the answer is that it really depends upon your own individual circumstances.
You'll be aware that new Nutmeg clients are asked a series of questions before investing in an ISA, pension, or general investment account. We ask about your investing experience, your feelings about potentially losing money and therefore the amount of risk you are willing to take, your financial situation and, crucially, your timescale. All of these factors inform which portfolio you are best suited to. 
It's all part of getting to know you and understanding your tolerance to risk. We want you to feel comfortable investing with Nutmeg and the level of risk you are taking, though with the caveat that the value of your portfolio can go down as well as up. If you are in your 20s or 30s and investing for your retirement, you may well be happier to invest at a higher risk level with more exposure to equity markets, taking the view that you are investing over a very long multi-decade time horizon. 
But, what if your circumstances change? Maybe you have a Lifetime ISA, and you find you're approaching your first property purchase faster than you had anticipated? Or, perhaps you're more financially comfortable now than when you first opened your ISA, and so would be happy to leave your investments alone for longer?
This can be done via the Nutmeg website or app. Having logged into your account on the website, you will be greeted by the Dashboard. From the menu accessed via the three dots located to the right of each pot sub-section, you should select 'Manage settings'. Finally select 'Risk level' and you will see a slider that allows you to select a revised risk level.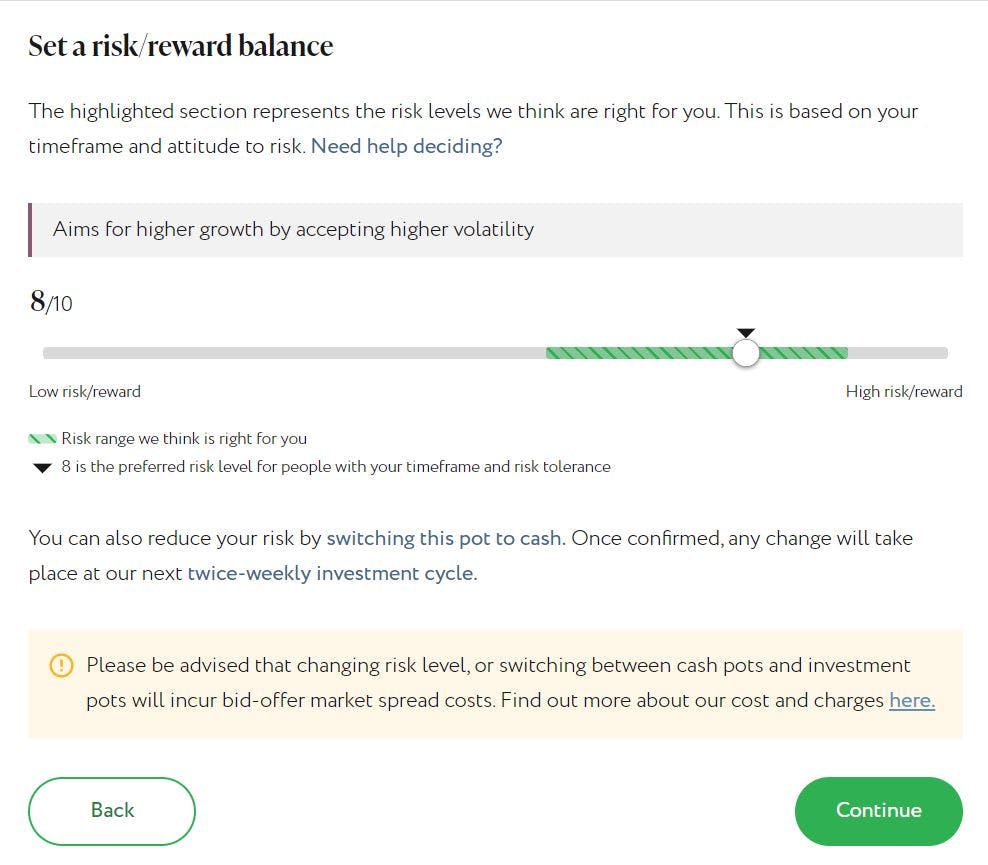 On the investment app, click on the portfolio you wish to change, then on the three dots in the right-hand corner of the screen. A box should now appear at the bottom of the screen giving you the option to 'Edit risk level' where a similar slider will appear.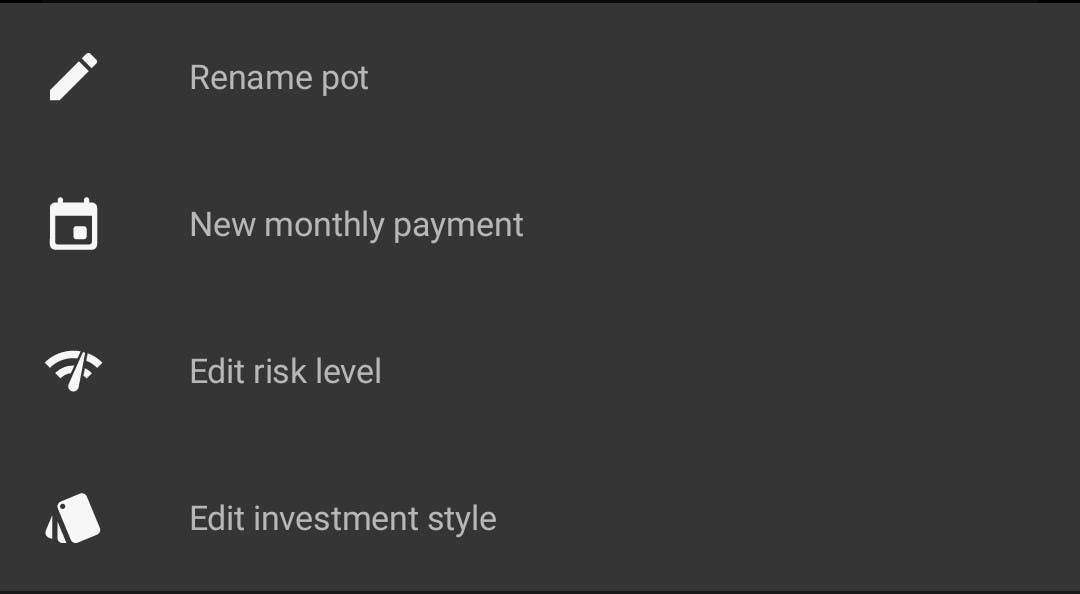 As advised, be aware that changing the risk level will incur bid-offer market spread costs, as the trading team implements your request.  
Markets 
Aside from changing personal circumstances, another reason you may wish to consider changing your risk profile is volatile markets. Nobody likes to see their portfolios losing money, which may have happened to you so far this year with markets remaining incredibly volatile. Our investment team have hopefully helped you to understand why this is the case, as well as outlining what they are doing to manage this volatility and prepare for future opportunities through their most recent trades.  
So, if markets are down, should you reduce your risk level? Again, that really depends on your personal circumstances, and whether or not you can afford to see any further – potentially short-term – dips in your portfolio's performance. If you feel you cannot stomach the volatility we are seeing recently, then that's understandable. However, those wanting  to maximise the long-term value of their portfolios, may wish to stick with the current risk level, or in some cases even move it higher.  
Past performance is no guarantee of future returns, though history has shown us that volatility can be your friend should you take a long-term approach to investing. The rule of thumb remains no risk, no return. There can also be a high degree of variance in annual returns from year to year – just because portfolios have lost value in 2022, this does not mean this trend will continue in following years.  
Your next steps 
We want Nutmeg clients to feel comfortable and confident about their investment journey, despite the bouts of volatility that are a perfectly normal part of long-term investing. It could be said that the most suitable time for changing your risk profile would be a change in your own individual circumstances, such as your financial situation or your timescale for investing, however as we've discussed this can be amended at your convenience.  
If you would like to discuss your overall investment goals in more detail, you can book a free initial call with a financial planner from Nutmeg's Wealth Service team, who can provide you with financial planning advice.  
Risk warning  
As with all investing, your capital is at risk. The value of your portfolio with Nutmeg can go down as well as up and you may get back less than you invest. Past performance is not a reliable indicator of future performance. Tax treatment depends on your individual circumstances and may be subject to change in the future.