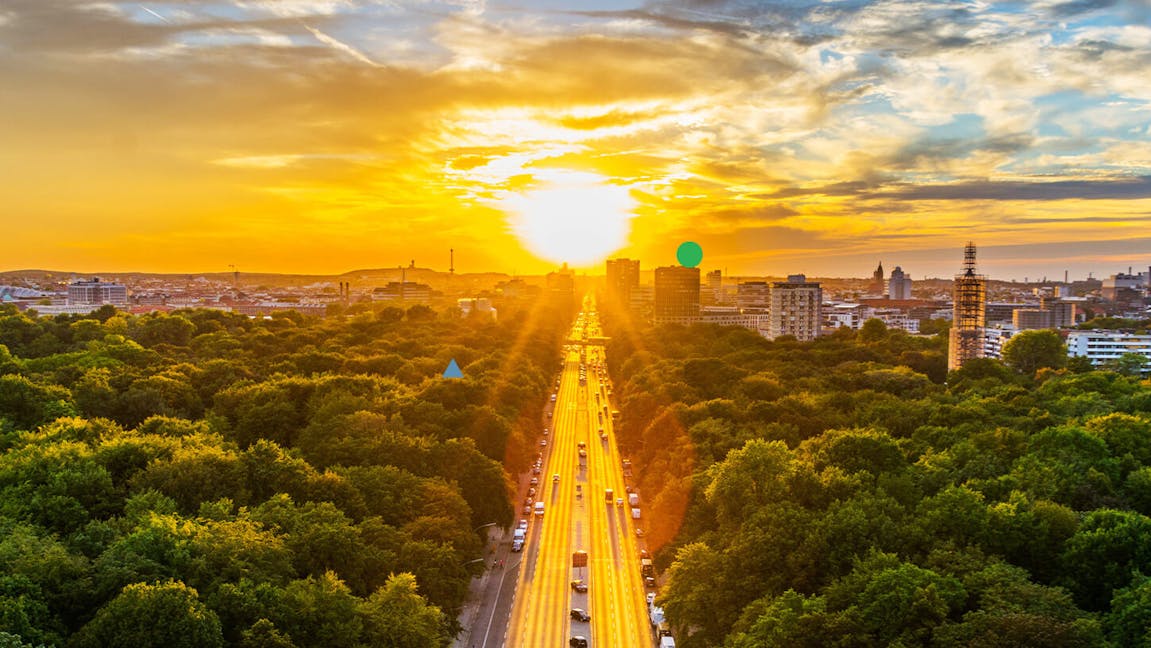 Learn where our new investing style could take you
We're delighted to have launched a new range of Thematic portfolios, opening up an exciting new realm for our investors and giving them the opportunity to invest in the change-makers of today and the disruptors of tomorrow.
Our three themes tap into the trends shaping our future, and our expertly designed portfolios allow you to focus on a specific area while remaining globally diversified and risk-adjusted.
Covering artificial intelligence and innovative technologies, the evolution of our energy supply and the way we use natural resources, and the changing nature of consumption, our latest style of investing is ready for you to explore. 
What is Thematic investing?
That's a great question. Thematic investing is a strategy that focuses on trends that are well placed to contribute to – or benefit from – long-term structural changes to our society.
These structural changes include technological shifts, demographic trends (like population growth and decline), and the evolving relationship we have with the natural resources that power our planet.
Unlike other investment strategies, Thematic investing doesn't focus on one particular region or sector. Thematic portfolios will seek to find the companies and sectors that will drive disruption over the long-term, and continue to develop and evolve in the decades to come.
Why have we launched Thematic portfolios?
Thematic investing presents an exciting new frontier for long-term investors.
The marketplace for robotics, artificial intelligence, energy, water, healthcare and digitalisation are predicted to experience sustained growth in the decades ahead. Our themes target these growing trends, investing in a collection of exchange traded funds (ETFs) that our investment team have selected.
What's more, at present, the opportunities for investors wanting to adopt a thematic approach are mostly do-it-yourself. This can be difficult unless you really know your stuff.
We've always strived to make investing more accessible, and this inspired the launch of our Fully Managed portfolios way back in 2010. Our Thematic portfolios continue that journey.
You can pick an area of focus that you would like to see develop over the long-term while our investment team will continue to do the tricky bit and manage the portfolio on your behalf, using the investment approach that our clients have loved and trusted for years. Our Thematic portfolios are risk-adjusted, globally diversified, regularly rebalanced, and reviewed at least annually – combining cutting edge ideas with pragmatic portfolio management. 
Which themes are available?
We've created three themes that we believe will come to shape our future in the years to come.
The Resource transformation theme focuses on the ways we utilise energy and resources to meet our future needs. It includes exposure to the evolving mix of energy sources powering the world, including renewables and non-renewables, the materials required to drive electrification, and growing global demand for clean water.
Next, the Evolving consumer theme invests in the evolving demand and needs of our global population. It focuses on the rising importance of digital products and services, ageing populations and evolving healthcare solutions, and the growing wealth of emerging market consumers.
Finally, the Technological innovation theme. This portfolio invests in technological advances and innovation driving the modern world. This includes the adoption of robotics and automation, demand for cloud computing and cyber security, the growing use of semiconductors, and of course, artificial intelligence.
Our investment team has spent several months researching these themes, selecting ETFs, and building our portfolios. You can read more about their process and look at the themes in more depth by clicking here. 
How do our Thematic portfolios work?
We've designed our Thematic portfolios with careful consideration for the needs of our investors. If you select one of our themes, your Thematic portfolio will be split into two portions.
This portion of your portfolio will be invested in ETFs that focus on your chosen theme. The size of this portion will be determined by your risk level. The higher your risk level, the greater your Thematic exposure. For example, if you are risk level 5, the Thematic portion is 10% of your overall portfolio, and if your risk level is 10, your exposure to Thematic funds is 20% of your overall portfolio. 
The Thematic portion of your portfolio will be reviewed by our investment team annually and will be rebalanced at regular intervals. Due to the long-term nature of the trends that these portfolios invest in, this portion requires less frequent intervention.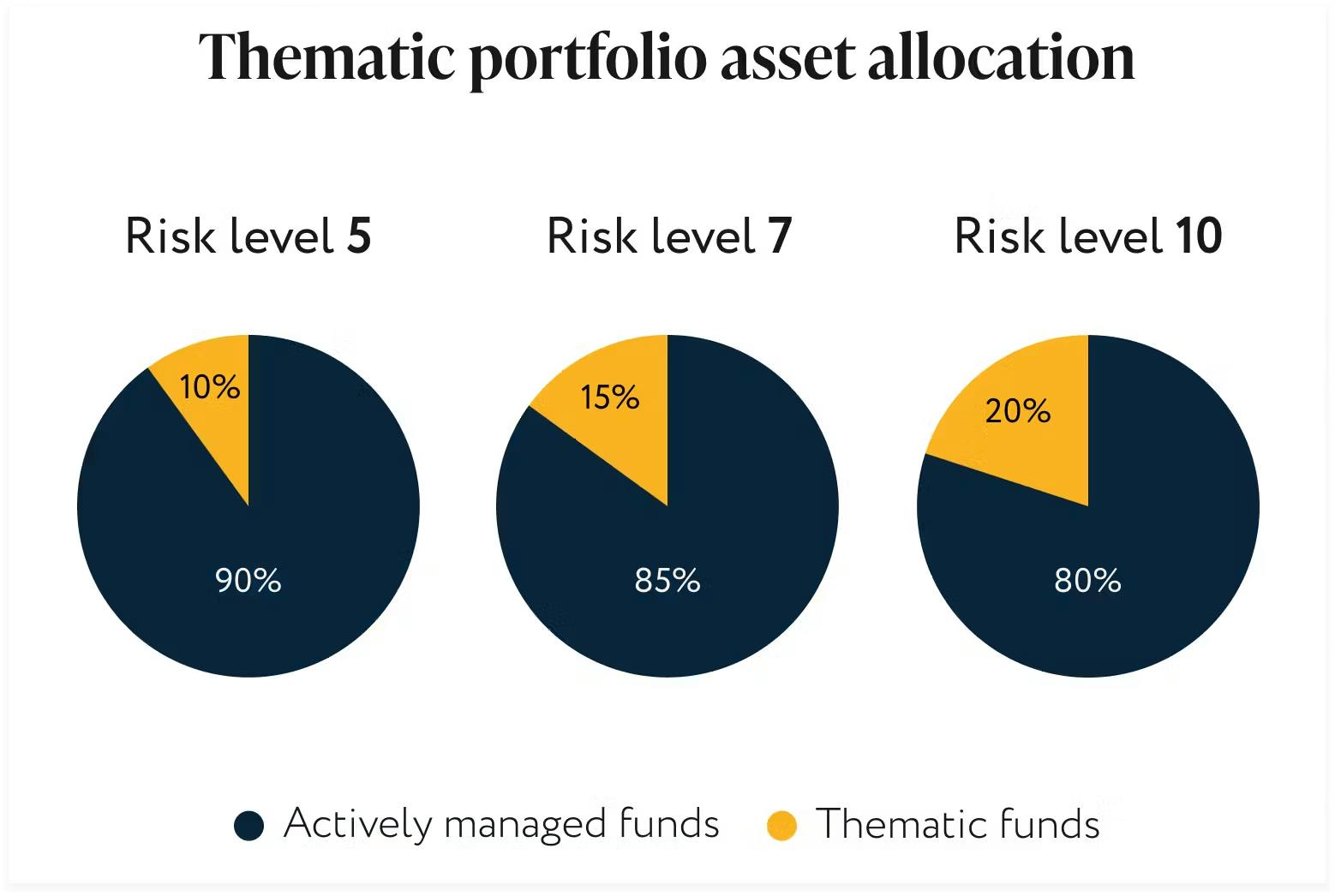 The remaining portion of your portfolio will be made up of actively managed funds that invest in a globally diversified range of ETFs. This portion (between 80-90%, depending on your risk level), is not specific to your chosen theme and will be actively managed by our experienced investment team, who regularly rebalance your portfolio and make strategic adjustments based on news, analysis, and market activity.
This approach allows us to ensure that your portfolio is risk-adjusted and globally diversified while allowing you to choose the trend you think has the most potential, giving you the opportunity to experience the best of both worlds.  
If the launch of our Thematic portfolios has piqued your interest in Thematic investing, click here.
Risk warning
As with all investing, your capital is at risk. The value of your portfolio with Nutmeg can do down as well as up and you may get back less than you invest. Forecasts are not a reliable indicator of future performance. Thematic investing carries specific risks and is not for everyone. There is no guarantee that development of the trend will contribute to positive investment outcome. All Nutmeg themes, including Resource transformation, should not be considered as incorporating ESG considerations. The Resource transformation theme will likely have exposure to a variety of renewable and non-renewable materials and energy sources.