The earlier you start investing for a child's future, the better the outcomes may be. Here we look at what options you have and see why it's never too late to start.
Investing for a child's future can be a great way to give them a financial head start as they enter adulthood.
The amount you invest doesn't have to be fixed, as you can change the contributions you make depending on your circumstances, or make a one-off lump sum.
Even investing small amounts can help along the path to setting up a child's future financial security. The money might help to buy their first car, see them through further education, or help them put down a deposit on their first home.
When it comes to investing for children, what do you need to consider? We explore the options open to parents and legal guardians.
Is a stocks and shares Junior ISA worth it?
If you are thinking of setting up an investment pot for a child, then a stocks and shares Junior ISA (JISA) should be high on your list of considerations. The child can take control of their account from the age of 16, though the money cannot be withdrawn until the child turns 18 (except in some very limited circumstances, such as critical illness or death).
The main benefit of a JISA is its tax efficiency, in that your child's money can grow without being subject to either income tax on interest, or capital gains tax if the investment increases in value.
As per the current 2023/24 tax year, up to £9,000 can be paid into a JISA each year and anyone can contribute to the account (although only a parent or legal guardian can open one for the child).
The value of a stocks and shares JISA can fluctuate depending on how the investments perform in the global financial markets over the long term. Investments can go down as well as up. This is unlike cash JISAs, which pay a prescribed interest on the cash in the account.
Think of the stocks and shares JISA as a long-term investment, especially if you open the account for a very young child. Over time, the aim is that the account will ride out any short-term stock market volatility.
Junior ISA vs savings account
There are two main ways to save for your child: a JISA or a savings account offered by a bank or building society.
As previously mentioned, JISAs come in two forms: cash or stocks and shares. Both offer a tax-efficient way to save for your child, but the stocks and shares option may be more appealing over the longer term.
Cash JISAs, typically offered by banks or building societies, will pay a set level of interest over a given period. This is usually linked to the Bank of England base interest rate.
On the other hand, a stocks and shares JISA has the potential for much higher returns as staying invested over the course of several years has been shown to pay off historically, though past performance offers no guarantees of future returns.
Bear in mind that money held in a JISA belongs to the child. They will gain access to withdraw it when they turn 18, but you may want to discuss before they reach that age how the money could be used or remain invested to make the most of it.
An easy-access savings account will let you withdraw money whenever you like, and your child may also be able to contribute and make withdrawals as early as the age of seven, depending on the bank. They can be a useful place to pay in pocket money and to give children some freedom over their financial decisions. These savings accounts will usually pay interest, but there may be limits on how much can be paid into the account.
There are also children's regular savings accounts,
Below is a table summarising the key features of a Junior ISA and savings account.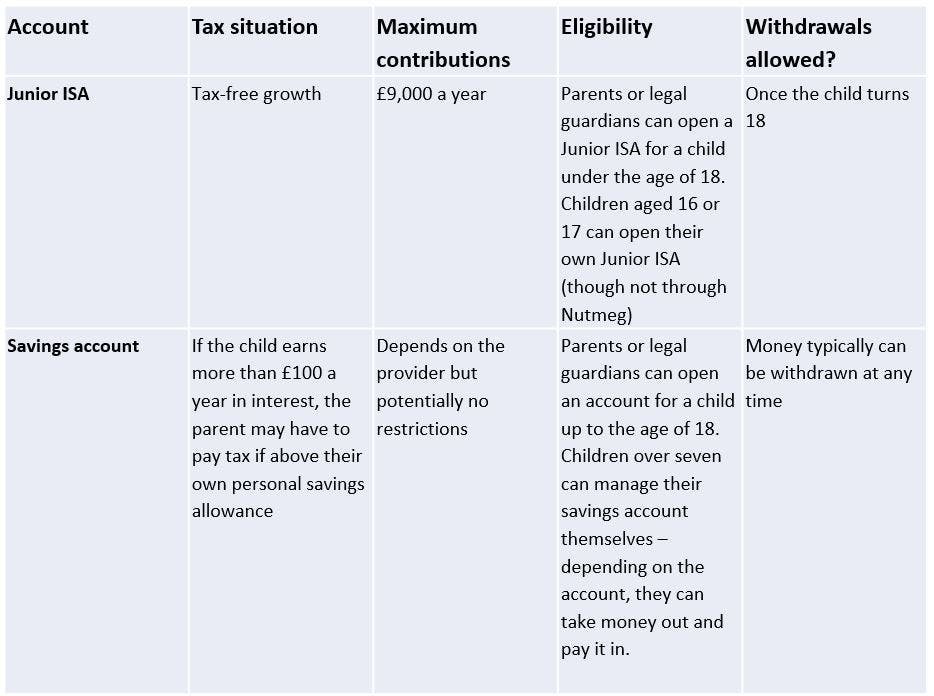 Tax treatment depends on your individual circumstances and may be subject to change in the future.
Read more: What's the difference between a JISA and a Child Trust Fund?
Junior ISA or savings account: which is better for me?
Overall, a stocks and shares JISA is likely to be a better option than a savings account for the chance to receive higher returns over the long term. If you want an account with greater access to the funds, then a savings account may be a better option.
A savings account means you miss out on the chance of potential investment growth. If the savings are designed to be held long-term, then a stocks and shares JISA could allow the money to grow more and to have more chance of keeping pace with inflation. If you are a cautious investor, providers such as Nutmeg have various diversified portfolios to suit your risk appetite.
When should I start investing for my child's future?
It is never too early to invest for your child's future. And likewise, it's never too late, as they are likely to be grateful for the investment at any age.
Ideally, you would open a JISA soon after they are born. This means they can benefit from at least 18 years of compound growth, which is when you reinvest the returns and therefore add to the size of the overall investment over time.
Read more: The power of compound returns
Nutmeg can help you invest in your child's future
Nutmeg's JISA aims to make investing as easy as possible. Open an account from as little as £100 and select a portfolio built by our expert in-house investment team.
Our easy-to-use mobile app allows you to track your investment performance, see what you are invested in, and have access to your account at any time.
If you need more guidance on investing through a Junior ISA, or you would like to speak to someone about your own investment goals, you can book a free call with our team, who are on hand to offer free guidance in planning your family's financial future.
Risk warning  
As with all investing, your capital is at risk. The value of your portfolio with Nutmeg can go down as well as up and you may get back less than you invest. Past performance is not a reliable indicator of future performance.
To open a Nutmeg JISA, your child must be under the age of 16 and funds cannot be withdrawn until your child turns 18. Tax treatment depends on your individual circumstances and may be subject to change in the future. If you are unsure if a Junior ISA is the right choice for you and your child, please seek financial advice.