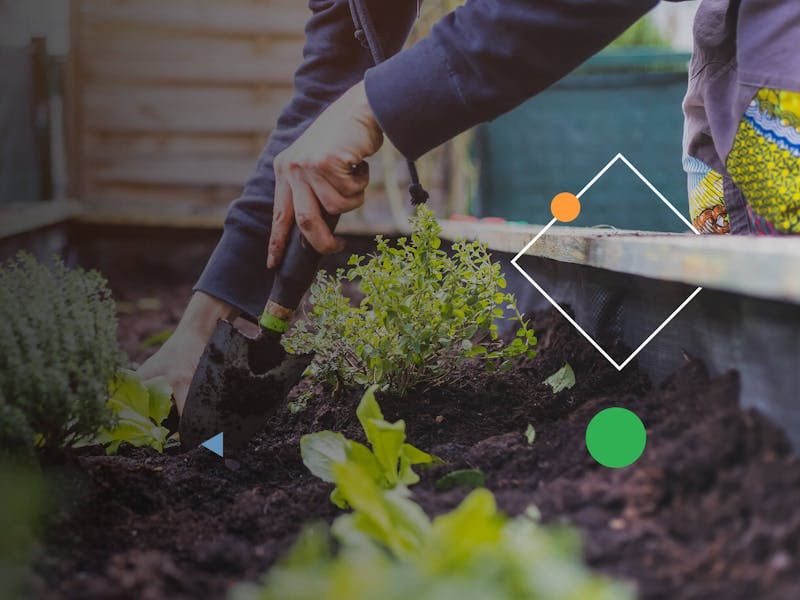 Transfer a pension to Nutmeg 
Get a better view of your retirement when you transfer your existing pensions into one Nutmeg pot.
With investment, your capital is at risk. Tax treatments depend on your individual circumstances and may change in the future.
Recognised
Nutmeg has been awarded Boring Money Best Buy Pensions 2022
Protected
Client assets are held separately with Barclays and State Street, per regulatory requirements
Trusted
Chosen and trusted by our clients for over 10 years
Get on track with a pension transfer
You may have multiple pensions, particularly if you've changed jobs, and if you've moved house it can be harder to monitor your retirement savings. Combining your pensions into one pot makes it easier to see how much income you're likely to have in retirement, and if you need to make any changes to get you on track. Transferring your pensions into one Nutmeg pot can give you the visibility and peace of mind you need to know your future plans are sorted.
Tax treatment depends on your individual circumstances and may change in the future.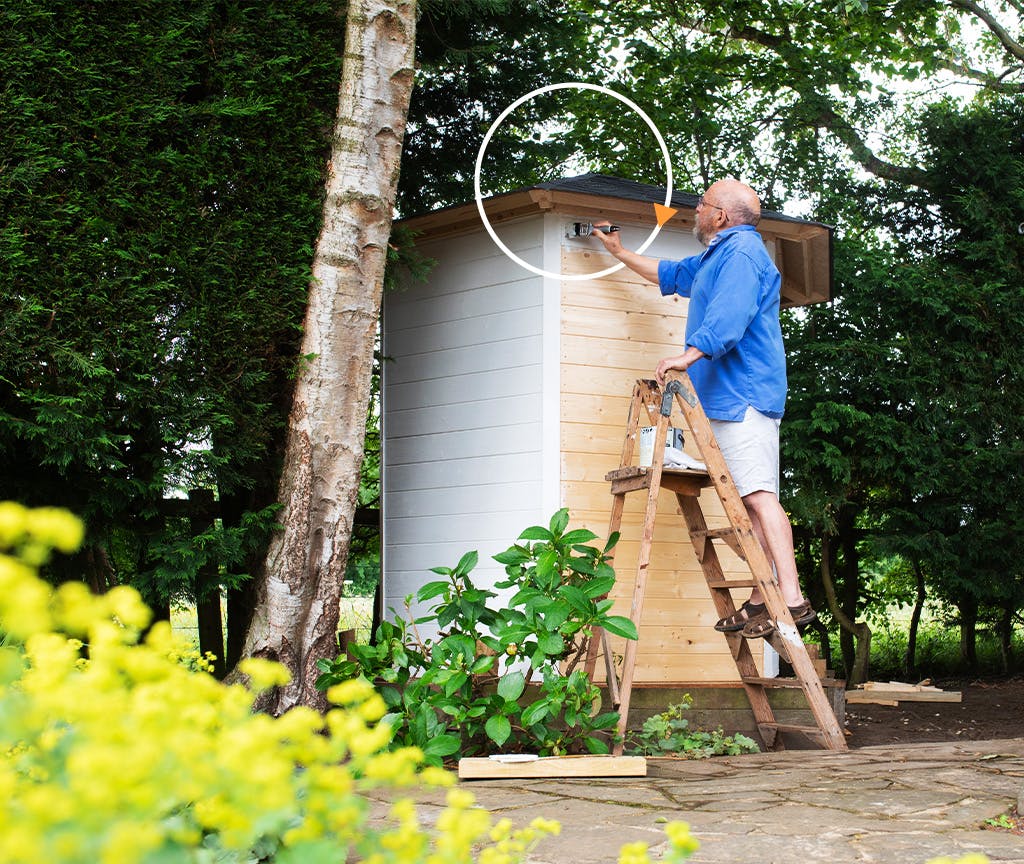 Why transfer a pension to Nutmeg
Take control
Choose how you want us to manage your pension and what risk profile is right for your goals.
Stay on track
See how much your pension could be, and exactly where it's invested with our easy to use tools.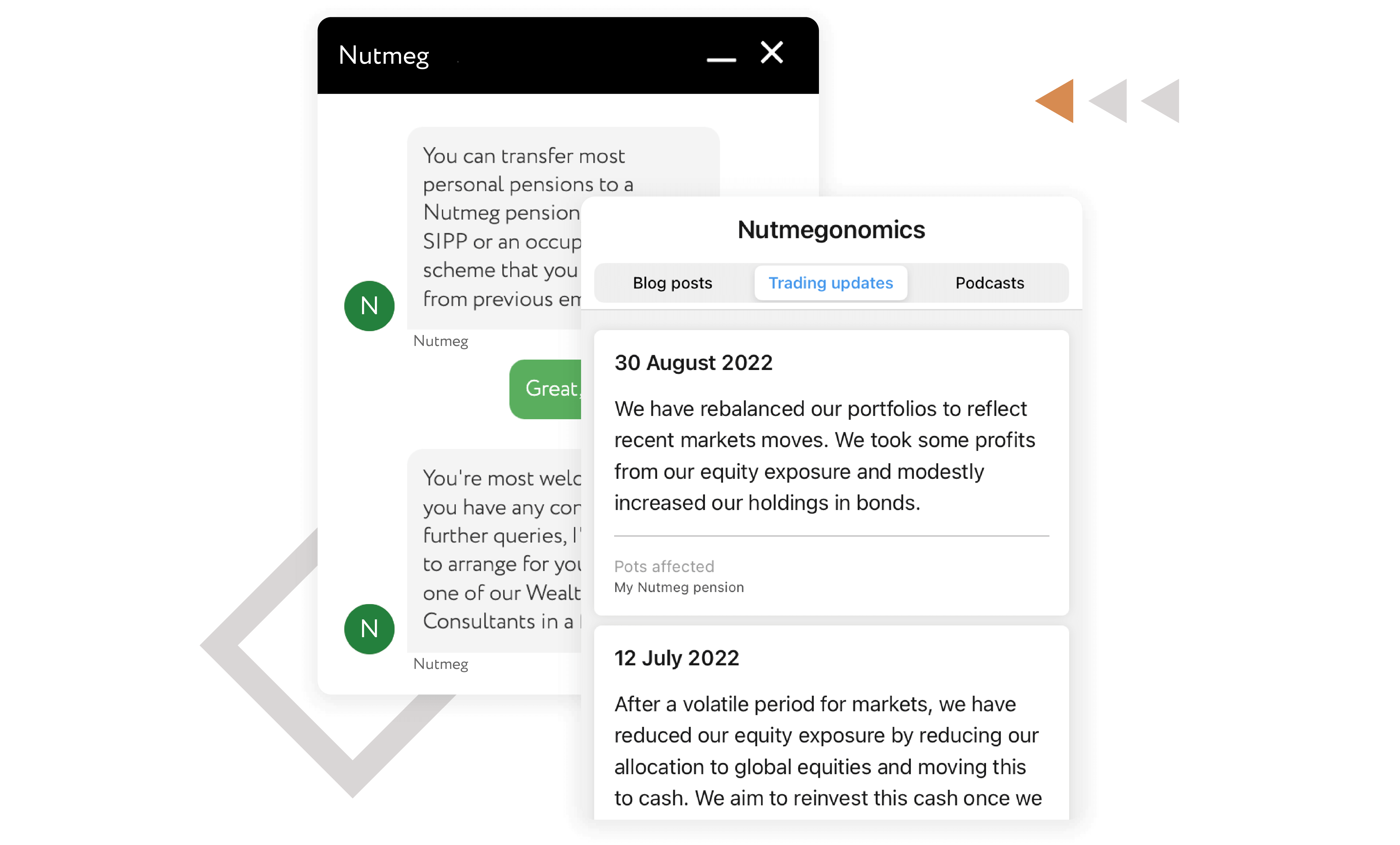 Trust the experts
Our expert investment team will manage your pension for you and keep you updated.
Projections are never a perfect predictor of future performance, and are intended as an aid to decision-making, not as a guarantee. The projection includes the effect of Nutmeg's fees, investment fund costs, and market spread – personalised to your planned contributions.
How to transfer your pensions to Nutmeg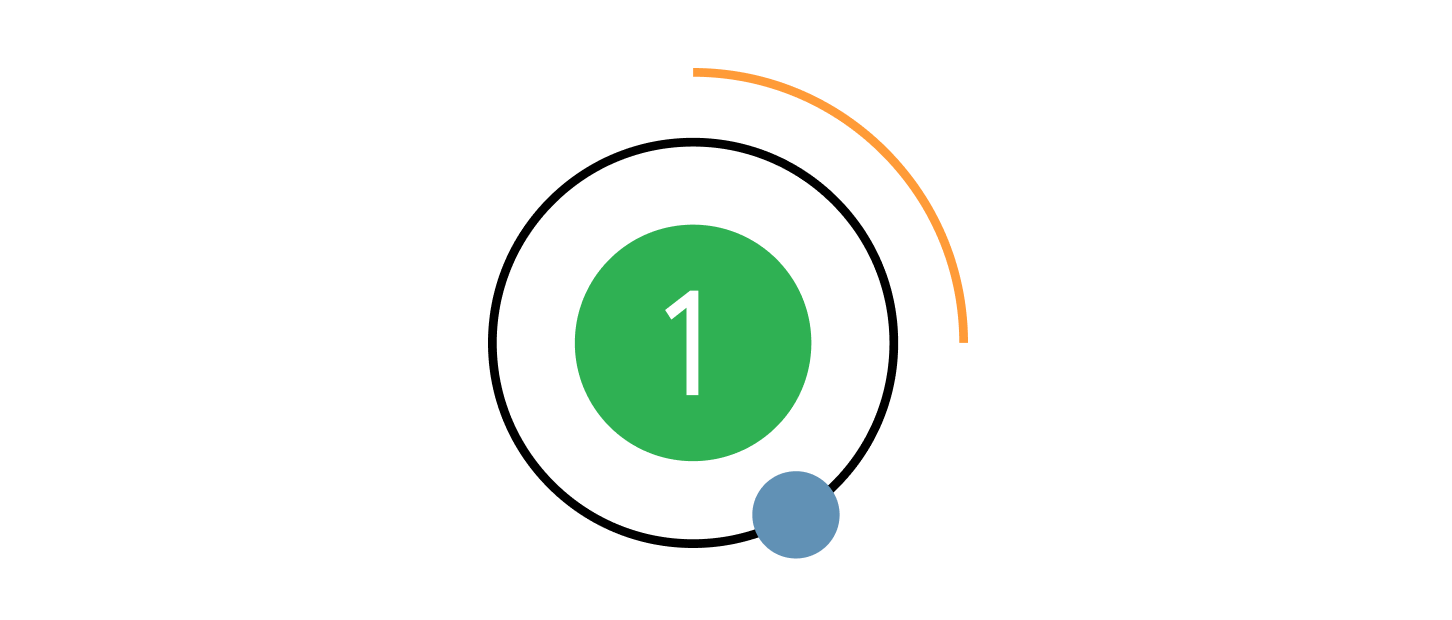 Open a Nutmeg pension pot
Choose an investment style, and risk level for your new pension pot to suit your future goals.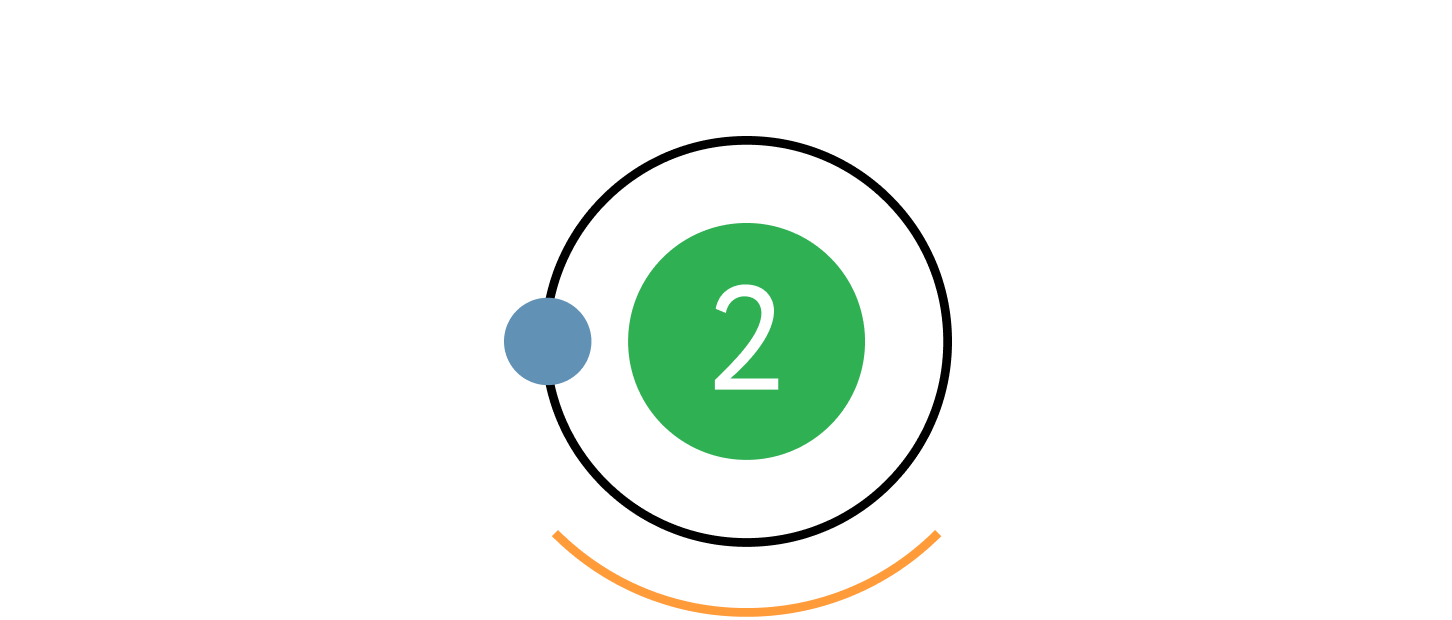 Check with your providers
Make sure you won't lose any existing benefits or get charged unexpected exit fees before transferring.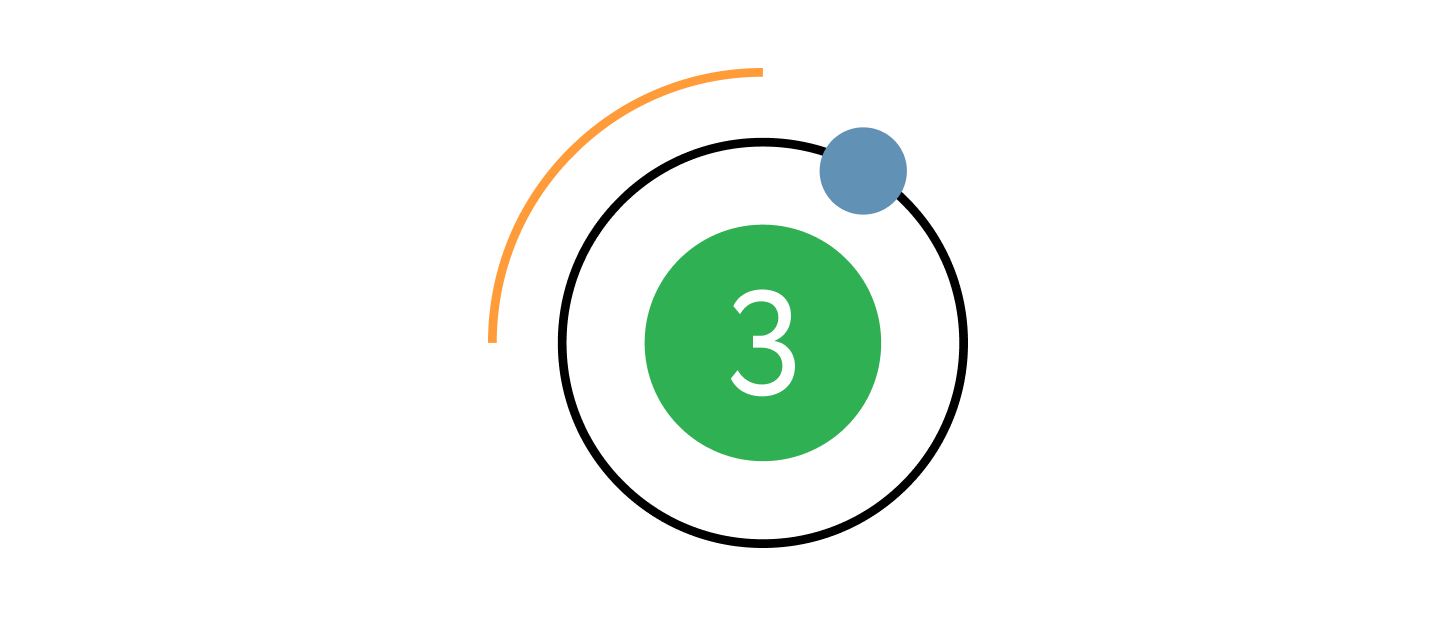 Transfer your pensions
Add all the pensions you'd like to transfer. We'll update your pension pot, usually within three weeks.
Pension planning, guidance and advice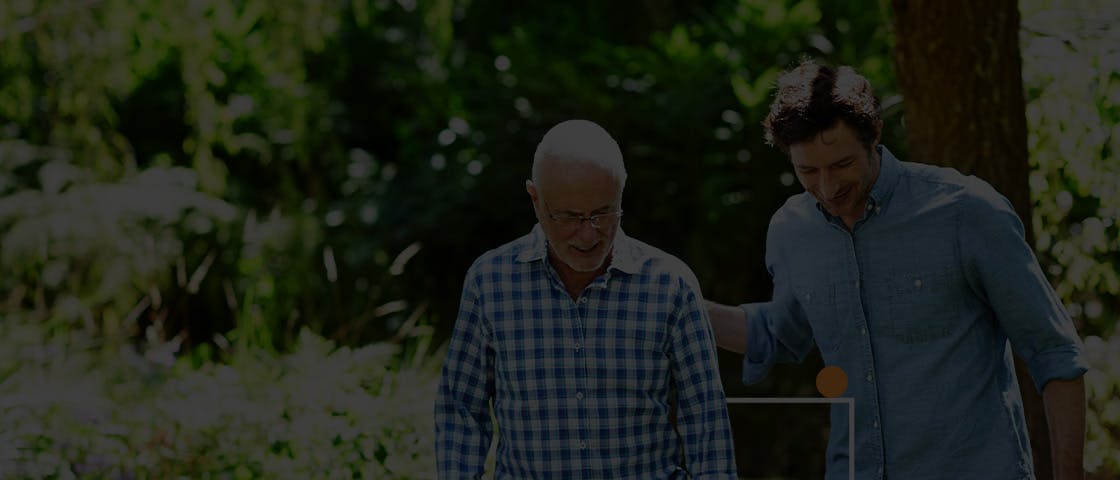 Need some help getting started?
It's free to speak to one of our experts who can talk you through your best options and how to set up your pension to achieve your future goals.
Book a free call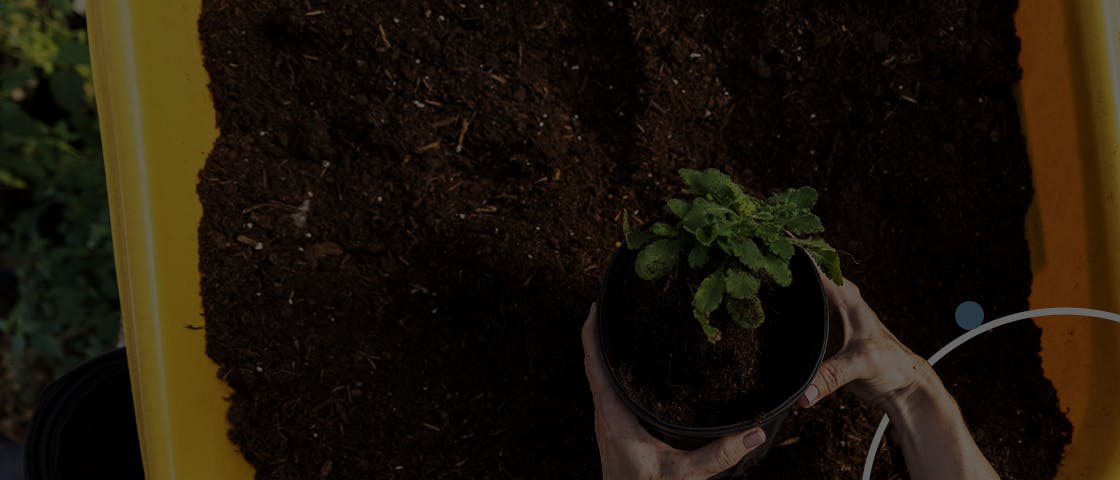 Do you have a large pension to transfer?
If you would like to speak to someone before you transfer a large pension, our experienced wealth managers can talk to you about what we offer in more detail, including reduced fees.
Book a free call
Keep track on our app
It's easy to transfer your existing pensions, top up and track performance, all in our investment app.
As with all investing, your capital is at risk. The value of your portfolio with Nutmeg can go down as well as up and you may get back less than you invest. A pension may not be right for everyone and tax rules may change in the future. Please note that during any transfer, your investments will be out of the market. If you are unsure if a pension is right for you, please seek financial advice.
Frequently asked questions about pension transfers
What should I look out for and check when transferring a pension?

It is important that your details are fully up-to-date with your previous pension provider.

If any of the details we hold for you differ to your current scheme provider, they're likely to reject the transfer. We therefore strongly advise you to contact them first, to check these details, before you start the transfer. Common causes of delays to pension transfers include: changes of address and surnames, incorrect National Insurance numbers and incorrect pension plan numbers.
What type of pensions can I transfer?

We accept most pension transfers and can conduct these electronically or manually. Unfortunately, if you've already started drawing income from a pension, we cannot accept a transfer of the pension. Clients transferring defined benefit (DB) pensions valued over £30,000 must obtain specialist financial advice before transferring. A suitable adviser can be found through the government's Money Advice Service retirement adviser directory.


DB pensions valued at less than £30,000 can be transferred without financial advice. You must sign a declaration stating that you are aware of the product features you'll be losing and remain comfortable transferring.

We still won't be accepting DB pension transfers from local authority pensions, the Universities Superannuation Scheme and civil service pension schemes.
How long should a pension transfer take?

It usually takes two to three weeks if transferred electronically. Nutmeg operates electronically, so if the same is true of your other provider, the transfer should be swift. If they are not an electronic provider, they will have to transfer the pension manually, which can take up to six weeks or more. During this time, your investments are unlikely to be out of the market for more than a few days.

 
Nutmeg aims to transfer your pension as quickly and smoothly as possible. We'll always try to transfer your pension electronically as this is usually quicker than a manual transfer, and we usually only need one instruction from you. 

Please note that you may see the pension money leave your previous provider a few days before it arrives in your Nutmeg pension – this is completely normal. 
How much does it cost to transfer a pension?

Nutmeg will not charge you anything to transfer your pension(s).

There are however associated costs depending on which investment style you choose. You can see a full breakdown of underlying costs for each of our investment styles here. Other charges from your previous pension provider may apply. We therefore advise you to check with them first, so you are aware of any costs you may incur. There are also some financial risks to be aware of when de-investing your funds with your current pension provider.
What does the transfer value of a pension mean?

The 'transfer value' of a pension is the value of the pension when it is transferred out. This can be different from the value of the pension itself because there may be fees charged on the pension to transfer it out (Nutmeg will never charge fees on a pension transfer). There may also be a cost to sell the assets the pension owned previously. The transfer value will be how much of the pension is transferred into your Nutmeg pension.

The market can also affect transfer value. During the time between a transfer being agreed with your previous provider and them actioning the transfer, the value of the assets you hold in that pension may move. So, when they are sold and the pension transfers to Nutmeg, the transfer value might be less (or more) than when you initiated the transfer.

Some pension providers or employers might offer pension holders a 'transfer value' different to the immediate pension value as an incentive for the pension holder to 'cash-out', thereby saving the employer future pension payment commitments.
How can I track my pension?

We'll keep you updated on the status of your transfer via email, but you can also keep track of it by going to 'My transfers' in the 'Transfers' section of the mobile app or web dashboard.  

If you don't hear from us for a while, don't worry, you can be confident we're actively tracking the transfer of your pension. If it's still in the hands of your current pension provider, we'll chase them every seven days.