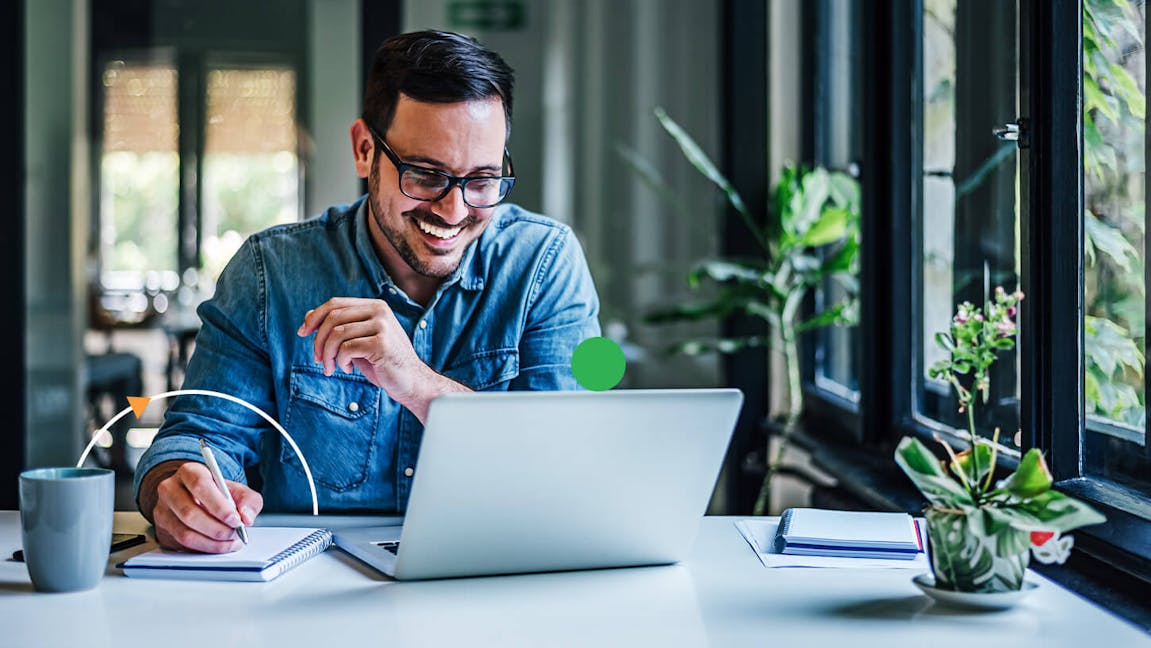 From technological innovation to the changing behaviours of emerging market consumers, our new range of portfolios lets you invest in the trends that are shaping our future
For centuries, the future has been a topic of intense focus, discussion, and debate.
But this year, the rapid rise of artificial intelligence has pulled the future of humankind into greater focus than ever before.
Debates about where we're going, how things will change – and the patterns or shifts that will come to characterise our society – are everywhere.
What if – as well as discussing or reading about these trends – you could invest in them?
Enter Thematic investing, and our new range of expertly built, globally diversified portfolios.
We're excited about our new range and the possibilities it opens up for investors. Here are four reasons why.
1. You can invest in the trends shaping your future
The decades ahead will be defined by profound shifts in the structure of our society. These shifts bring opportunities for investors: as we change the way we work, live, shop, and interact with the Earth's resources, so too does the investment landscape.  
Thematic investing gives you the chance to invest in the trends that are defining the now, and the ability to choose the theme you think has the most potential.
Our investment team have developed three future-focused themes they think may have an edge.
Our first theme, Evolving consumer, focuses on the ever-changing needs and desires of consumers around the world. You can expect exposure to companies that contribute to or benefit from changing preferences and spending habits, and the markets that are creating and shifting trends in our overall consumption, like the growth of the middle classes in emerging markets.  
The Technological innovation theme is designed to provide exposure that drives or stands to benefit from the increased evolution of technology, including robotics, artificial intelligence, and cloud computing.
Our third theme focuses on Resource transition. Demand for energy and resources has grown steadily with the global population over the years, and where we get our energy from is fundamentally shifting. We are gradually rewiring the global energy supply, and changing the resources upon which we will come to depend. This theme focuses on the relationship we have to our resources now, and the relationship we will have with our resources in the future. Its focuses include mineral mining for electric vehicles, clean water, and renewable and non-renewable energy sources.
You can choose the theme you think has the most potential. Click here to read about the themes in more detail.
2. Enjoy exposure to a theme while remaining globally diversified 
Thematic investing has several benefits. It allows you to tap into the opportunities of a specific area of structural economic growth, and invest when that trend is established, rather than when it is first emerging (and at risk of losing market interest). This means that the companies you're investing in are more mature, but could continue to grow in the years to come.
We've selected themes and ETFs which we believe are well-placed to contribute to or benefit from the structural changes over the long-term. These themes transcend traditional sector or regional allocations, meaning they are global and multi-disciplinary. If you opt for a Thematic investment style a portion of your portfolio will be invested in your chosen theme. The remaining portion will be actively managed and globally diversified. This allows you to enjoy the benefits of diversification and the active management of our investment team while also being dynamically positioned towards your theme of choice. 
3. Your Thematic exposure is balanced against your risk level
These portfolios are made up of two portions: a Thematic option, which will invest in ETFs aligned with your chosen theme, and an actively managed portion, which will invest in a globally-diversified range of ETFs. 
The size of the Thematic portion depends on the risk level you choose. The higher your risk level, the greater your Thematic exposure. For example, if you are risk level 5, your exposure to Thematic funds is 10%, and if your risk level is 10, your exposure to Thematic funds is 20%. 
Our team will continue to monitor the asset allocation of your portfolio to make sure the size of each portion remains the same.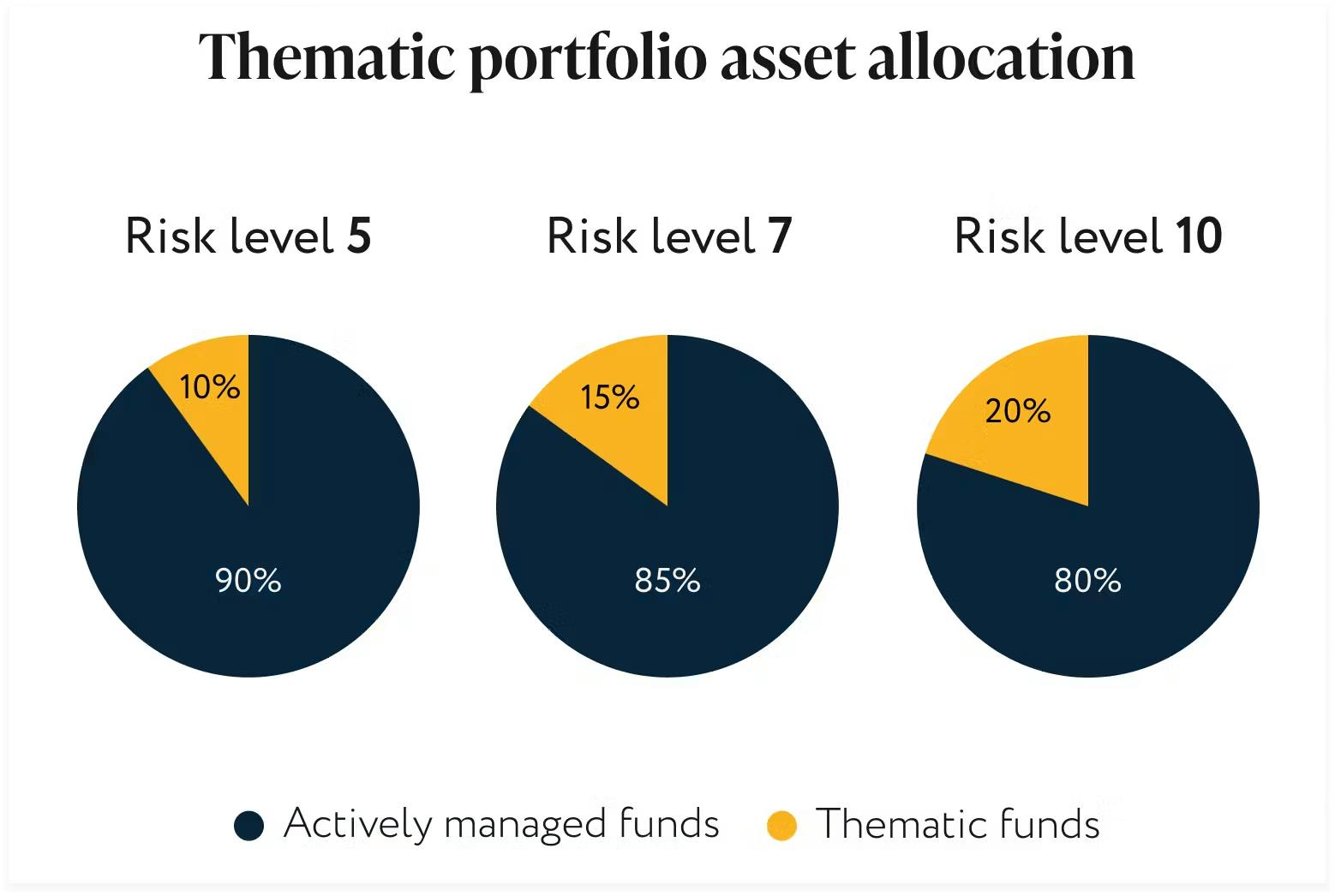 4. Have your portfolio managed by experts 
Our future-focused themes are exciting. They'll also be continually evolving. With our Thematic portfolios, all you have to do is select a theme you would like to see develop over the long-term, choose a risk level between 5 and 10 (depending on what is suitable for you), and then let us manage the rest.
The actively managed portion of your portfolio is managed by our experienced investment team, who regularly rebalance your portfolio and make strategic adjustments based on news, analysis and market activity. The Thematic portion of your portfolio is solely focused on your chosen theme and, due to the longer-term nature of the trends that thematic portfolio invests in, requires less frequent intervention. Typically, the Thematic portion will be reviewed by our investment team annually and will be rebalanced at regular intervals.
Our mission has always been to make investing more accessible. That ambition continues with the launch of our Thematic portfolios. That's because they give you the best of both worlds – the discretion to choose a theme or area of focus, and the reassurance of professionals managing your portfolio on your behalf.
If you're looking to align your investments with the structural drivers of the future economy, our Thematic investing range could be for you. Click here to learn more.
And, as always, if you've any questions about where Thematic investing may fit into your broader investment strategy, you can book a call with an expert member of our team today.  
Risk warning
As with all investing, your capital is at risk. The value of your portfolio with Nutmeg can do down as well as up and you may get back less than you invest.  Thematic investing carries specific risks and is not for everyone. There is no guarantee that development of the trend will contribute to positive investment outcome. All Nutmeg themes, including Resource transformation, should not be considered as incorporating ESG considerations. The Resource transformation theme will likely have exposure to a variety of renewable and non-renewable materials and energy sources.