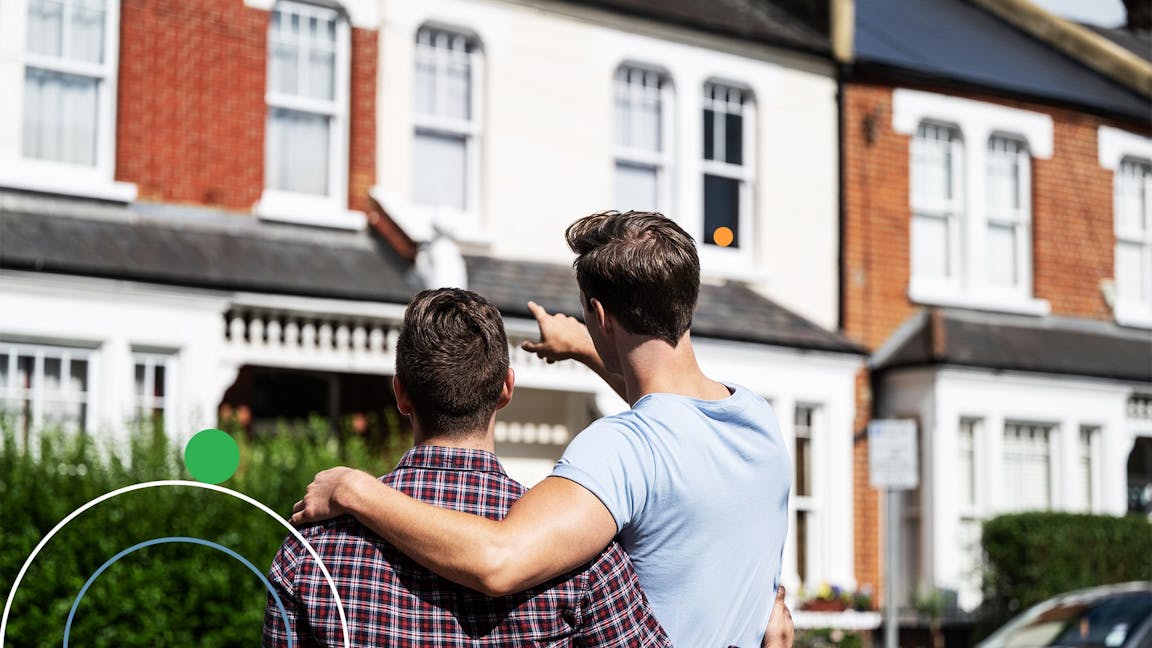 We are a nation of homeowners – at least notionally we are. While the UK has traditionally had a love affair with property and home ownership – fostered by successive government initiatives from right to buy to help to buy – the reality is that for many getting a foot on the property ladder has never felt harder. 
How much money do you need to get on the property ladder?
There's no shortage of headlines discussing the seemingly endless rise in house prices. Nutmeg analysis of official Land Registry data has shown that average house prices in England have risen by 25% in the last five years, with the average 10% deposit now £29,316.
In more expensive areas, such as London, Guildford and Cambridge, first-time buyers looking to get onto the property ladder will need to build up a pot of more than £50,000 for a 10% deposit on the average property. While those looking to buy in Stoke-on-Trent, Kingston Upon Hull, Blackpool or County Durham will need to put aside around £10,000.
Is it hard to get onto the property ladder?
First-time buyers taking full advantage of their Lifetime ISA allowance should expect to spend anywhere between two and 10 years before they get a foot on the property ladder in England. And the average is 5.7 years.
The average age of a first-time buyer in the UK is now 34 years old, which is six years older than it was in 2007. So, the dream of homeownership could be getting a little further away for younger aspiring buyers.
What's the best way to get on the property ladder?
Luckily, a Lifetime ISA (or LISA) means anyone aged between 18 and 39 can contribute up to £4,000 per tax year, and benefit from a government bonus of 25% (up to a maximum of £1,000). At Nutmeg, we offer a stocks and shares Lifetime ISA.
We've looked at the average house prices around England and, assuming people can put away the maximum £4,000 into a LISA, created this map to show the time it will take the average first-time buyer with no savings to put down a 10% deposit.
If making a one-off contribution to a LISA is out of reach, then you could consider making monthly contributions. Those looking to reach the maximum LISA allowance of £4,000 are looking at around £333 every month. If you're buying with a partner, sibling or friend you can split your contributions 50/50 and still keep your individual LISA benefits.
Already a Nutmeg Lifetime ISA customer? Set up a monthly direct debit today to get you closer to owning your first home or to achieving the retirement you want.
Knowing which county you're targeting is one thing, but what about individual cities? If we take a closer look, we see there is anything up to a eight-year deposit gap between cities in England.
If, for example, you have your sights set on London, Guildford or Oxford, you could expect to wait over 10 years to get a foot on the ladder. Of course, other areas of the country are substantially cheaper; if you're looking to buy in Stoke-on-Trent, Kingston upon Hull, Blackpool and County Durham, it could take less than three years to build a 10% deposit.
It's worth remembering, that if you plan to use your LISA allowance to buy a house, . This applies regardless of where it is in the country, including London. And if you decide to take the money out of your LISA and it's not for the purchase of your first home, for retirement or if you are terminally ill, there's a hefty price to pay. You'll have to pay a 25% government withdrawal charge meaning you'll get back less than you've put in.
The positive news is that the LISA allowance applies per person, so things do become significantly easier if you're choosing to buy a property with someone else. The money from your LISA can also be used to purchase property under a shared ownership scheme, provided the full value of the property falls within the £450,000 limit.
If you want to see how your chosen city ranks, we've included a list of the 10 most and least affordable cities in England.
The least affordable cities in England

The most affordable cities in England

Research methodology
The research uses data on the average house prices in different cities and, where city data is unavailable, regions in England by http://landregistry.data.gov.England
The calculations are based on net contributions only and do not take into account either interest earned on cash Lifetime ISAs, or the potential gains/losses for a stocks and shares Lifetime ISA.
The calculations assume a first-time buyer has no previous savings when they open their Lifetime ISA.
The calculations do not take into account any fees for holding a Lifetime ISA. More information on Nutmeg's costs and charges is available here – https://www.nutmeg.com/costs-and-charges
Risk warning
As with all investing, your capital is at risk. The value of your portfolio with Nutmeg can go down as well as up and you may get back less than you invest.
A stocks and shares Lifetime ISA may not be right for everyone and tax rules may change in the future.
You must be 18–39 years old to open one.
If you need to withdraw the money before you're 60, and it's not for the purchase of a first home up to £450,000, or a terminal illness, you'll pay a 25% government penalty. So you may get back less than you put in.
Compared to a pension, the Lifetime ISA is treated differently for tax purposes. You may be better off contributing to a pension.
If you choose to opt out of your workplace pension to pay into a Lifetime ISA, you may lose the benefits of the employer-matched contributions.
If you are unsure if a Lifetime ISA is the right choice for you, please seek independent financial advice.