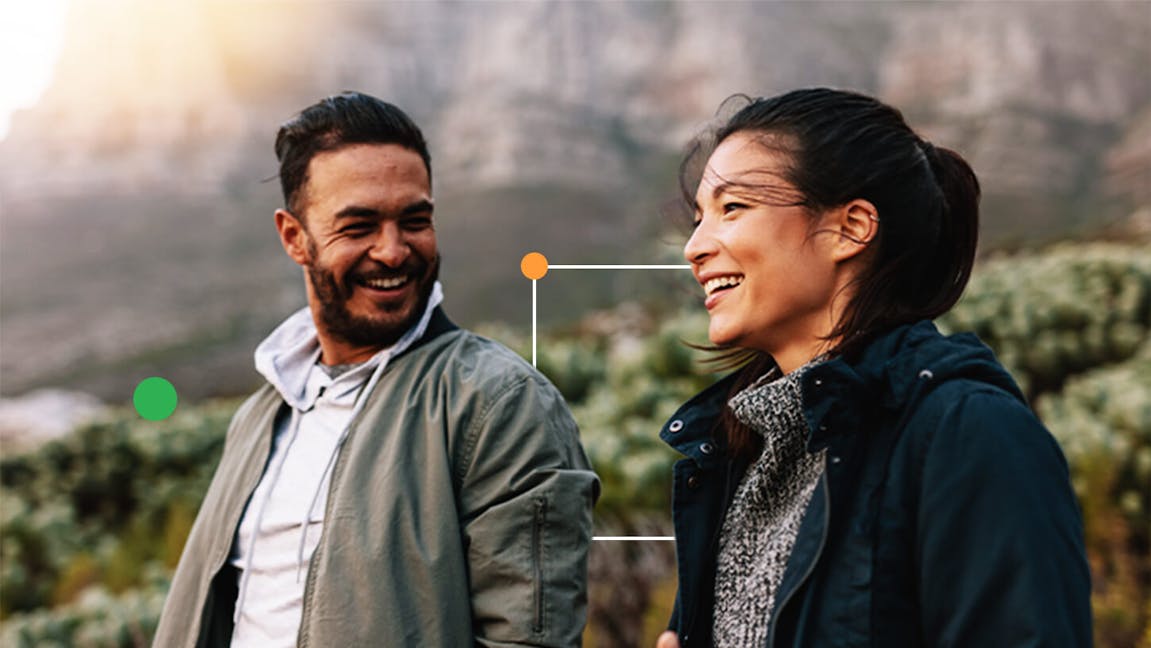 Make confident financial decisions, achieve your goals, and enjoy a more secure financial future
A little financial advice can go a long way, whether you've changed jobs or had a promotion, have received an inheritance, or are about to retire and want to bring your assets together. 
At Nutmeg, our restricted financial planning and advice service is designed to make your life easier.
Our team of financial planners can help you understand your current position, give you tailored recommendations to achieve your objectives, and support you as you implement your plan.  
Here are three ways financial planning and advice could help you and your money.
1. It provides you with a clear roadmap to achieving your financial goals 
Whether you're saving for a comfortable retirement, soon to sell your business, or seeking a formal investment strategy, having a financial plan can help you stay on track and make informed decisions about your future. 
We can help give you a clearer view of where you are now, decide where you'd like to get to, and the steps you need to take to get there.
We take the time to understand your vision for your future, and combine this long-term thinking with the detailed analysis and technical knowledge needed to help turn your goals into reality.
One way we achieve this is via cashflow planning, which involves assessing your current and forecasted wealth, along with money coming in and money going out.
This enables us to create a picture of your finances now and in the future, and enables us to consider the best way for you to achieve your goals.  
It also allows us to consider a number of scenarios, including retiring early, the pros and cons of downsizing your property, or how to keep you goals on track if markets become volatile.  

2. It helps you gain control over your finances 
As well as helping you achieve your future goals, financial planning and cashflow analysis can help you feel more confident about the present and the management of your finances on a day-to-day basis.
By analysing your income, expenses, and overall circumstances, we can build a picture of your financial position and help you identify areas where you can save money, reduce debt, and improve your financial well-being.
Sorting out your finances today could help you unlock a whole range of possibilities for tomorrow.
For instance, knowing that you're on sound financial footing can give you the confidence to look ahead and plan in a way you may have not been able to previously consider.
Why not see where an initial call could take you?

3. It prepares you for the unexpected 
Life is full of surprises, and having a plan in place can give you peace of mind.
Financial advice can help you ensure that you're prepared for any potential curveballs that come your way, whether that's loss of income, the sale of an asset that requires careful tax management, or adjustments to inheritance planning.
We're here not only to prepare you for the unexpected, but to guide and support you through these changes should they occur.
A problem shared is a problem halved, and our team take pride in getting to know you and your needs, crafting a tailored and bespoke solutions to help you over the long-term.
Sometimes, the unexpected can come not from our own lives, but financial markets.
Choosing a trusted adviser to help with your financial planning can make a difference during volatile periods: with years of experience, they can guide you through the peaks and troughs, helping to keep your investment strategy on track. 
Keen to speak to one of our financial planners to see where restricted financial advice could take you?
You can book a free initial consultation with us any time, where we'll get to know about a bit about you and your circumstances, and then recommend whether or not advice could be right for you. If you choose to go ahead, we'll build you financial plan and help you implement it for a one-off fee of £575. 
If you'd just like some guidance, you can speak to us whenever you like, free of charge. We're here to help you make the decisions that are right for you, your circumstances, and your money. 
To learn more about financial planning at Nutmeg, click here. 
Risk warning 
As with all investing, your capital is at risk. The value of your portfolio with Nutmeg can go down as well as up and you may get back less than you invest. The above does not constitute tax advice or recommendations. Tax treatment depends on your individual circumstances and may be subject to change in the future.