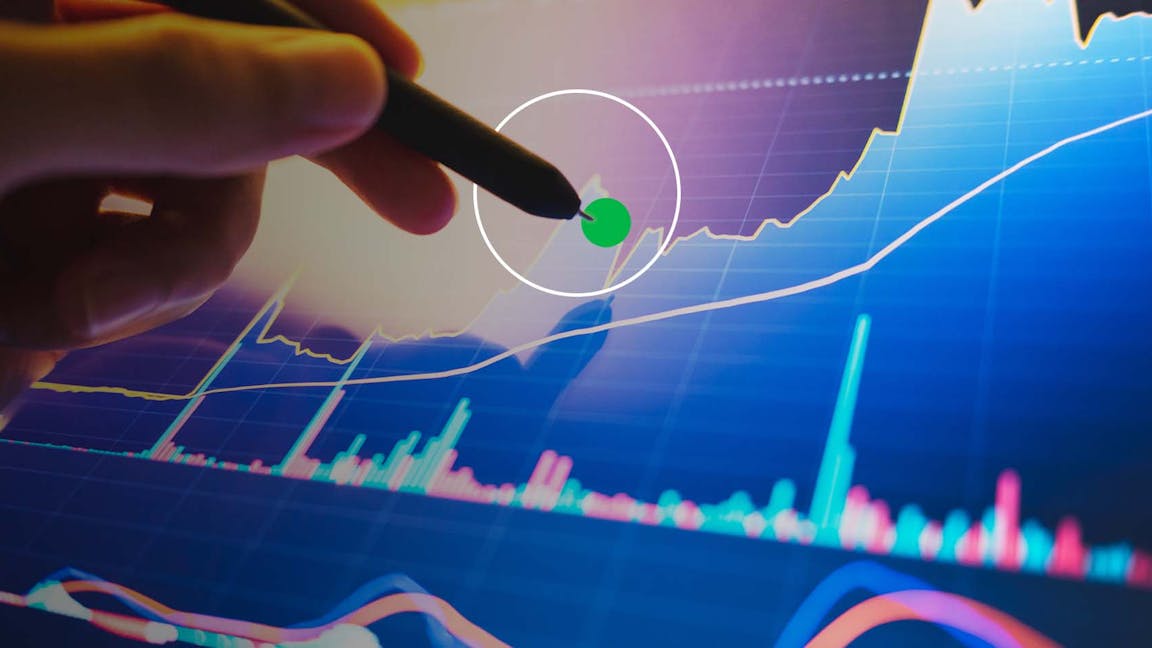 Equities, alongside bonds, will more than likely make up a significant part of your investment portfolios, but what are they? How do funds such as exchanged-traded funds (ETFs) invest in them? And how can you see exactly which companies your portfolios hold?
What are equities?

 
Equities are shares in the ownership of a company. These shares might be offered to employees of the company as a reward for their hard work, or an incentive to stick with them; if the company is later sold then shareholders could stand to benefit.   
In investment terms, when we talk about equities, we are more often than not talking about companies that are listed on a stock exchange. Here you can buy and sell equity shares of companies whose value will fluctuate depending on investors' opinion on their outlook; on the fortunes of the industry or 'sector' they work within, such as utilities, technology, or energy; or a wider 'top-down' view on the country they are listed within.   
For example, BP is one of the largest companies in the FTSE 100, the UK's main equity 'index' (comprised of the top 100 publicly listed companies in the UK by market capitalisation). Shares in the company were hit significantly following the fallout from the 2010 Deepwater Horizon disaster – the company spent more than 65bn on clean-up costs.   
BP's share price subsequently recovered before it's next big dip in 2020 when, in common with its oil major peers, the value of the company fell during the Covid lockdowns and subsequent fall in demand.   
The company's fortunes have since changed for the better in 2022 with its profits rising amid the rebound in energy prices brought about by a re-opening of the global economy, and supply issues caused by the Russia/Ukraine conflict.  
Why use ETFs?

 
Rather than invest directly in stocks themselves – which as BP's fortunes show, can be very volatile – some wealth managers, such as Nutmeg, invest instead in the equity indices using ETFs.  
For example, an ETF investing in the FTSE 100 will 'track' all 100 companies in that index, while a S&P 500 ETF will similarly track the 500 largest companies listed on stock exchanges in the US.   
By investing in ETFs, your wealth manager will therefore hold positions in several hundred, or possibly thousands, of companies – thereby spreading the risk. The share prices of those equities will move daily, but while some companies fall, others will rise, and any big falls in individual companies and sectors should be less impactful on the overall value of your investment pot because of diversification.   
Many investment portfolios – such as those run by Nutmeg – will invest across a bucket of ETFs all investing in different equity markets (and bonds), further spreading the risk.  
Read more: Why Nutmeg prefers ETFS vs index funds 
How do I find out which companies my portfolio is invested in?

  
While the Nutmeg investment team takes a diversified, global approach to investing, looking at geographies and markets rather than the companies themselves, we also recognise that our clients have the right to know exactly where they are invested.   
At Nutmeg we already show you the sectors, assets and countries that make up your portfolio, and now, you can see which companies your pot is invested in.  
How to look at your underlying holdings

  
Our latest feature means you can easily see the top-10 companies held in your portfolios within the Nutmeg dashboard. You can also download the full list of underlying holdings in the form of a Microsoft Excel worksheet.   
On the Nutmeg dashboard, select one of your investment pots and click on the 'Pot allocation' option (via the three black dots on the top right-hand-side). From here you will see five different options of looking at the makeup of your portfolio: assets, countries, sectors, continents, and now companies. From here, you will also see an option to download the full list of the underlying holdings, including equities, bonds and cash that you are invested in.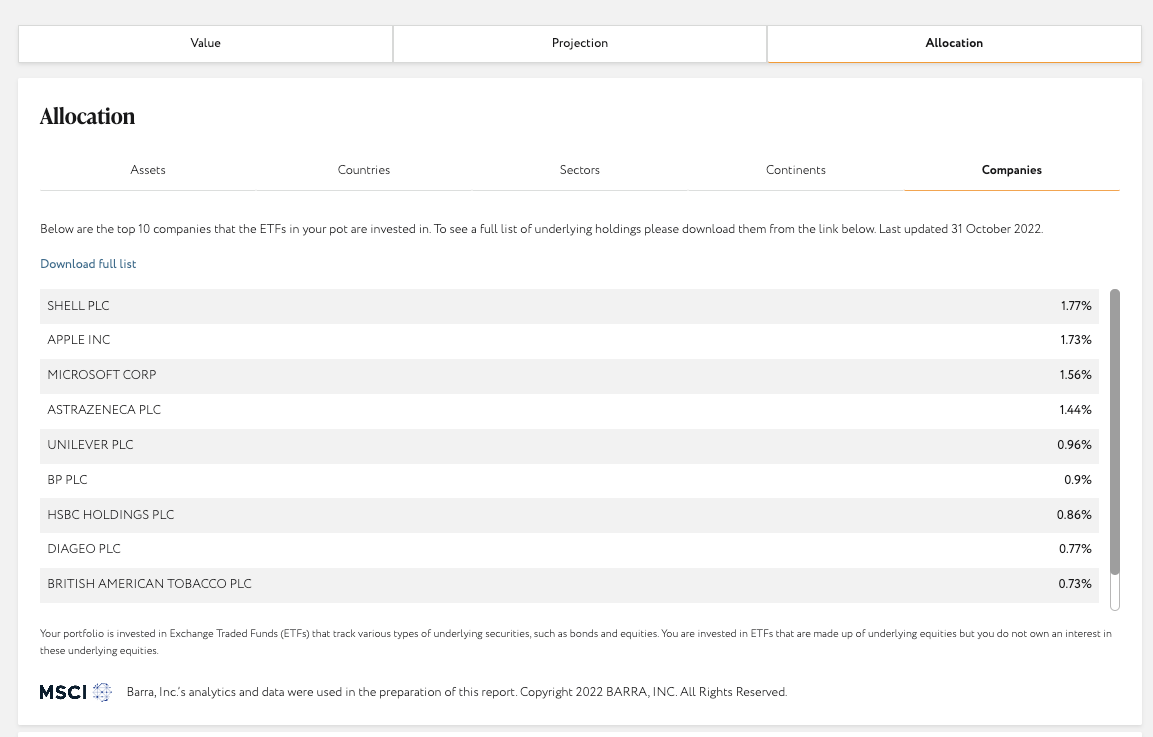 Note, this is an example screenshot and may not necessarily reflect your individual portfolio.
The big picture view 

 
At Nutmeg, we pride ourselves in offering transparency around your investments, in terms of performance, fees, and holdings. However, while you can now see the underlying companies that you hold, remember that our investment team remains very much focused on the long-term, with a greater concern for the mix of asset classes as a whole rather than the specific companies held as constituents of those markets they invest in.   
If you'd like more information about our investment products or wish to discuss your financial goals, our team of experts are here to support you. They can provide guidance tailored to your individual goals and questions. Better still, expert guidance is available at no extra fee for Nutmeg clients. Book a call to see how we can help you.    
Risk warning      

 
As with all investing, your capital is at risk. The value of your portfolio with Nutmeg can go down as well as up and you may get back less than you invest. Past performance is not a reliable indicator of future performance.